Celebrate the arrival of warmer days with a slice of this super easy no-bake lemon cheesecake. It can be whipped up in half an hour and should be filed under go-to cheesecake recipes in your kitchen repertoire!
The beauty of this recipe is that you can make this smooth and creamy cheesecake with minimal ingredients and effort…and time.
This fluffy and light lemon cheesecake starts with a Tennis biscuit or Graham cracker crust, has a tangy yet sweet lemon filling and some whipped cream on top. Decorate with some lemon slices, zest and even strawberries for a fresh dessert feast.
The filling consists of three ingredients: Cream cheese, sweetened condensed milk and lemon (both juice and zest). The lemon juice and zest gives the wonderfully light dessert a delicious burst of lemon, balancing the sugary taste of the sweetened condensed milk perfectly.
It's a good idea to give your filling a taste test before you add it to the crust: This way you can add more lemon if you prefer.
Make sure your cream cheese is room temperature to ensure your cheesecake will be smooth and creamy with no lumps. Do not skip this step! Feel free to use a stand mixer, a hand mixer or even a blender to beat the mixture until it has a creamy consistency.
If there are any leftovers (slim chance indeed!), the no-bake lemon cheesecake can be stored in the refrigerator for up to four days.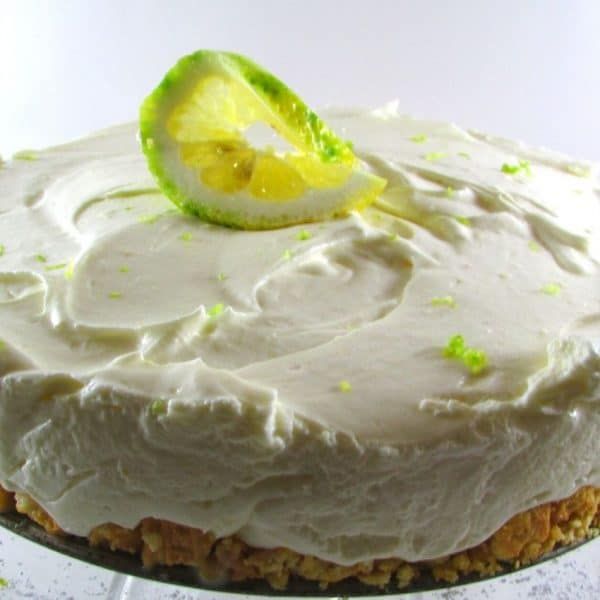 No-bake Lemon Cheesecake Recipe
Smooth and creamy: Can anything be more perfect than a tangy no-bake lemon cheesecake for dessert or tea time?
Ingredients
250

ml

cream cheese

350

ml

cream

250

ml

sweetened condensed milk

1

packets of

Tennis biscuits

100

ml

melted butter

90

ml

lemon juice

zest of 1 lemon
Instructions
METHOD – CRUST
Grease a pie dish of your choice.

Mix the melted butter and crushed biscuits, then add to the pie dish and press firmly into your dish.

Refrigerate while you mix the filling.
METHOD – FILLING
Beat the cream until a firm consistency and set aside.

Mix the condensed milk and lemon juice until fluffy and creamy.

Fold the cream cheese into the mixture and pour over your chilled crust.

Garnish with the rest of your zest.
RELATED: How To Make: Bovril Cake