Generally associated with Christmas here in the UK, the marzipan trade flourishes all year round in Germany. In 2015, Germany was Europe's largest food and beverage market – the third largest sector of German industry, overall. The country is also responsible for the world's third largest sum of food and agricultural exports worldwide, accounting for €54 billion in international exports last year.
Though marzipan is believed to have originated in Persia, European taste buds were quickly conquered, with the confectionary becoming popular throughout the trading cities of the Hanseatic League. Chief of these cities, Lübeck gained particular renown for marzipan production, which remains today. While almonds didn't grow in Lübeck, the city's reputation as an important trading hub made it possible for the necessary ingredients to be sourced. Local legend even has it that marzipan was first made in Lübeck, possibly in response to a famine year, with the town having allegedly run out of food products, except from stored almonds and sugar.
Hundreds of years later, Lübeck remains home to four of the world's biggest marzipan manufacturers, most famous of which is Niederegger. Now under seventh and eighth generation management, Niederegger has a long tradition of producing marzipan, nougat and truffle specialities. Founded by Johan Georg Niederegger in 1806, the company's produce is now available on every continent, shipped to 40 countries worldwide. Keen to learn more about the Hanseatic city's world famous marzipan, I recently spent 24 hours in Lübeck – visiting the Niederegger factory and eating unacceptable quantities of marzipan.
Disembarking for Hamburg airport, the ground was draped with snow like a scene from Raymond Briggs' 'The Snowman'. While Britain had been scrabbled by the 'Beast from the East', Germany was absolutely desecrated: cold as the grave – with temperatures plummeting to minus-14 degrees Celsius at nine o'clock in the morning. After skidding to a halt on the ice cloaked runway, we dashed through the snow, zipping along the Autobahn to meet a local expert in Lübeck, having agreed to host a guided walking tour of the city.
60 kilometres north-east of Hamburg, Lübeck is one of Germany's best kept secrets, punished by Hitler in 1937 (after refusing to allow him to campaign in the city during 1932), ending the city's 700 years of independence, incorporating it into Hamburg. Although heavily bombed during a 1942 RAF raid, the city has been restored to most of its medieval splendour, festooned with extensive Brick Gothic architecture responsible for the city's listing as a UNESCO World Heritage Site. A small island ensnared by the river Trave, the old part of Lübeck is picturesque all year-round, but unequivocally charming when blanketed by crisp snow.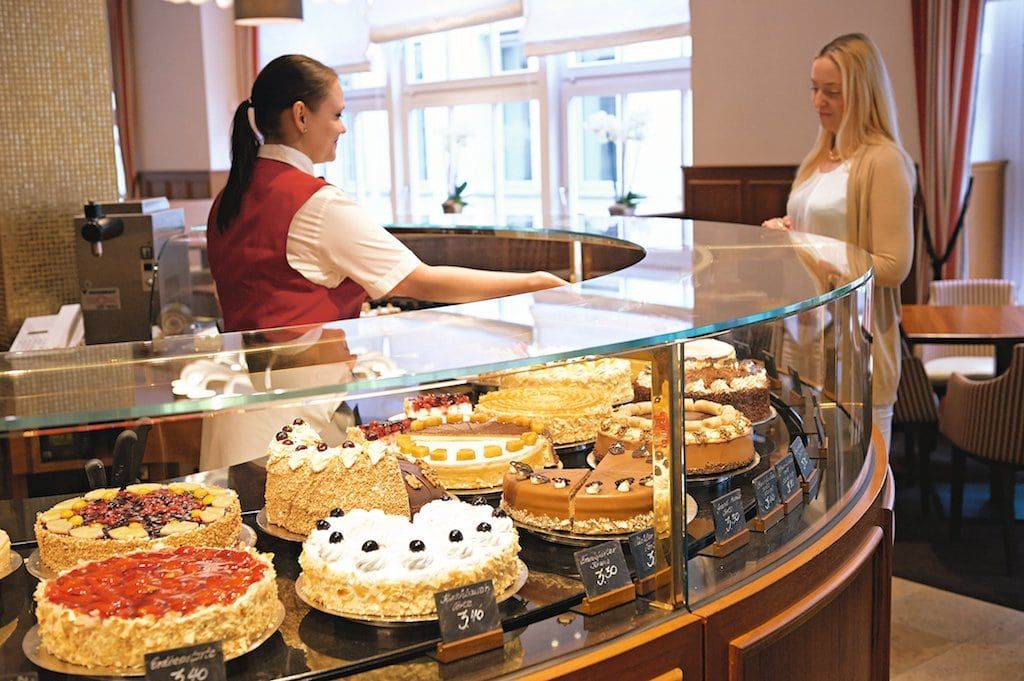 A warren of cobbled streets contributes to the city's old world charm, as do the numerous Gothic churches; with buildings such as the Rathaus Town Hall, two remaining medieval gates to the city, and the childhood home of writer Thomas Mannn (best known for his 1901 novel 'Buddenbrooks') all located within a short walking distance. Next to the Town Hall, Niederegger's main branch still operates today, crowned with a free museum, the Marzipan Salon. Here, the history of marzipan is briefly outlined, with life size marzipan statues of figures such as Emperor Charles IV, Thomas Mann and (of course) Johan Georg Niederegger – taking the space's main focus. Downstairs, the Niederegger café serves a menu of dishes with Swiss influence, plus a melange of cakes naturally showcasing the brand's marzipan.
After slogging through a literal blizzard, dinner felt well earned. Germany isn't necessarily renowned as the land of breath-taking food, but Lübeck is a slight anomaly. Thanks to its Baltic location, the city has access to a wealth of fish and seafood, far more than many provincial German towns. Amongst the restaurants dotted throughout the city, Schiffergesellschaft is both awkward to pronounce, and revered as the city's most notable. Owned by a ship captain's guild since the 16th century, the restaurant is deceptive from outside – harbouring an unexpectedly vast interior, bedecked with heavy oak tables and bench seating, plus chandeliers and large wooden models (mostly of ships) which hang from the lofty ceiling.
The restaurant is fairly tourist-focussed, but enjoyable. Large menus are designed as newspapers, encouraged to be taken home, boasting a fair deal of German classics. The Baltic's bountiful coastline is also celebrated with plenty of fish dishes such as soused herring with apple-onion sour cream; salmon baked in Riesling sauce; cod with mustard sauce, spinach and parsley potatoes; or Baltic plaice fried in bacon, served with cucumber salad and boiled potatoes. Various steaks are also served, of course.
Dinner began with an abundance of bread, served with Schmalz (clarified goose fat) in place of butter. The Schmalz divided opinion, with it's profound richness and salinity, allowing me to devour far more. To follow, two thick slices of roasted pork loin were accompanied by a tower of traditional napkin dumplings, a tart sauce of dried fruit, and red cabbage spiked with apple. Food served at Schiffergesellschaft is homely, and portion sizes verge on outrageous, easily vast enough to feed two. Mains were washed down with juicy red Lübecker Rotspon: one of many German wines showcased here, a dispatch from the Anglo belief that German wine stretches no further than Riesling.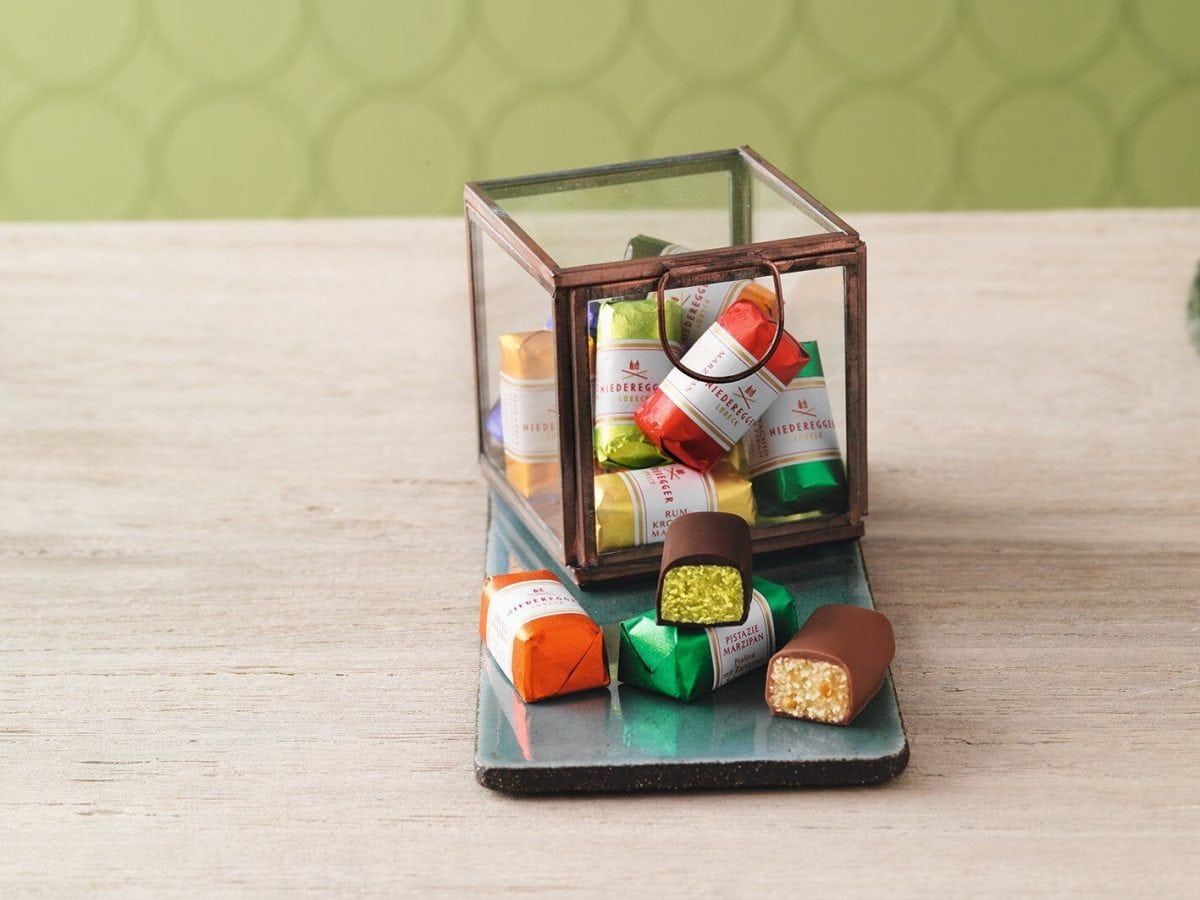 Bright and early the following morning, I slip across the road, into the back of a taxi for an exclusive tour of the Niederegger factory on the outskirts of the city. Niederegger spokesperson Kathrin Gaebel greets us with fistfuls of marzipan treats to taste before the tour begins.
Before entering the factory, I'm asked to wear a bright red hair net (understandably) and large white beard net to cover a day's worth of stubble. The necessity is bizarre, but who am I to argue with health and safety? The colour combination is punishing though. I'm not entirely sure what I've done to deserve such castigation, in fact. I entered the working factory resembling Papa Smurf – possibly a couple of inches shorter – yet left resembling Santa Claus on Christmas morning, having snarfed approximately 2.6 billion mince pies.
Classed as 100 per cent marzipan, quality is the key to Niederegger's lasting success. During the Middle Ages, the sugar quantities in marzipan production significantly outweighed almonds. In Lübeck, however, confectioners would strive to produce marzipan with plenty of almonds and little sugar. Traditionally made with a 2:1 ratio of almond to sugar, Niederegger's age old recipe is simple, but uses no unnecessary sugar. As a result, the cost is higher than from manufacturers using up to 50 per cent more sugar, but the taste is infinitely superior.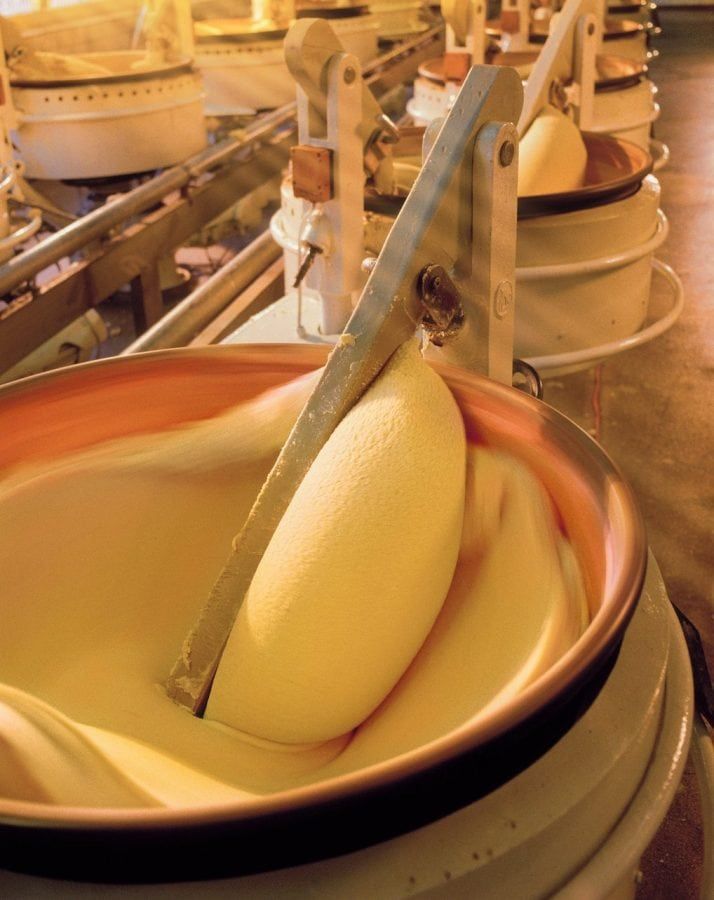 At the Niederegger factory, more than 30 kilograms of marzipan is made each day, available in over 300 assortments. We walk across a treadmill of brush bristles which clean our shoes while a wall mounted hand-basin dispenses hand sanitizer on our journey into the raw processing facility. Here, the first stage of production requires almonds to be soaked in a vat of hot water for three hours. The skin is then easily peeled and the nuts are scanned for excess skin and deformities by a scanner, before one final check takes place as the prepared nuts glide along a conveyor belt manned by six (human) staff members.
The almonds are then crushed, intentionally toothier than many other marzipan producers. Next, they're mixed with local sugar and heated in large open pots with a controlled temperature – hot enough to cook the paste without burning. The smell is overwhelming, but pleasant. I'd happily plunge into one of the pools of viscous almond paste, fulfilling an Augustus Gloop fantasy: but it's strictly forbidden. I'm not the first person to have asked, nonetheless.
This part of the process is the most labour intensive: the room serviced by men who wear tight white vests and sport Lorax moustaches: more Greenwich Village YMCA circa 1978 than Willy Wonka's chocolate factory. Walking to the next station, I pass another group of male workers with coarse, uncloaked nose-neighbours to rival Ned Flanders and, again, feel self-conscious. Ridiculous, even.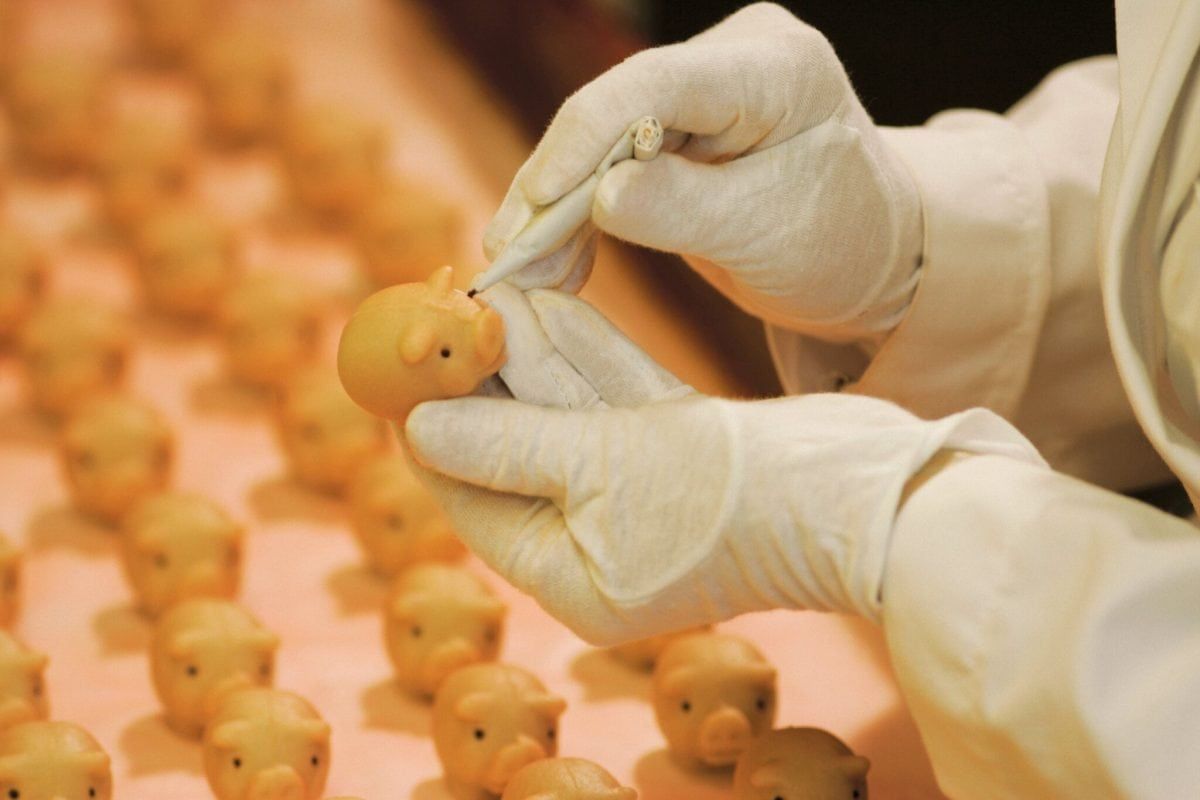 In a far chillier room, the marzipan is then cooled and packaged into breeze blocks of almond paste. Once cooled, these blocks are placed onto another series of conveyor belts and portioned into bite sized nuggets; some coated with dark chocolate, neatly packaged in split seconds. Our host harvests freshly produced sweets straight from the conveyor belt and hands them out to be enjoyed – including some brand new, currently undisclosed flavours I daren't prematurely unveil.
The tour's final stop is a bright room at the top of the factory, patronised by a refreshing number of human workers (contrasting to the machine-fuelled productivity throughout the previous station). A library of intricate moulds is used to create various shapes, many of which have become synonymous with Niederegger – namely pigs, said to be lucky. "We take orders from consumers and larger companies," Gaebel explains.
How many different designs are available?
"We'll make just about anything: except sex toys or logos of far-right political parties."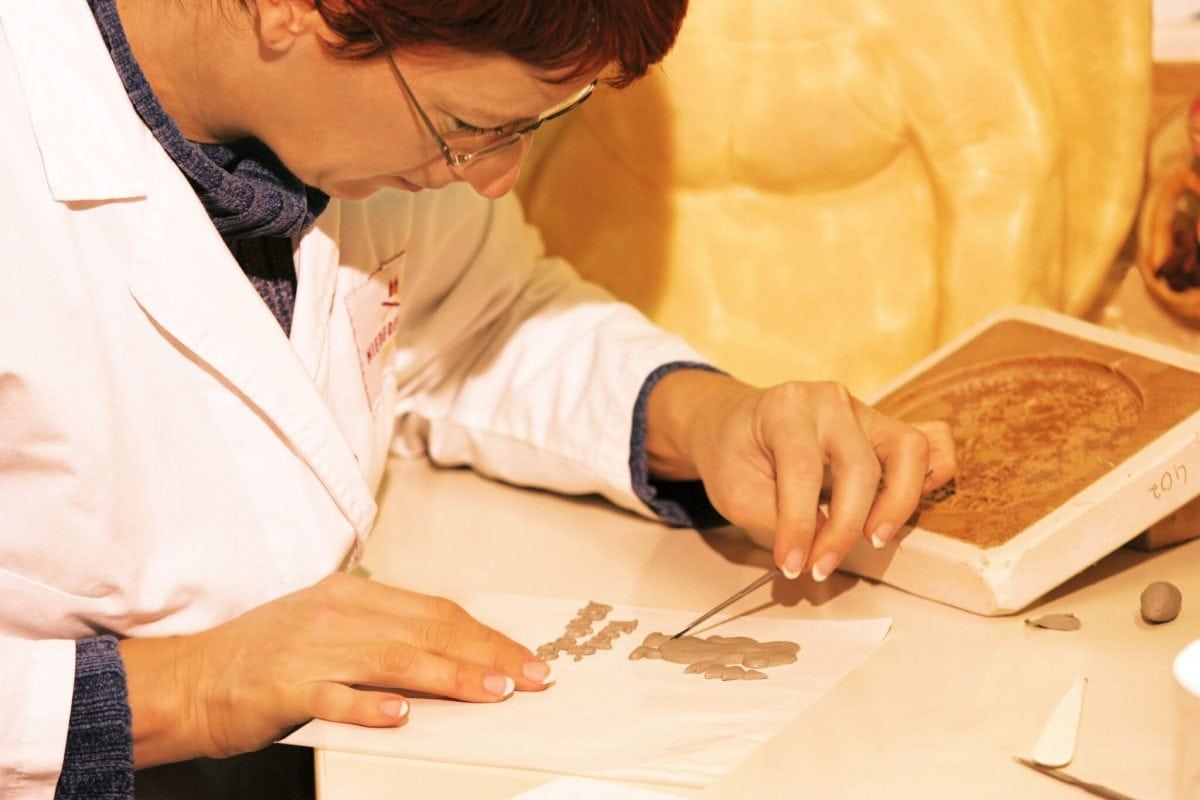 A sleuth of teddy bears has been freshly pressed, currently being painted with food colouring, using fine paintbrushes. Once ready, these masterpieces are packaged and distributed around the world. Many of these creations are also available in the on-site factory outlet shop, accompanied by prices far lower than Niederegger's typical worldwide airport stockists. (Slightly deformed creatures, or those with damaged packaging, are an absolute steal).
According to a research report from Fact.MR, current market trends and the promising nature of the global marzipan market estimates that the future will hold positive outcomes for Lübeck's famous confectionery. Nonetheless, almond prices have risen exponentially in recent years due to increased demand and poor weather conditions in nut producing countries. As a result, high quality marzipan prices have been forced to rise, potentially making this quality of marzipan, without excess sugar content, difficult to source in the future. It seems sensible to take advantage of marzipan's year-round availability. After all, marzipan is for life, not just for Christmas.
British Airways flies from London Heathrow to Hamburg from £88, return. Double "Comfort Rooms" in ATLANTIC Hotel Lübeck are priced from 139€ per night. Further information on Niederegger can be found here.
RELATED