It would be quite fair to say that the discovery of poke (pronounced 'poh-kay', not like that thing your weird Uncle keeps doing on Facebook) is relatively fresh here in London. Until around 18 months ago, the Hawaiian dish would only have been known to the most food-savvy of city dwellers, but quite thankfully that's beginning to change.
Literally meaning "section", or "to slice or cut", poke is a Hawaiian salad, of sorts, traditionally focussing on cubes of raw fish (usually tuna). The most traditional method of preparation would join the fish with sea salt, seaweed, algae and ground candlenut, while many adapted versions are now ubiquitous across Hawaii, as well as having become more readily available throughout the USA and in London. The most popular variation available here, perhaps, has a Japanese leaning – favouring soy sauce, sesame oil and spring onions.
My first personal experience of eating poke happened last year, hosted by a frankly atrocious high-end restaurant in Mayfair. I invited a friend and he quickly replied, "I'd love to come and get pokey with you ;-)". Instantly I changed my mind and frantically searched for another friend to invite – one with fairly adventurous taste-buds, at the very least. Alongside five or six poke bowls, the restaurant would do unspeakable things to previously magnificent cuts of meat or fish, then serve them at eye-watering prices. The poke, itself, was fine, but experiences like these prove dishes like this don't work particularly well in such a ritzy setting. Readily available from supermarkets and petrol (well, gas) stations in Hawaii, poke is a casual dish that's best made at home or eaten from one of the casual spaces that have popped up in central London, with no signs of leaving anytime soon.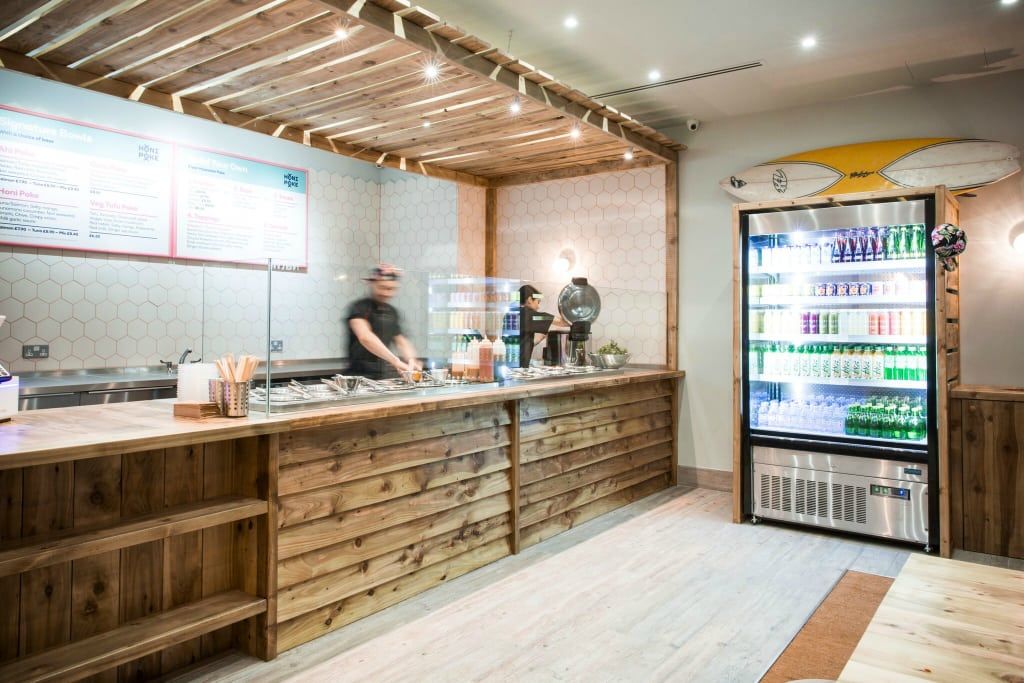 Tuna (ahi) poke cooked at home (following Action Bronson's recipe) is a personal favourite of mine, but the high price of sashimi-grade fish often outweighs the low-output 'cooking' process. Especially considering that even the most expensive bowl at Honi Pokē in Soho costs less than £9. Just off of Soho Square, Honi Pokē is a casual space perfect for grabbing a quick lunch, filled with natural light, modest bench seating and a serving counter that showcases the fresh fish (tuna, salmon and octopus), sauces and additional toppings. It is like a high-end Pret a Manger, except the food served here is actually palatable.
The space's signature Honi Pokē with a mixture of tuna and salmon is fairly close to a classic recipe. The cardboard bowl it's served in does resemble a hospital bed pan, but the contents are delicious. 'Salty mango' is dried and complements the clean flavours of raw fish. It's like mango chutney, but not disgusting. Elsewhere, sunomono cucumber brings some more cleanliness to balance alongside the seaweed, crispy onion, chilli garlic sauce and kimchi. The list of ingredients used does sound overwhelming, but balance is key and all of the flavours work in harmony.
The signature 'Octo Pokē' on offer, however, is by far the most exciting. Fresh morsels of octopus are joined by kimchi, chive, togarashi (a Japanese spice blend), cucumber, chilli and more kimchi in the form of a sauce. The thought of so much kimchi makes me recoil with terror, having suffered the misfortune of eating so many dreadful kimchi dishes of late, with kimchi béarnaise or slick kimchi-fried rice standing tall as the most villainous offenders. Honi Pokē have clearly hired chefs that know how to use trendy kimchi as a mere accompaniment, not an attention-seeking assault on the senses. Here, when kimchi is used, the application is modest but clearly present. Each element of each dish does not depend on it as a kind of essential counterpart. As for the octopus, it's not raw, but the cooking is perfection. It is cooked so well that it should be exhibited as a blueprint for the many, many chefs who still insist on overcooking it to the point of inedibility.
While it should go without saying that the world's best classic poke can, surely, be found in the Polynesian sub-region of Oceania, or prepared at home. London's poke scene, nevertheless, is slowly-but-surely developing into something quite extraordinary. Forget itsu, Honi Pokē is, by far, the best spot for a delicious (and healthy) grab-and-go lunch in Soho.
All photography: Charlie Mckay
Honi Pokē can be found at 82 Dean Street, London, W1D 3SP.
–