There's more to life than food, but not much more.
Service is all-too-often overlooked. Truth is, service – alongside a number of other seemingly menial factors – can make or break an entire restaurant experience. No matter how outlandishly serene the food served by the latest highly-lauded chef on the block may be, the whole meal can be (and often is) ruined by zealously brusque, or just plain ignorant, waiting staff. Moreover, service that's truly magnificent can make even the most unremittingly vile, cack handed cooking seem almost palatable. But a combination of glorious food and exceptional service is, upsettingly, a true rarity even in London's most acclaimed restaurants.
On the 28th floor of the Hilton Hotel on Park Lane, Galvin at Windows' floor-to-ceiling windows are joined by typically plush chairs, heavily starched linen and other luxurious design flourishes, but the space is contrary to the many glum, fusty hotel restaurants throughout the city. Further out than the majority of London's city skyscraper restaurants, the view from Galvin at Windows is unsurprisingly breath taking, peering across the west of the city from the restaurant, or east from the bar. The only view considerably better is that from 20 Fenchurch Street (the 'walkie talkie') – the only city viewing platform that isn't plagued by the boxy spectacle of 20 Fenchurch Street.
To pull-out chairs, to keep wine glasses filled, and to deliver plates elegantly and efficiently is fine. But comfort is the be all, end all when it comes to the art of service. Even in the most opulent of gastro-temples, if made to feel uncomfortable – diners will most likely have a more enjoyable dinner experience at the nearest branch of Wimpy. From the moment we arrive, to the moment we leave – the service at Galvin at Windows is impeccable: professional yet welcoming, good-humoured but eternally respectful. I grow paranoid at one point, concerned other customers might be receiving a different level of care. After a quick wander around and some quiet investigation, though, I'm comfortably reassured by the restaurant's hospitable consistency.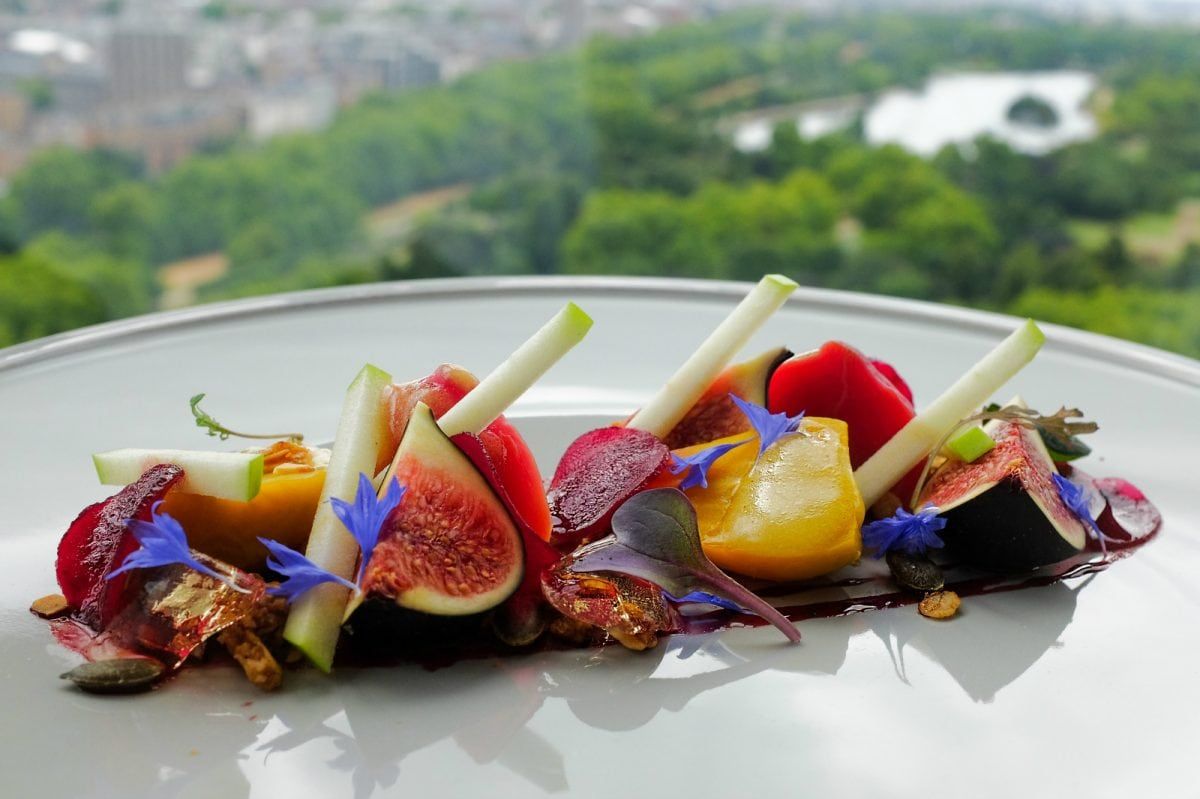 As far as the food is concerned, the kitchen has a prominent French identity, though each of the available menus are flecked with some nods to Head Chef Joo Won's Korean heritage. In addition to the a la carte menu, a set menu showcases the Galvin brothers' famous value, while a new Taste of Normandy menu is available this evening. Three courses cost just £37, with an additional middle course and cheese selection, each priced at £11. Following a mountainous heap of warm bread, a salad of beetroot is prettily presented as a uniform parade across the plate's centre. Earthy beetroot is skilfully combined with contrasting, untouched figs, Calvados jelly and a sweet almond granola that brings pleasant depth of both texture and taste.
Pork cheek 'pot-au-feu' is a distant, glamorous relative to the classic French dish synonymous with home cooking. Using pork instead of beef, the cheek has an unctuous eminence remarkable with a mote of crystal-clear consommé, rife with ambrosial flavour. A middle course of lightly pickled mackerel is powerful, but not overwhelmingly so. Delicate morsels of fish are joined by long slivers of cucumber and radish, each harmonising the oily fish, accrued by brackish seaweed and dots of cider vinaigrette reduced with plenty of soy sauce and sesame oil.
Elsewhere, two hunks of corn-fed chicken have spent hours in the water bath, then are finished in a hot pan. The result is, quite possibly, the only dry succulent chicken breast in London. The chicken is delicious, though the sautéed morel mushrooms are the jewel in the dish's crown, finished with the type of sultry Calvados sauce typical with sensational haute cuisine. Pan-fried sea bream is also cooked properly, with the skin achieving a crisp, pleasant texture, perched on a mattress of ludicrously opulent cider velouté rich with mussels and minuscule shrimp. To finish, a selection of cheese is available, plus spiced rice pudding. Here, the rice pudding is eons from common-place canteen sludge, instead it's manifested as a sweet risotto of sorts – embellished with chunks of soft fudge and bracing pineapple sorbet.
Established in 2006, Galvin at Windows has become a time-honoured staple of the city's fine dining repertoire. Not only is it the only skyscraper restaurant actually worth visiting on your own money; eleven years on, Galvin at Windows remains amongst the finest restaurants operating in one of the world's best cities for eating out.
Galvin at Windows can be found at 22 Park Lane, London, W1K 1BE.
RELATED