If you're having withdrawal symptoms from not being able to visit Italy due to the events of the past year, fear not, Eataly has landed in London.
Situated literally next door to Liverpool Street Station, the location is ideal for anyone looking to enjoy a night out in east London. Whether you're looking to enjoy a quick espresso before work, a sweet treat on your lunch break, or an aperitif before dinner – Eataly London has it all.
Spread across two floors and 42,000 square feet, Eataly is home to four restaurants as well as six additional eateries, three bars, and 12 retail departments. Everything is made fresh on site, from the pastries and pizza, to the delicious mozzarella and Stracciatella cheeses. There is so much to see and try at Eataly, so definitely dedicate a few hours if you want to really enjoy what's on offer.
However, if you are just passing by, Eataly's ground floor offers a selection of take-away options such as Roman-style pizza by the slice at Pizza alla Pala, fresh pasta made every day at Pasta Fresca Bar, Italian paninis, focaccia, salads, and classic meals to go from the Made In Eataly area. And of course, it would not be an Italian market without coffee. The Gran Caffè illy serves illy coffee with a gelato bar, pastries and sweets, cannoli, drinks and aperitivi for take away as well.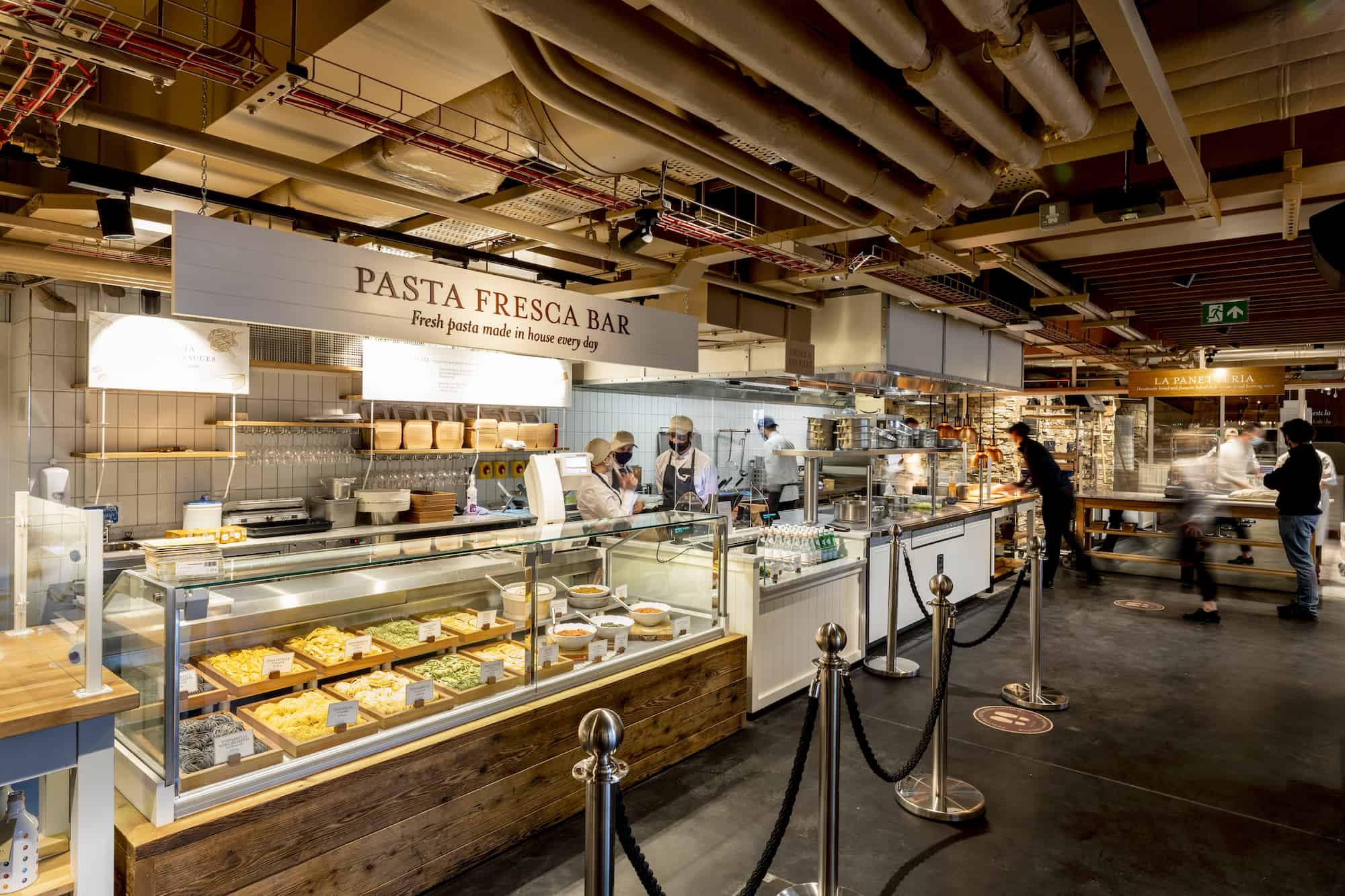 If you're keen to dine in, Eataly has many options from La Terrazza di Eataly to the more intimate experience of Cucina del Mercato and the laid-back Pasta E Pizza. With summer just around the corner, it's worth visiting La Terrazza di Eataly when the sun is out. Enjoy an Aperol Spritz or two as you watch the world go by, and when you're feeling peckish, why not enjoy some of the menu of seasonal dishes 'per la tavola'.
Cucina del Mercato is certainly a more fancy option for those looking to enjoy a date night or perhaps celebrate a special occasion. The name literally means 'kitchen of the market', and is Eataly's counter-to-table concept. Here, the menu is made up of ingredients from the butcher, fishmonger, cured meats and cheese counters, and is the perfect place to experience an ethos of 'we cook what we sell and we sell what we cook'.
Terra, on the other hand, is Eataly's contemporary Italian grill restaurant with a special focus on simple, seasonal ingredients, with an impressive 3-metre-long artisanal wood grill at the heart.
Moreover, Pasta e Pizza serves exactly what it says on the tin. But this isn't just any ordinary pasta and pizza, as Eataly took their inspiration from two of the best pizza making traditions, the Neapolitan style with its high and soft edge, and the Roman with its crispness – aiming to represent the best of Italy. Fresh pasta is made in-house, but dry pasta is also on offer, directly from Gragnano. All of the traditional pasta dishes are always served al dente and balanced with fresh, seasonal ingredients.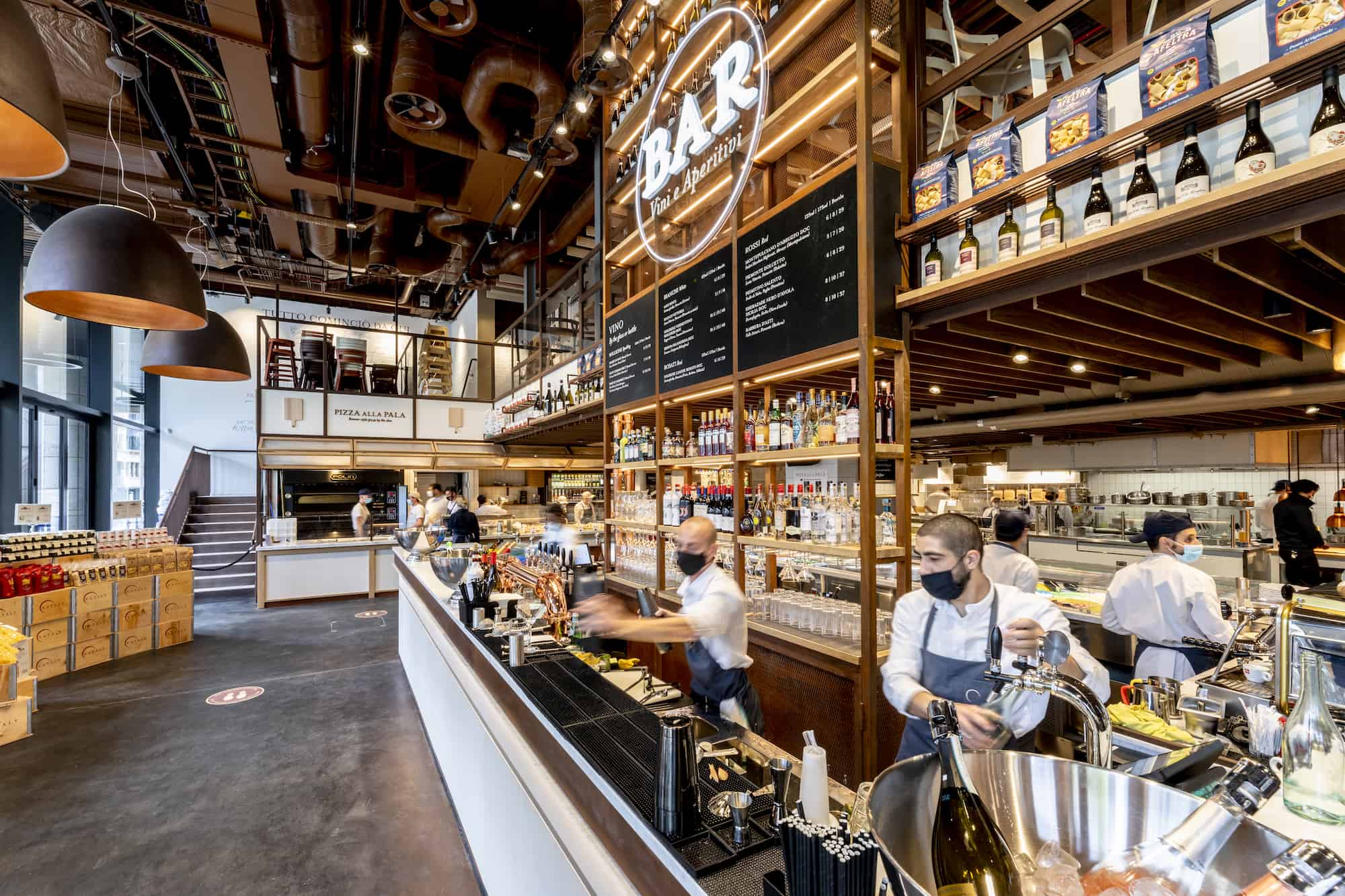 And for those keen to know more about how such dishes come together, Eataly's renowned cookery school, La Scuola, are now offering classes to take customers on an Italian journey discovering and mastering classic dishes of Italian cuisine. Bookable online, classes will be hosted by house chefs and specialists both in store and online. And now that Summer has arrived in London, Eataly are planning to launch further activities to embrace the warmer season in the capital in true Italian style.
Speaking to The London Economic, Eataly CEO, Nicola Farinetti, said: "We are delighted to finally open our Eataly London doors to bring our love of Italian gastronomy to the UK at a time when consumers and hospitality professionals appreciate and need it the most.
"Eataly was founded with a vision to bring the biodiversity, craft and different layers of culinary experiences of Italy together under one roof, under our motto of 'Eat, Shop, Learn'.
"Togetherness is at the heart of our brand and, while we will adhere to and implement all the necessary safety measures, we cannot wait to meet our new locals and celebrate passionate artisans and high-quality food in a dynamic and culturally diverse reality such as London."
Further information on Eataly London can be found here.
RELATED: A perfect lunch at A.Wong