Blended from a selection of single malt whiskies aged in rare Mizunara oak casks for at least 18 years, Suntory Whisky launched Yamazaki Mizunara 2017 last week. Spicy, evocative of incense and uniquely Japanese, the production of this limited-edition whisky pushed the blenders at Yamazaki to perfect new cask-making techniques, creating flavours never before tasted in whisky. The result? An exceptional Japanese whisky, but with a high retail price of £1000 per bottle.
Though the price point will seem intimidating to many, the release has, once again, shone light on Japanese whisky, notably that from The House of Suntory Whisky. Speaking on the launch of Yamazaki Mizunara 2017, Shinji Fukuyo, Suntory's Chief Blender, said:"I wanted to reveal the whisky's soul that is the Art of Mizunara – a heightened sense and awakened palate, engaged through aromas and flavours never known before. Encountering it should be a moment of epiphany."
Established in 1899, The House of Suntory is the founding house of Japanese whisky, with a legacy of three master blenders and three generations of innovators. The brand's current portfolio includes two single malt whiskies (Yamazaki and Hakushu), one blended (Hibiki) and one grain whisky – Chita, "the serenity of Japanese whisky".
Though stocks of Japanese whisky have depleted significantly since the global boom in popularity of recent years, The Chita has followed Hibiki and Yamazaki in overseas expansion. Considerably more accessible than the Yamazaki Mizunara 2017, The Chita appeals to connoisseurs and those beginning to explore the unique world of whisky, alike. Distilled in a city of the same name in Aichi Prefecture, The Chita Single Grain is crafted with a continuous distillation process, using two three and four columns, creating three types of grain whisky (clean, medium, heavy) all derived from corn. The liquid is then aged in American White Oak casks, including puncheon, hogshead and bourbon barrels, further contributing to the flavour of the final product.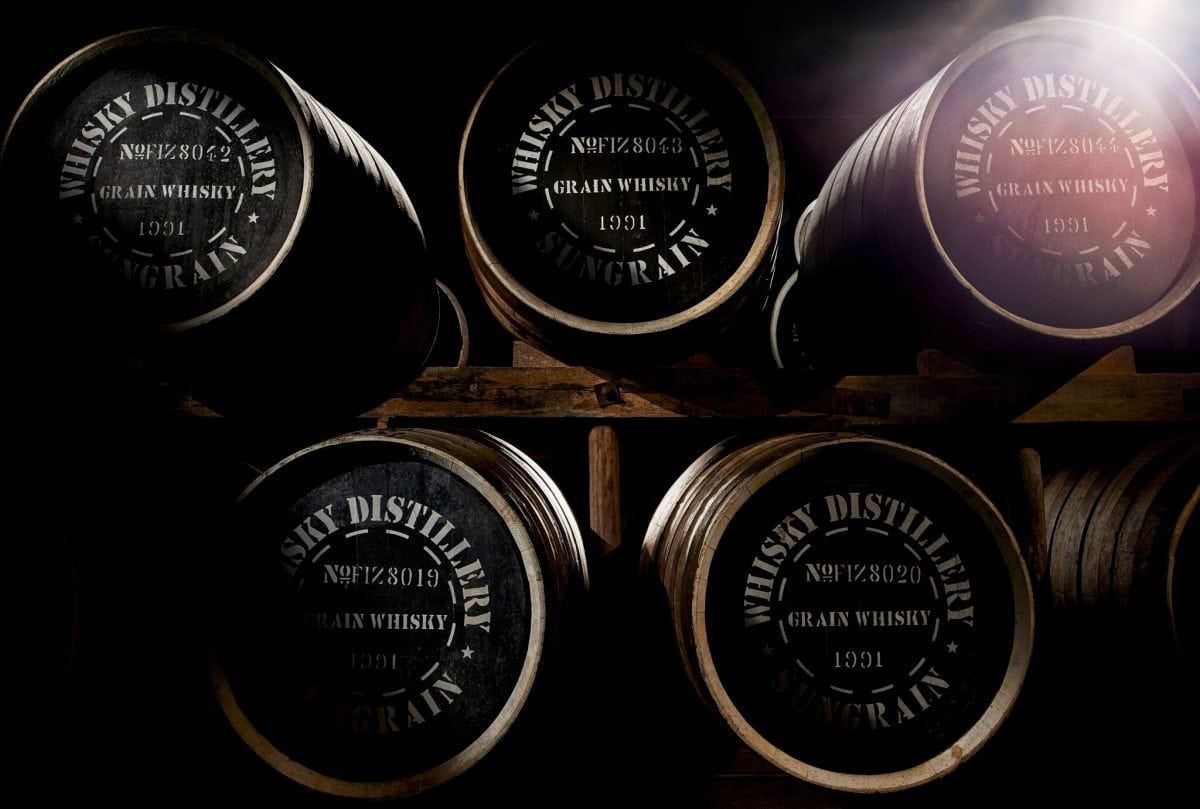 Encased within an indigo gift box, The Chita Single Grain is bright gold in complexion. On the nose, pertinent notes of vanilla, corn and oak synonymous with bourbon are prevalent, joined with an unmistakable fruitiness. Fresh and slightly sweet, aromas of mango, pears, banana, coconut and cooking apples are notable alongside some citrus blossom, cardamom and plenty of honey. When sipped neat, the sweet Acacia honey notes are prominent with more fruitiness (notably banana and subtle mango) uniting with flavours of delicate spice. Mild and smooth on the palate, The Chita is an exceptionally light liquid, which has become popular with a less accustomed palate as a fine introductory dram.
With a clean, smooth finish, The Chita Single Grain is pleasant, if not necessarily the most extraordinarily rousing whisky on the market (or from Suntory's portfolio, even). The whisky's versatility, however, lends well to being sipped neat, over ice, or as a cocktail base. The lightness, in fact, is especially suited to a Japanese whisky highball, as low ABV cocktails continue to increase in popularity, as exciting alternatives to gin and tonic.
The Chita Single Grain Whisky is available from The Whisky Exchange, RRP £52.50, 70cl. Further information on The House of Suntory Whisky can be found here.
Classic Japanese Whisky Highball Recipe
Ingredients
1 part The Chita Single Grain Whisky
2 parts soda water.
Method
Fill a highball glass with good quality ice, pour the whisky then top with soda. Stir and garnish with a slice of ginger.
RELATED
https://www.thelondoneconomic.com/food-drink/spirit-of-the-month-yamazaki-12-year-old/15/12/
https://www.thelondoneconomic.com/food-drink/bar-week-shochu-lounge-roka-charlotte-street/25/05/
https://www.thelondoneconomic.com/food-drink/spirit-of-the-month-jack-daniels-single-barrel-select/17/06/