With confidence in a divided Conservative government's ability to negotiate a Brexit that makes sense for Britain, Europe and Northern Ireland at an all-time low – both at home and abroad, Theresa May urgently needed some good news.
And according to the front pages of the newspapers that have been cheerleaders for Brexit and more likely to scream "traitors" than report concerns from any quarters, the "Brexit Dividend" is just the good news soundbite that our PM needed.
This week Theresa May is set to announce £600 million a week more for our National Health Service – some of it from tax rises and partly paid for by a "Brexit Dividend."
The Prime Minister would not be drawn on where extra taxes would come from when she spoke to the BBC, but insisted that stopping to pay into the European Union would free extra money for the NHS. – A "Brexit Dividend."
She told the BBC's Andrew Marr that the NHS would be treated to a £20 billion "birthday present" for its 70th anniversary.
However not everybody is convinced.
Commons Health and Social Care Committee chairwoman Sarah Wollaston described the idea of a Brexit dividend as "tosh".
The Conservative MP accused the government of using "populist arguments rather than evidence".
"There is no Brexit dividend. Payments to the EU will fall [after Brexit], but tax revenues will fall more as a result of Brexit.
"That is the official position of the government, which has accepted the Office for Budget Responsibility's forecast that the public finances are likely to be weakened to the tune of £15 billion a year as a result of the referendum vote," Paul Johnson, Director of the Institute for Fiscal Studies (IFS), explained in the Financial Times.
"Taxing more or borrowing more," Johnson explained were the only options to free up more funds for the NHS.
"You can't pay for it from an imaginary dividend."
So is the "Brexit Deficit" imaginary?
Economists have always scoffed at hypothecation – which is promising a certain revenue stream will pay for a certain cost. – Mainly as tax revenues can go down.
But if it's our taxes paying for the £20 billion extra a year that Theresa May is set to promise the NHS and they aren't covering the £8.6 billion net annual flow into the EU, we get some "Brexit Dividend" – good news, right?
It would be. – Only the Government has admitted that the Office for Budget Responsibility is right to point out public finances are set to be £15 billion down annually – if the most favourable Brexit deal is struck.
And in a Hard Brexit or No Deal scenario, the UK's revenues will be down a lot more.
The Economic and Social Research Council this year reported: "Brexit is likely to mean less money for public services, including the NHS, than otherwise would have been the case. Although the NHS budget may continue to rise in real terms, it is more likely than not that lower economic growth will take away funds that would otherwise have been available for additional spending increases."
So as Paul Johnson of the IFS points out: "any extra spending on the NHS can't be funded by Brexit dividend. 1) Govt has accepted Brexit will "weaken" public finances by £15bn pa 2) Financial settlement with EU plus commitments to replace EU funding already uses up all of our EU contributions in 2022.
"There is no Brexit dividend."
The loss to the UK tax revenue by the Government's own estimations in every single likely Brexit scenario is set to dwarf the £50 million a day that the Brexit campaign bus claimed was "going to the EU." – A figure which is total nonsense anyway as it was based on the Treasury's estimation of the gross amount the UK contributed to the EU one year which actually worked out £342m a week. But after the rebate that Margaret Thatcher had negotiated in 1984 was taken into account, the figure was £248m a week. And that does not even include the £4.5 billion a year that the EU pays into the UK each year, mainly to poorer areas and farming.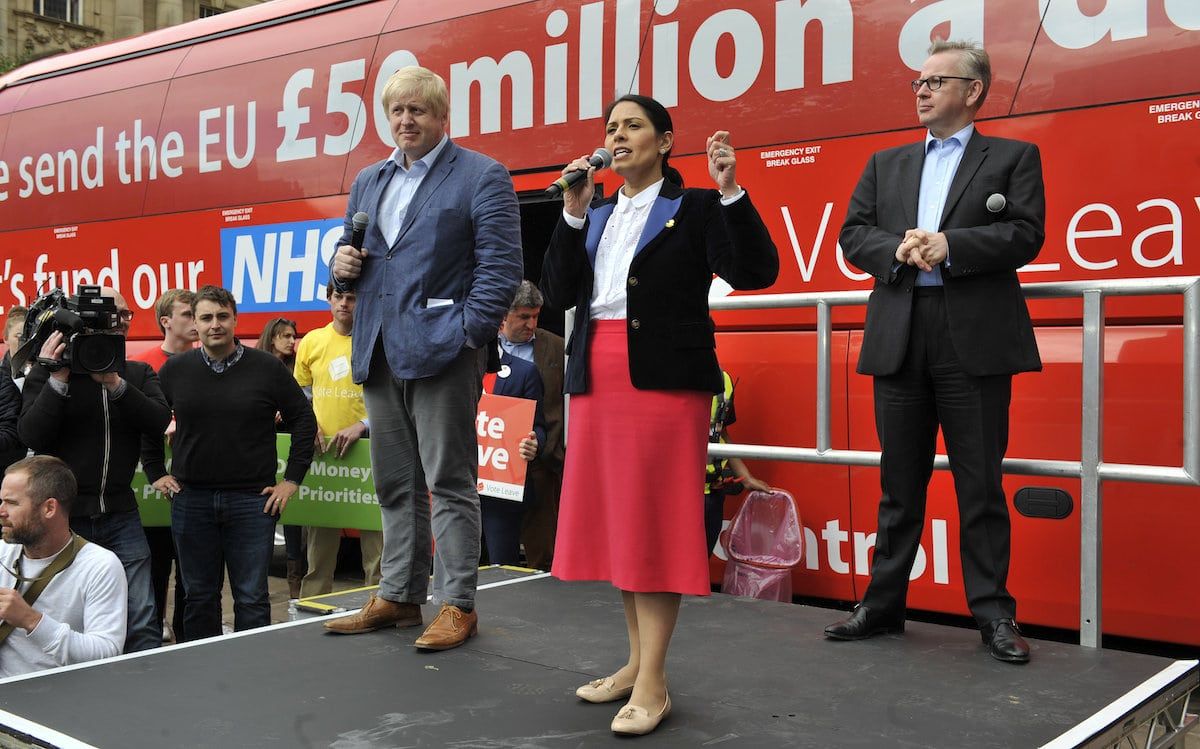 So much for Brexit Buses or Brexit Dividends.
"When you hear ministers describing the imminent boost to NHS spending as a Brexit "dividend", think ?. Britons will pay for it through increased taxes and the burden of higher debt," tweeted ITV political editor Robert Peston.
"This will become an acid test for the BBC. Both the OBR and IFS think there is no Brexit dividend – it is a politically motivated fiction.
"If the BBC starts routinely talking about the Brexit dividend as if it really exists then they really will have become the Brexit BC," tweeted Oxford University's Professor of Economics Professor Simon Wren-Lewis.
Even the Conservative-supporting press wasn't entirely convinced. The Mail on Sunday front page called it "May's £20bn NHS gamble".
It warned Theresa May about betting that the public will be willing to face tax hikes to pay for better care.
Even an editorial in the Brexit cheerleading Sun on Sunday warned the Prime Minister about raising taxes to pay for urgently needed NHS funds, instead calling for efficiency reforms.
So if there is no such thing as a "Brexit dividend", and the Tory press don't want any more taxes, where is the funding for the NHS going to come from?
The Tories have chosen to underfund the NHS.
First of all, as the Resolution Foundation pointed out with this chart published at the end of last week Tory spending on health has been the lowest spending increase since the 1950s.
No wonder the NHS is in crisis.
The Office for Budget Responsibility recently projected that NHS spending needs to increase by 5.3% of national income over the next fifty years in order to meet increasing demand for its services and other cost pressures —a sum equivalent to about £110 billion in today's money.
So the 3.4% rise per year for the next five years promised by Theresa May won't touch the sides.
Theresa May's "present to the NHS" is well below the historic average of 4% a year and follows the longest period of austerity in the health service's history by the Conservative government.
Under the last Labour government increased health spending by up to 8% in 2009-2010.
However the NHS under the Tories has been purposefully starved with real growth in NHS spending averaging only 1.1% a year.
Sources this weekend suggest that the 3.4% figure was the result of fighting between the Treasury which dismisses any idea that there would be any sort of Brexit deficit as nonsense and the Health Department crying out for a lot more spending to keep going.
Chancellor Philip Hammond recognizing that the Tories would find it hard to get significant tax increases through parliament with a slim majority is said to have wanted to keep increases in the UK health budget to a miserly 2% above inflation every year.
So if the British public, with more people struggling than ever in this generation, won't stomach tax increases, where will extra NHS spending come from?
Many economists point out that running a deficit to create NHS jobs and growth and revenue is preferable in the long term than squeezing people – and tax revenue further. Tax Research UK's Richard Murphy, who has long called for deficit spending to fund the NHS which is critical for longterm prosperity and tax revenues, said this weekend: "there is no Brexit dividend and the way to fund the NHS is deficit spending."
But for the Tories to admit that borrowing to invest in the NHS and public services is a good idea, it would expose the cruel lie of austerity that has left Britain's economic growth well behind other OECD countries since the global crash of 2008.
"Fantastic news about NHS funding — the fruits of a strong economy and a Tory government. Stand by for Brexit dividend !!," tweeted Boris Johnson.
Let's see what sections of the media are prepared to pick him up on every word of a lie in that statement.
And next time someone mentions a "Brexit Dividend" to you, please remember, the reality is Brexit entails higher taxes and borrowing – you can't just lose GDP with no consequences to our pockets, jobs and services.
Since you are here
Since you are here, we wanted to ask for your help.
Journalism in Britain is under threat. The government is becoming increasingly authoritarian and our media is run by a handful of billionaires, most of whom reside overseas and all of them have strong political allegiances and financial motivations.
Our mission is to hold the powerful to account. It is vital that free media is allowed to exist to expose hypocrisy, corruption, wrongdoing and abuse of power. But we can't do it without you.
If you can afford to contribute a small donation to the site it will help us to continue our work in the best interests of the public. We only ask you to donate what you can afford, with an option to cancel your subscription at any point.
To donate or subscribe to The London Economic, click here.
The TLE shop is also now open, with all profits going to supporting our work.
The shop can be found here.
You can also SUBSCRIBE TO OUR NEWSLETTER .