Grupo Vidanta's President, Daniel Chávez Morán, created the Vidanta Foundation in 2005 to support "Ideas and Projects for the Common Good." The Foundation's mission is "to promote the social sciences and democratic values in Latin America" in order to strengthen democracy, foster economic development, encourage social responsibility, and reduce poverty and inequality. These values are funded entirely by stockholders of Grupo Vidanta, whose associated companies are committed to the construction and maintenance of hotels, resorts, and other real estate ventures.
Since its inception, the Foundation has been involved in numerous projects to achieve its stated goals. Among them is research relating to the relationship between "Asia and Latin America in the New Century," "The Future of Labor in Mexico," "The Construction of Democratic Governance in Latin America," and "Contemporary Inter-American Relations." In addition, the Vidanta Foundation Award is given annually in recognition of projects that combat discrimination, inequality, and poverty in Latin America and the Caribbean by promoting humanitarianism, philanthropy, and social responsibility. The Foundation's partnership with the Wilson Center in Washington, DC has also given rise to a research Fellowship that's intent on "Fostering Sustainable Tourism Development in Latin America and the Caribbean." The four- to six-month residency – which begins in September 2018 in Washington, DC – is open to all Latin American or Caribbean citizens with eligible documentation who reside in those areas.
From May 16-19, 2018, the Foundation also hosted its first Vidanta Forum to discuss the future of sustainable tourism in Mexico. The conference was held in The Grand Vidanta Convention Center at the five-star Vidanta Nuevo Vallarta, one of seven luxury Vidanta resorts located along the Mexican coast. The region is known for the long strip of beach that separates the resort community from the sparkling waters of Banderas Bay, where dolphins, turtles, and humpback whales are often sited near the Marieta Islands.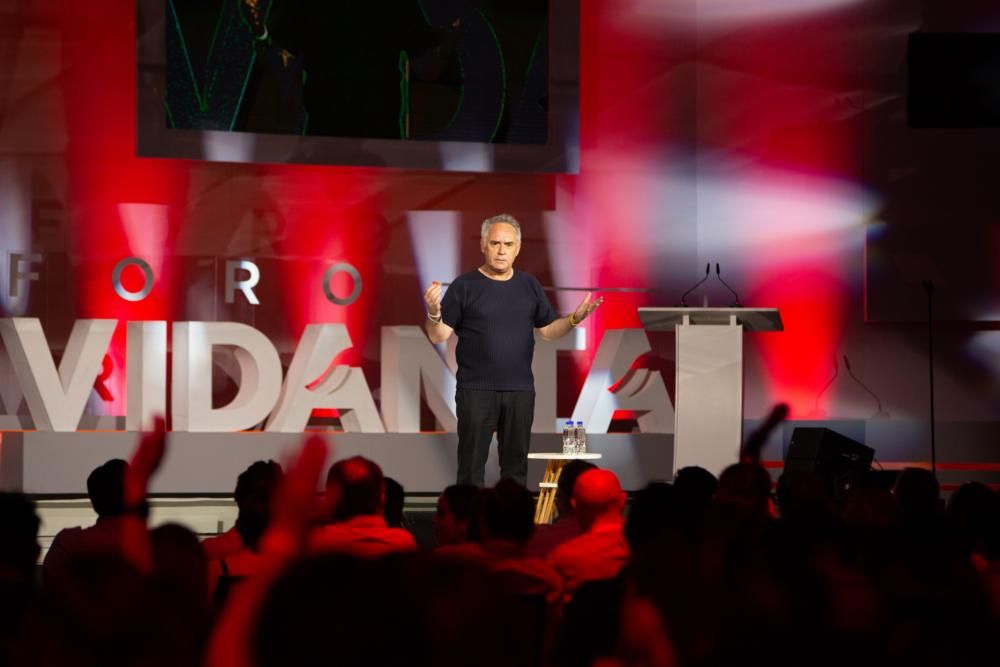 The Center's ability to accommodate up to 2,400 visitors – along with its state-of-the-art LED screens, audio-visual control cabins, and built-in sound system – made it a more than adequate space to host the Forum's roughly 450 guests, who were also treated to a one-act performance of Cirque de Soleil's JOYÀ, which premiered at Vidanta Riviera Maya in 2014. Among the Forum's special guests were actresses and social activists Brooke Shields and Gwyneth Paltrow. In individual conversations with Grupo Vidanta's Executive Vice President, Iván Chávez, Shields discussed "Tourism and Lifestyle," while Paltrow discussed her lifestyle company, Goop. Shields has also been involved in humanitarian causes such as Healthy Child Healthy World and The Listen Campaign, while Paltrow has served as an ambassador for Save the Children, as well as appearing on the Robin Hood Foundation's Emeritus Board of Directors.
In addition to the presence of Paltrow and Shields and the performance of JOYÀ, art played an important role throughout the conference. The topic on the final day of the Forum was "Creativity and Culture." Featured speakers included Daniel Lamarre, Cirque de Soleil's President and CEO; Cecilia Palma of the Festival of Mundo Maya; and Cecilia King, a freelance writer, radio show host, international speaker, and author of such books as Our Lady of Guadalupe. Cecilia Palma and Cecilia King also participated in a dialogue with Tomás Bermúdez on "Festivals and Tourism" about the role that a site's cultural heritage plays in the travel industry.
"Sustainable tourism" can be something of an oxymoron in the sense that tourism often has the effect of endangering the sites that travelers flock to see. This is especially pertinent for vanishing destinations – like Venice, Italy – that younger generations are eager to visit while they still can. Fortunately, this desire is also accompanied by a different approach to tourism, with millennials self-identifying as travelers rather than tourists. This means that they seek travel adventures in spots that they can adopt as homes away from home. Thus, their hard-won loyalty is often accompanied by a greater degree of respect for the places that they visit than may have been shown by older generations.
An intriguing spinoff to real-world travel is the idea of "inner travel" through books and stories. Research shows that reading can can delay or prevent dementia and improve logic and critical thinking skills. More importantly, readers of fiction experience increased levels of empathy, which can be strengthened and improved over time. This is because, according to Kidd and Castano's study, "literary fiction, . . . uniquely engages the psychological processes needed to gain access to characters' subjective experiences." In layman's terms, this means that readers are able to live vicariously through characters' experiences and emotions. As pertains to the Vidanta Forum, Mexico has over 100 book fairs throughout the year that provide an inexpensive way to connect with other cultures on a deeply personal level, which contributes to the Vidanta Foundation's continuing philanthropic efforts.