That The Merrion Hotel houses Restaurant Patrick Guilbaud, Ireland's only two-star Michelin restaurant, says plenty about its character and reputation. Forget gimmicky quirks and trending changes, this place is known for being as traditional as 18th century townhouses get, and super fancy with it.
Following the likes of Barack and Michelle Obama, Bruce Springsteen and Cameron Diaz among many others, we decided to spend a night at this city centre institution, to find out whether it lives up to its glamorous reputation. After readying ourselves by supping chilled champagne, here's what we found out.
Location 5/5
Would you believe it, the Merrion is just off Merrion Square, just east of the main drag of Grafton Street. Classy in every aspect, it's set just back from the main drag of Grafton Street, and opposite the Dáil, the Irish Parliament. That means it's walkable to most places, though most patrons will make use of the chauffeur or taxi services available.
Rooms 4/5
With whites and antique-y décor dominating, everything here is exquisitely decked out: the pillows feel like god's own teardrops, the towels are extra fluffy, curtains are thick and of the highest quality, and the toiletries are the delicately-fragranced Apsrey. The touches continue throughout, like there are complimentary on-demand movies for a cosy night in, and USB charging points for those of us (me) who forget to bring charging plugs. Many of the rooms offer a view of the Merrion's central garden.
There are a number of suites in addition to the double or twin rooms; I stayed in an airy Junior Suite which afforded a decadent amount of space, and oh-so traditional Irish furnishings that brought me back to another era.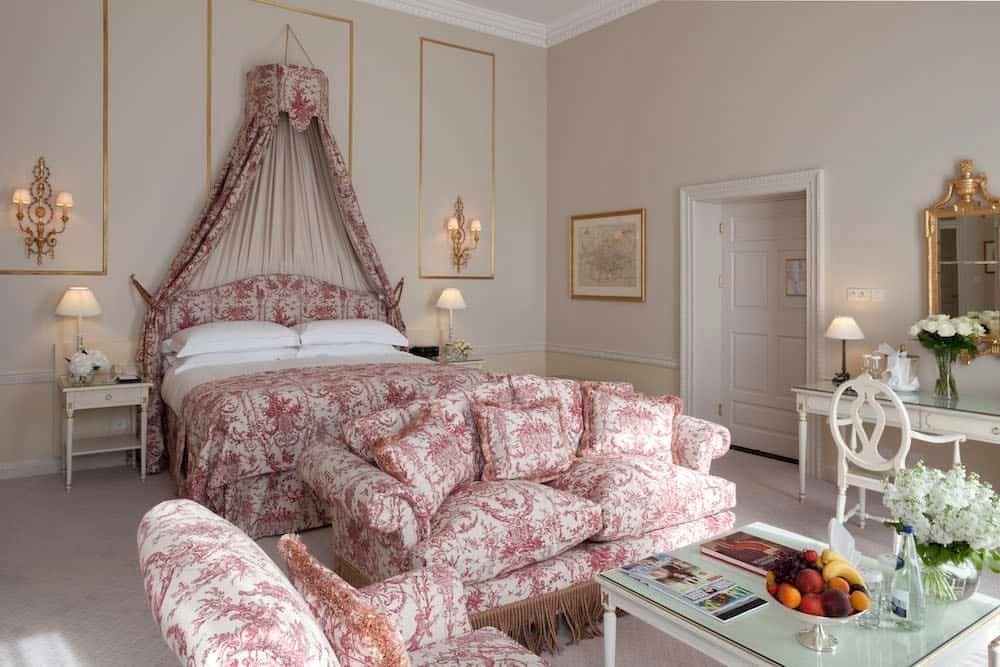 Services 4/5
Service here is the formallest of the formal. Expect doors to be held open, questions about hotel services to be answered by accompanying you all the way, and staff that go above and beyond expectation every time. Perhaps this is what it feels like to be a celebrity? The concierge service is well-known for being able to cater for all manner of requests, from concert tickets to specific birthday presents, but of course, it all comes at a price.
The gym and spa were closing for refurbishment the day after our stay, with an updated version due in April.
Food and drink 4/5
Fine dining fiends will revel in its adjoining restaurant Guilbaud, whose haute French cuisine is considered to be the best dining experience in Ireland. Unless I'm celebrating a parent's somethingth birthday or anniversary, I'd prefer either the Cellar Bar (also known for their refined cocktails) or The Garden Room, the more casual restaurant that places emphasis on hearty portions, Irish providence and smart-casual atmosphere.
The menu is extremely well-balanced: contemporary in parts, traditional in others, with a vegan menu too. My roast vegetable millefieulle was on the ordinary side, but my meat-eating friend had better luck with her 28 day dry aged, grass fed, Irish beef, served with oversized onion rings and not-too-thin-not-too-thick chips. We weren't ketchup-shamed either.
The wine list is wide-ranging and sorted by style, making it easy to pick out a favourite. Well, I could narrow down a 'crisp and fruity' glass of white wine to one of eight, anyway. And the Mahi Estate Sav Blanc from Malborough, New Zealand (€11.50), is my new favourite from the region.
However no aspect of the meal could be the dessert. Each option was tempting, but the raspberry soufflé (opened and doused in sauce Anglaise at the table) and the chocolate fondant were beyond brilliant, particularly neither felt dense despite the fact that they were. Or that's what happens when dessert is this delicious.
Insider tip
Even if you can't stay here, the Art Afternoon Tea (from €45) is a worthwhile activity in Dublin. The petite sweet offerings are based on the pieces in the hotel's art collection, from the likes of Jack B. Yeats, William Scott, Louis Le Brocquy. Novel as it is tasty.
Shilpa was a guest of The Merrion, Merrion Street Upper, Dublin (rooms from €310 per night, including breakfast.