The old-world charm and Victorian red-brick townhouse appeal have been deliberately retained in this 49 room hotel. You feel like you have walked back in time, to a place where the staff knew your name and premium service meant something.
Location 5/5 
This five-star boutique hotel boasts a top location on a quiet road among high-end designer stores in Knightsbridge. Harrods is about a 30 second walk away. However, even though it is very close to the bustling main shopping street, it is pretty quiet around the hotel. You wouldn't know you were in Zone one. The tube station is also a very short walk away, and Hyde Park is on your doorstep.
Comfortable rooms, and a brilliant Michelin-starred restaurant with a Cornish-inspired menu, add to the genteel vibe. 
Room 3/5
Rooms differ in size and character; some have blue palettes. Others such as the Junior Suites might have pink themes and interesting features such as vintage floral motif wallpapers and patterned curtains. It gives the hotel a homely feel but in a luxurious way, I wish my flat looked and felt like this, sadly it doesn't.
The room wasn't huge, this is central London, but the bed was one of the most comfortable I have ever been in, I floated off to sleep after the meal, more of which later.
All of the rooms have Handy Phones, robes and slippers, large televisions with Sky. Additionally there was a great selection of TempleSpa toiletries, bath salts, and vanity sets. 
Services 4/5
The staff are impeccably turned out, professional and very friendly. They can't be faulted. The lobby area is quite small but it doesn't feel cramped, it feels like walking into a old friend's front door. Immediately feeling relaxed and in good spirits.
One of the doorstaff was celebrating his anniversary of years working at the hotel. If memory serves it was 25 years, which goes to show how much the staff also value their time within the hotel. They are happy to help with anything you need so don't be afraid to ask.
In fairness the facilities are few, due to the size and location of the hotel. There is a small lounge where afternoon tea is served, the Michelin-starred restaurant, and a bar. That is about it, but then that is all you need.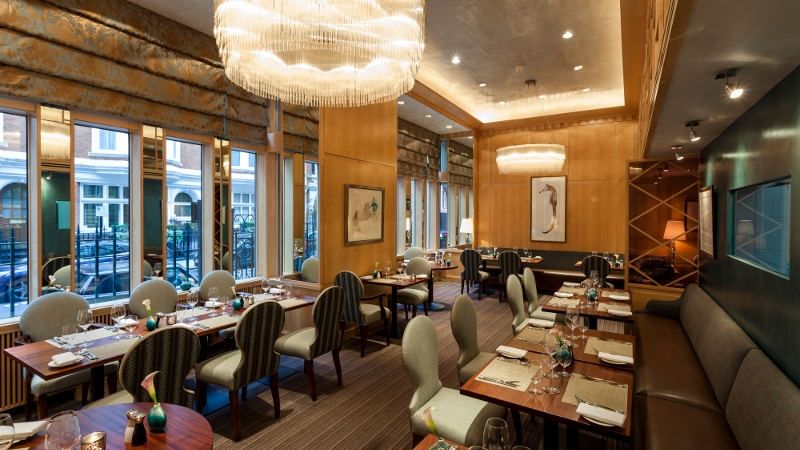 Food and drink 5/5
Outlaw's at The Capital is three Michelin-starred Nathan Outlaw's London project (and has one Michelin star of its own).  
Randomly my grandmother has a home next door to his Port Isaac restaurant and I couldn't wait to sample his London delights. It didn't disappoint, each mouthful took me back to the picturesque Cornish village, where I have visited every year since I was in born.
The Cornish inspired menu, was unreal, it champions exquisitely presented West Country seafood. The oysters were huge and the three course meal and wine accompaniment make you wonder why it doesn't have two Michelin stars.
The breakfast is relaxed and there is a buffet area and also cooked breakfast. Hot options such as eggs royale, full English, porridge and French toast with maple syrup is served to your table.
Total 17/20
Insider tip
Have a cocktail before, in the art deco bar area, small but swanky with very helpful bar staff.
An overnight stay costs from £340 per room per night (two sharing). Contact Pride of Britain Hotels on 0800 089 3929 (www.prideofbritainhotels.com).