I'd travelled past The Wellesley many times, apparently, without knowing of its existence. It's easily done. When driving through Knightsbridge your concentration is naturally on the traffic and in the rare moments of calm your gaze naturally falls on Hyde Park rather than the hotels sitting back from the road. All of which made its discovery that much sweeter.
And it's a real gem. Boutique-sized (36 rooms) though it may be, with an intimate dining room and a jazz lounge, it has a much bigger, 'grand hotel' hotel feel; it could be the staff – impeccably turned out, scrupulously attentive, or the ambience, which has a touch of the roaring twenties about it. It boasts the largest cigar humidor of any hotel in Europe (although despite a few sniffy online reviews moaning about the smell of cigar smoke I couldn't detect any lingering odour – probably due to the fact that the partaking occurs on a smoking terrace). Opposite the humidor is a cocoon-like bar, the walls of which are crammed with spirits of every possible flavour and hue, atmospherically lit and almost magnetically alluring.
We stayed in the Noel Coward suite, a beautifully-appointed space with extravagantly marbled bathroom complete with a wonderful 'slipper' bath, a main room with a wall-mounted TV, semi-circular sofa and an adjoining bedroom with a luxurious king size bed bedecked with pillows and cushions, and another wall-mounted telly. Oh, I forgot, the bathroom also had a TV. So uninterrupted viewing of Star Wars as we moved from room to room in preparation for dinner. My crumpled shirt was deftly removed by the concierge and it reappeared ten minutes later in pristine condition; had we been planning to take in a show, we were told by staff that there is a luxury car on hand to provide a free 'taxi' service, if it is not already in use (not bookable – first come first served).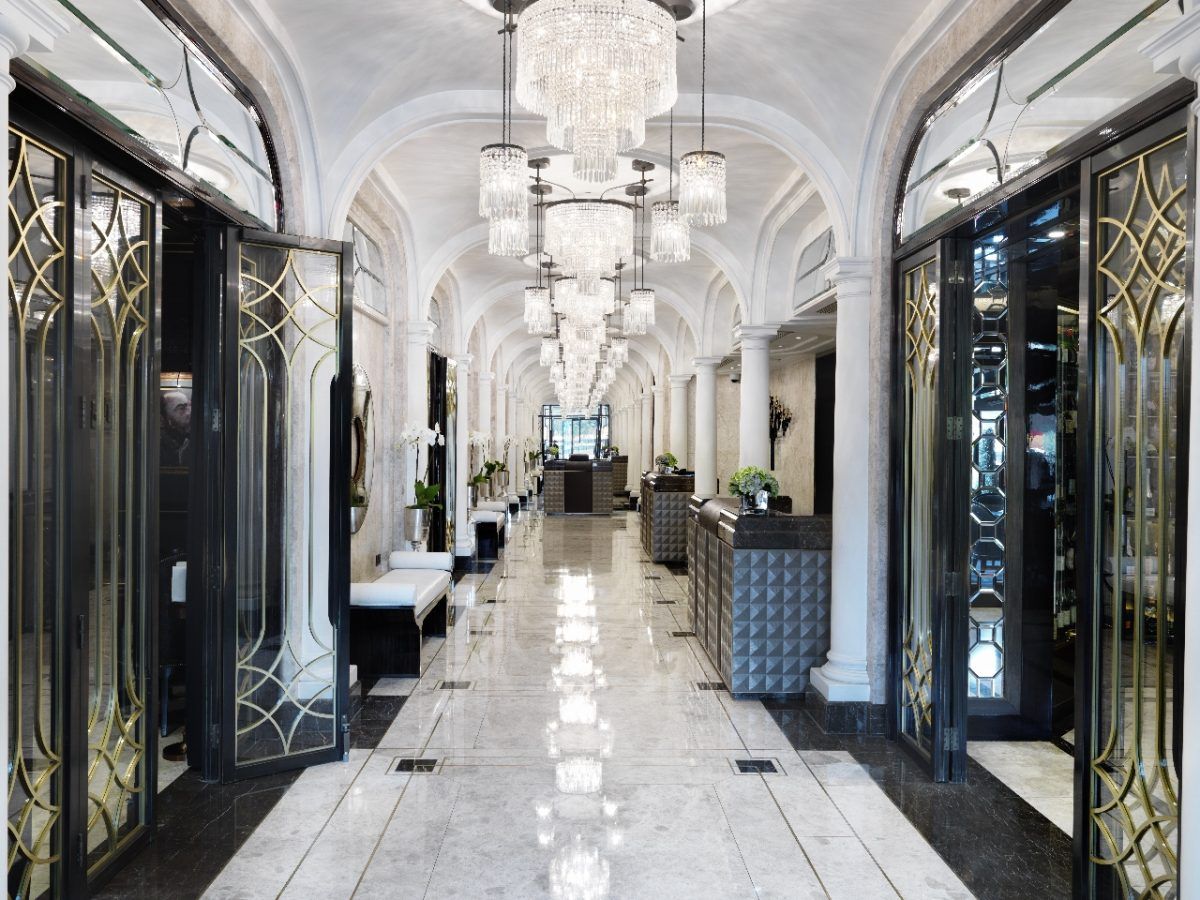 As mentioned earlier, the dining room is intimate, with three or four occupied tables, and somehow we feel as though we're sitting down to dinner on a private ocean liner. So it seemed appropriate that we both plumped for seafood starters: my partner chose seared scallops, tomato, mozzarella and basil (£22, "very, very good") while I went for the Cornish crab salad with black rice, aioli and seaweeds (£24), which was delicious – the crab was creamy and slightly chilled, and the accompaniments added fantastic texture and taste.
My other half ordered Dover sole for her main and was surprised to be presented with what looked like two batons; I asked what that style was called and a waiter looked temporarily nonplussed before replying, not completely convincingly but with straightforwardness, "rolled". Anyway, the sole was served with crispy asparagus, wild mushrooms and "zesty" lemon verbena sauce (£44) and went down a treat. I was torn between the Scottish beef fillet and the roasted loin of lamb, but finally chose the suckling pig with artichokes and quince jelly (£28), which was mouth-wateringly tender and sweet.
By now the chanteuse had warmed up in the jazz lounge across the way, making increasingly impossible jazz demands ("Cry Me a River! Fly Me to the Moon!!") and we were desperately searching for some extra space to do justice to the puddings. Mission accomplished, I elected the lemon tart with sesame seed meringue and sour cherry ice cream (£12.50), which was a flavour carnival, while my partner went for the triple chocolate bavarois ("I'm not going to ask what a bavarois is, the clue here is 'triple chocolate") with mandarin sorbet (£12.50), which was rich and lush.
We had to split in the morning, after a superb night's sleep, but if like me you've passed by the Wellesley without knowing, I'd recommend taking the time to treat yourself to a night of luxury at this hidden beauty.
By Jay Williams