Travellers looking for a break from the hustle and bustle of city life could do a lot worse than considering Perthshire for their next trip away.
Famed for its dramatic mountains, serene glens, rushing rivers and glacial lochs, the rugged and wild county, which lies at the geographical centre of Scotland, has it all from a wildlife perspective, and plenty more to boot if golf, long walks and cosy high teas sound like your thing.
A ten-minute drive out of Perth and less than a half-hour drive from Dundee Airport (with direct flights to London Heathrow) lies Murrayshall Country House Hotel, which is set within acres of rolling hills and peaceful natural surroundings.
The house was owned by Sir Andrew Murray, whose direct descendants, the Earls of Mansfield, still occupy nearby Scone Palace. It was converted into a hotel in the 1970s and since then has gone from strength to strength.
Location
The location is a striking setting as befits a 400-year-old stately home set on a whopping 365 acres. With alluring views in all directions, Murrayshall is only three miles from the city of Perth and around two miles from the picturesque village of Scone, Scotland's historic capital – pronounced 'Scoon' by the way – yet feels as if it is in an idyllic world of its own.
Rooms and interiors
There are 40 rooms and suites. Guests can choose to stay in the historic house itself or in one of the Lynedoch Suites which are in a separate building a few yards away. Accommodation comes with complimentary Wi-Fi, Scottish Shortbread, flatscreen TV, bottled water and tea and coffee-making facilities. Many of the generously sized, well-lit bathrooms have walk-in showers as well as a stand-alone bath, all are stocked with glorious toiletries by Gordon Castle, incidentally, they contain nothing artificial at all.
An abundance of cosy sofas and armchairs are sprinkled across the hotel's public areas which are populated with tasteful dashes of tartan, period furniture, artworks, rich fabrics, log fires, lots of tall vases of flowers and a glorious grandfather clock. The hotel is super- dog friendly too.
Food and drink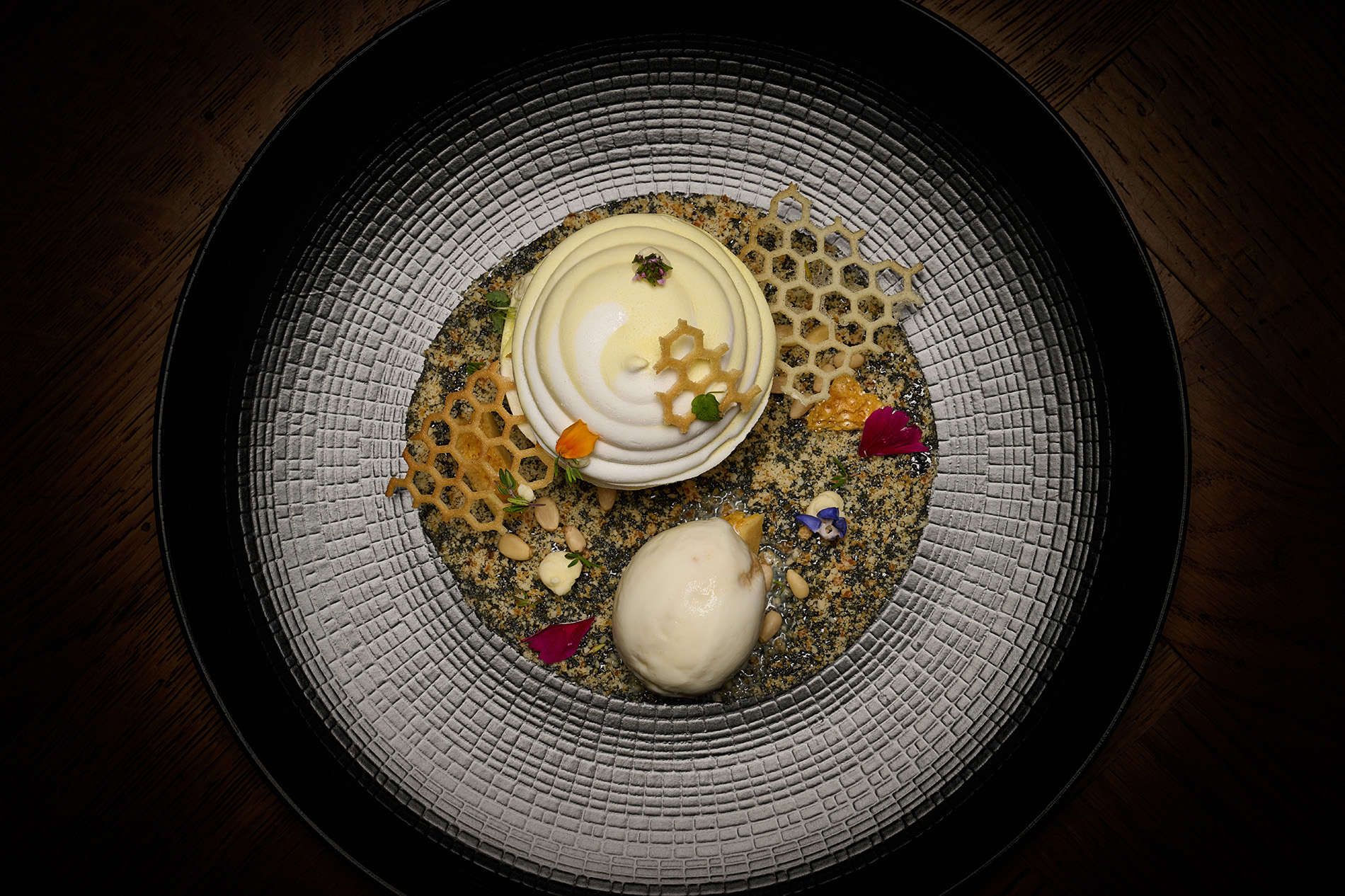 Bespoke thistle wallpaper adorns the walls of Eòlas, the hotel's fine dining restaurant open daily for breakfast and dinner as well as Sunday lunch. Pronounced 'olas', meaning 'experience' in Gaelic, an imaginative menu offers such delights as hand-dived scallops with fennel fondue and bouillabaisse sauce while meat eaters could for instance opt for venison with black garlic and fermented spelt. Puddings are as deliciously calorific as they ought to be, there's a pear crumble souffle served with vanilla anglaise and clotted cream ice cream that should be given regal status. Whatever you choose, Craig Jackson and his team are sure to impress with the finest ingredients sourced locally. Charming, laid-back Cairns Restaurant meanwhile, is the hotel's more casual dining option, though the menu is also fabulous offering dishes such as highland wagyu burgers and chef Sahan's Sri Lankan curry, which is a mix of sesame chicken or cauliflower, devilled sauce and yellow rice. There's plenty for veggies to choose from too. The Barossa Bar is an idyllic spot with cosy open fire, serving lunch and dinner in the winter months and the venue for afternoon tea. However, if you've eaten the full Scottish breakfast – a plate crammed with bacon, pork sausages, black pudding, haggis, mushrooms, potato scone, grilled tomato and free-range eggs and there is an equally impressive vegetarian offering – then it's unlikely you'll want to each much for the rest of the day.
Service
Expect genuine Scottish hospitality throughout. Staff are efficient with ready smiles and it seems are intent on making you feel at home.
Facilities and amenities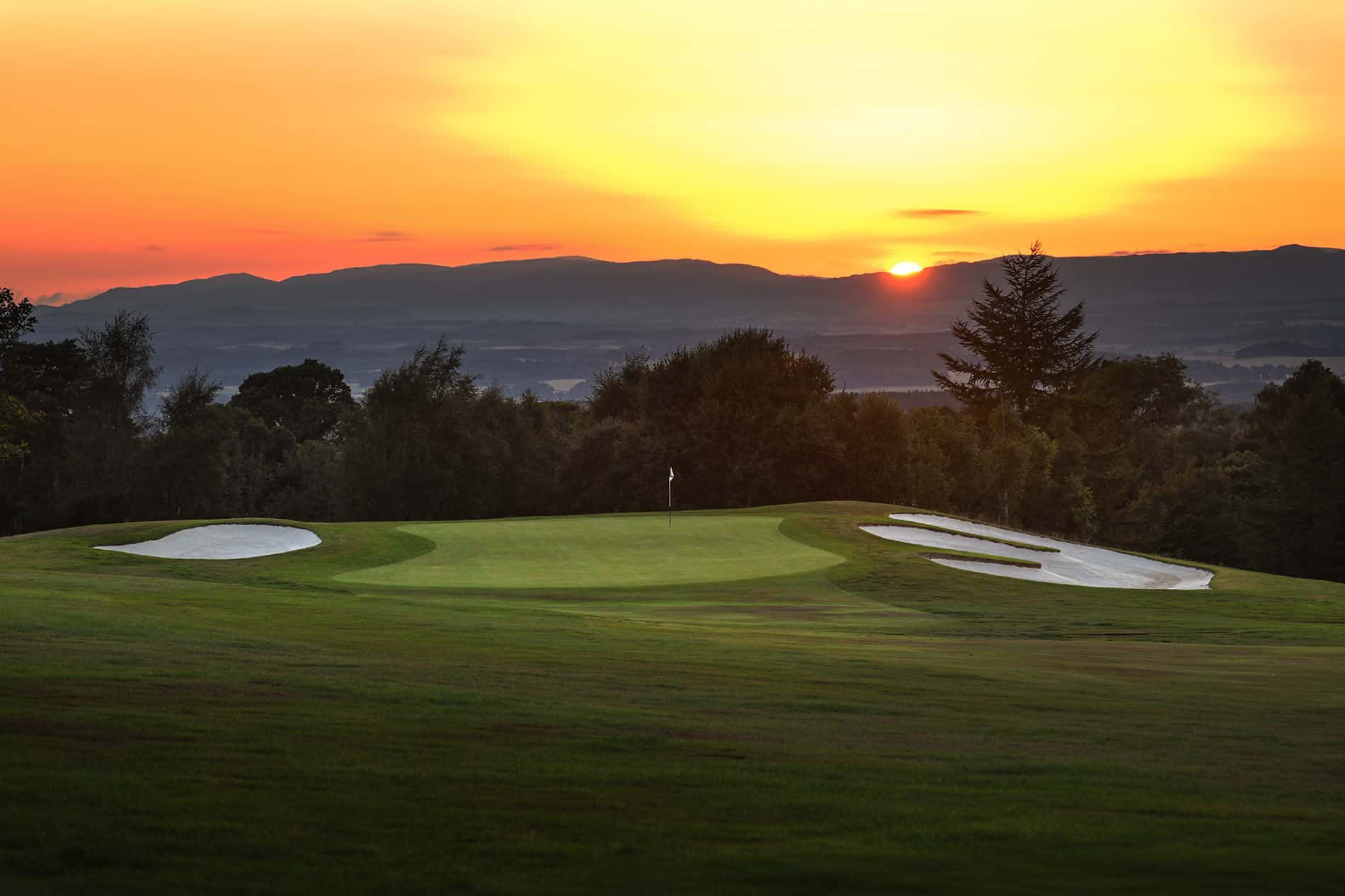 This is a golfer's dream with 27 holes of parkland golf to enjoy, though no matter if you don't play golf, there are plenty of other distractions. Laser clay shooting, paddle boarding and axe throwing are only some of the activities lined up with local charity-run activity centre, Willowgate; and nearby Scone Palace, crowning place of 42 Scottish kings from the 9th century, is a must visit. It was believed that no king had a right to be called the King of Scots unless he had first been crowned here, on the Stone of Scone. Guests can also enjoy whisky tours at local distilleries or hire a bicycle from the hotel to explore the countryside on two wheels. Waymarked and mapped walking routes loop around the Estate or for those who prefer, the hotel offers guided walks. It's a great place for wildlife spotting and when you are out and about you are bound to see roe deer, red squirrels and probably woodpeckers, buzzards and red kites too. If you want something extra special, the hotel will prepare a picnic backpack crammed with goodies for you to enjoy in the open air. If that all sounds like too much hard work, a small spa in the Gate Lodge offers treatments using Scottish organic seaweed products from Ishga, treatments are sure to uplift mind, body and soul.
Factbox
Rooms: Double rooms from around £199 per night 
Address: Murrayshall Country Estate, Scone, Perth, Scotland, PH2 7PH