Ireland's not short of incredible spa hotels, from the luxury retreat of Monart to the high-end, welcoming Cliff House to the well-designed Aghadoe Heights. So it was with pleasure and intrigue that I ventured northwards, to the four-star spa hotel of Galgorm Resort, ostensibly to try out its new Quartz spa treatment.
Expectations were high: my Northern Irish friends swore it was their favourite retreat, and their promise of an outdoor thermal village gave it a draw that few in Ireland have (perhaps because of the notorious weather). It turned out that the reputation was deserved – here's the lowdown.
The area
Galgorm is deep in Co Antrim, around 30 minutes or a £30 taxi ride away from Belfast's two airports, and a 45-minute (£45 taxi ride) journey away from Belfast city centre. The small village has minimal amenities, but welcoming locals who are curious about Galgorm's many visitors.
Of most interest is the estate itself: its 163-acre expanse is ripe for exploring, with the babbling River Maine defining its boundary.
General room vibe
The hotel has 122 rooms, including 48 deluxe rooms (which feature a lounge area), Junior and Signature Suites (which have large balconies, and a private hot tub in the Signature Suite. A private hot tub!).
Many face the river and the outdoor spa, which is useful for knowing when to nip out for sauna time. All have a complimentary minibar, which doesn't include alcoholic drinks, but invaluable at 5pm when you're hankering for a Diet Coke and crisps.
As for the decor, the rooms seem newly updated but free of trendy designs. Neutrally decorated as if it were a business hotel, the idea is to linger in the communal areas of the hotel – and there's plenty of scope for that.
Stealability of toiletries
Very stealable indeed, as one would expect from a spa resort. Two minis of Aromatherapy Associates shower gel, shampoo and conditioner are left in the bathroom, plus one mini of body lotion. So leave room in your wash bag.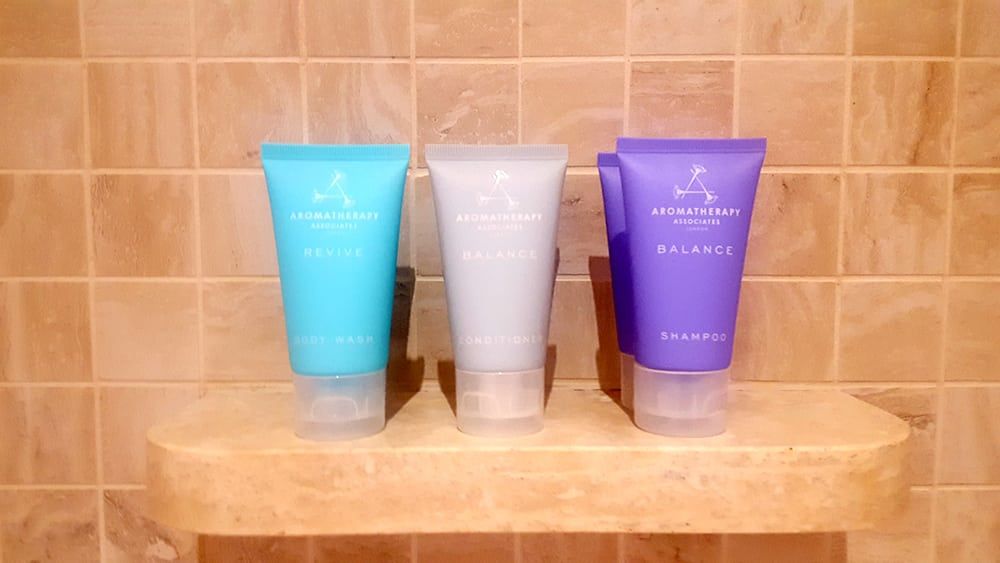 Shower amazingness
The shower in my deluxe room was an oversized rain shower – ideal for a continued feeling of nature-induced luxury after a spa experience. It would have been nice to have a handheld shower too, but that's a small gripe.
Wi-fi strength
Perfect – wi-fi is free, widely available across the grounds, needs no sign in, and Netflix et al stream wonderfully.
Spa fun
Well. If the tranquil grounds and nice restaurants and bars seemed like the calling card of Galgorm upon arrival, wait until the spa is revealed. Like an adventure playground but for adults in need of pampering, there's enough hot tubs, saunas, steam rooms and hydrotherapy pools to keep the old uns out of trouble for days.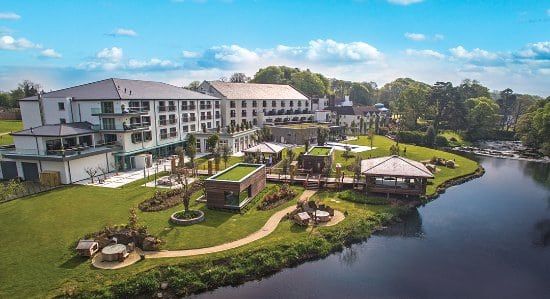 I especially loved the Snow Cabin which was both beautiful and much-needed after a few minutes in the adjacent sauna. And the other sauna that looked onto the beautifully-manicured garden and river. And the two outdoor Jacuzzis that were just as alluring in the rain as the sun. I could go on.
Treatments start from £90 but I was there to try the new Quartz Treatment, their 90-minute signature service (£100 weekdays and £120 weekends as an introductory offer). Based on hot sand therapy, it uses a bed of small quartz stones to help improve circulation, aiding muscular and immune health. With a cloth resting on the stones, it feels much like lying on a pebbly beach.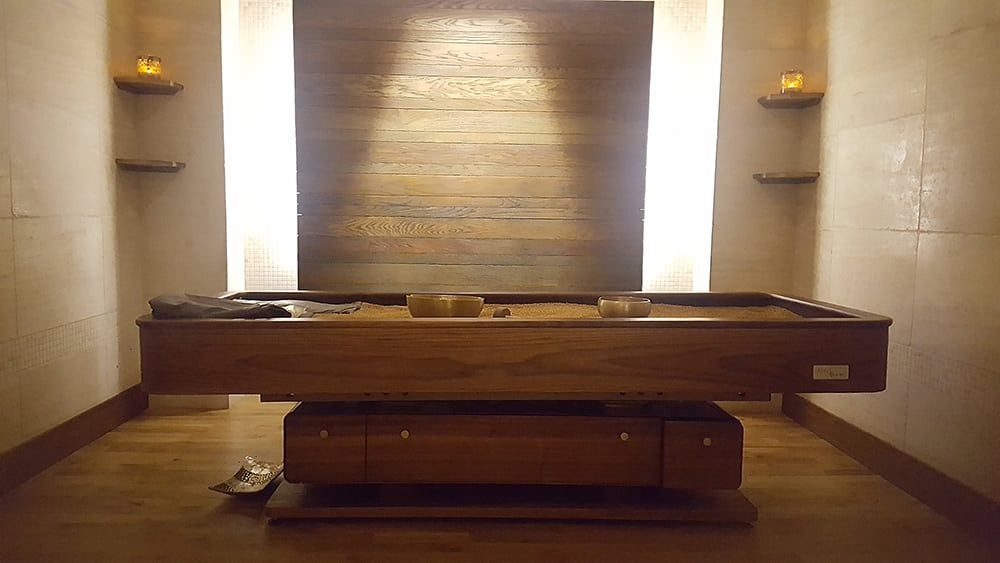 Beginning with the Singing Bowl meditation ritual which sends vibrations across the bed (a weird but pleasing sensation), the full body massage was divine. Aside from the beginning, end, and when I turned over, I didn't consciously feel the stones. But after a few minutes in the quiet room enjoying a mango sorbet and glass of water, I left as light as a feather. Bliss.
Breakfast spread
The full Ulster fry is a must for any visitor: potato farls with bacon, sausage, black and white pudding, eggs and mushrooms, though for the health conscious there's premium chopped fruit plus cheeses and meats. My sweet tooth drew me to the Belgian waffles which I loaded with maple syrup – worth every calorie.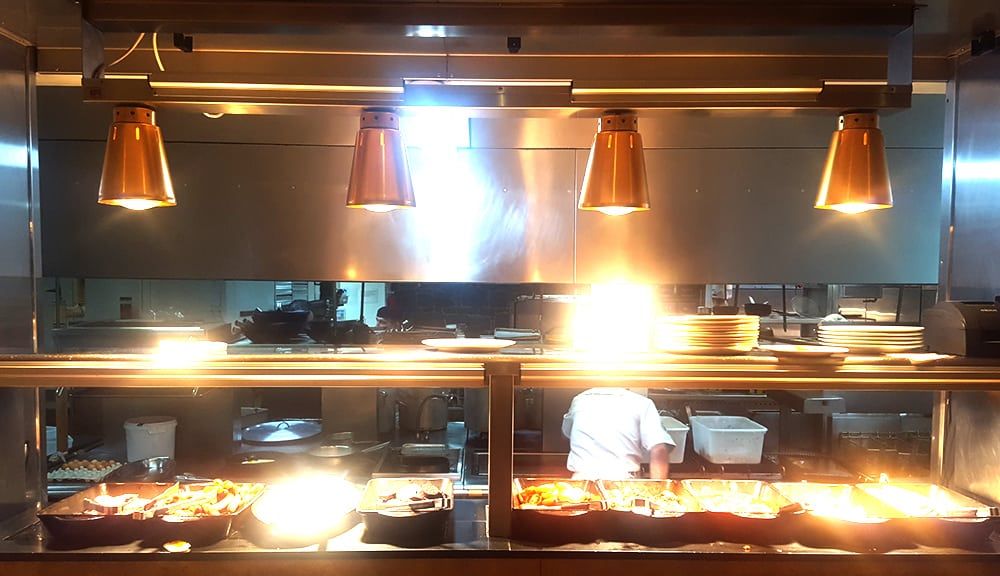 The service wasn't uniformly good (perhaps because it was very busy when I went) but the buffet breakfast mitigates that, and I particularly appreciated their takeaway box for my early departure: as requested, I had a flaky pain au chocolat, tub of premium chopped fruit and wake-me-up coffee waiting for me at 5.30am – all devoured by the time I arrived at the airport.
Nearby dinner options
Galgorm has a few local restaurants but it's the resort's own array that steal the show. The Italian, Fratellis, was booked out so I didn't get a chance to try out its obviously-loved pizzas (and the chunky chips looked mouth-watering). Instead, I ate at Gillie's Bar and Grill.
Though meat is its forte, they have a separate vegetarian menu with good choices. I opted for the chickpea and quinoa burger which was too dry for my liking, but the starter of nachos and my friend's sea bream suggested it was an anomaly.
For a fancy night, the River Room restaurant is their haute cuisine restaurant, and that's on my list for the inevitable return.
Overall
It's a wonder Galgorm is four-star: the service, facilities and restaurants is of a high a standard as I've experienced in five-star hotels – just without the pomp, which makes it all the better for relaxing. Weekends and bank holidays can get busy with residents and locals, so it's top on my list for a mid-week pampering break.
For more information and to book a stay or spa treatment, visit galgorm.com.