It's a quarter to five by the time our car rolls into Home Farm Glamping, meandering through the winding country lanes over a stream before coming to rest outside the barn.
Moments earlier we had been whizzing up the A5 that connects you to central London either by car or via Edgware Station on the Northern line or Stanmore on the Jubilee, both a ten-minute taxi ride away from the campsite.
The hustle and bustle of the city seemed like a distant memory as we unpacked our bags onto a wheelbarrow and made our way over to our secluded bell tent, ready to unwind in the sun with a book in one hand and a Campfire gin and tonic in the other.
Designed to unplug
Set within 150 acres of land Home Farm Glamping is about as 'Covid-secure' as they get when it comes to booking those first nights away from home.
Only six tents can currently operate with dedicated bathroom facilities so guess have most of the campsite to roam with hardly a soul to bump into.
And what a campsite it is too.
Wild woodlands, meadows, historic parklands and a private lake can all be found within the confines of the Aldenham Estate in Elstree, part of the London Metropolitan Green Belt.
Activities such as forest bathing, yoga in the meadow, outdoor theatre and music or dining alfresco after foraging for your dinner are also often put on to allow you to enjoy the space.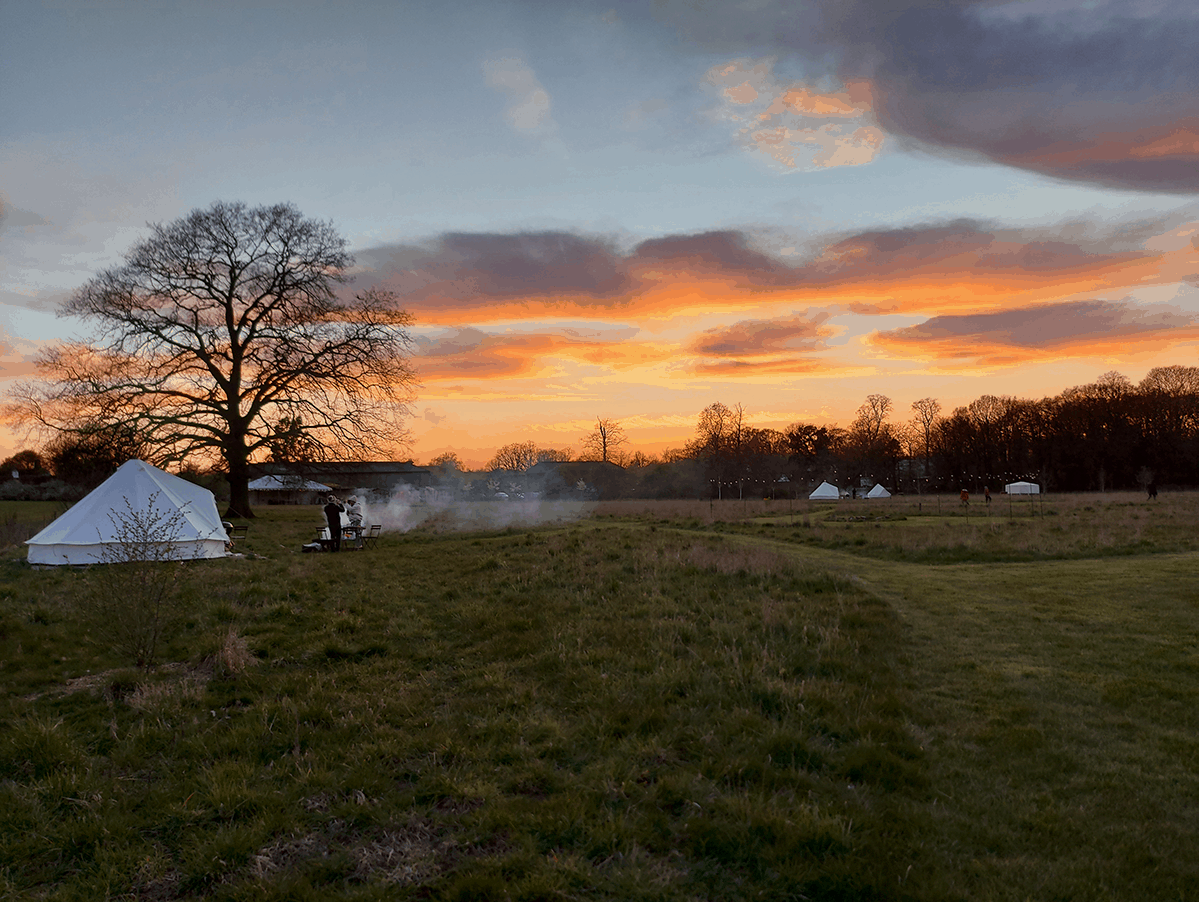 Cosy furnishings
But you will want to acquaint yourself with your immediate surroundings first, with some of the most Instagrammable lodgings in the city to be found within the bell tents and yurts.
Home Farm Glamping houses four light insulated yurts that can sleep up to five, with a big comfy double bed housed under a canvas that features large port-hole windows and a traditional "crown" skylight.
The bell tents are a little more roomy, with drawers and a chest at the foot of the bed along with a wicker basket for wet wellies and shoes and plenty of blankets.
Both have a superb decking area equipped with chairs and table, a BBQ and a fire pit which will keep you warm into the night.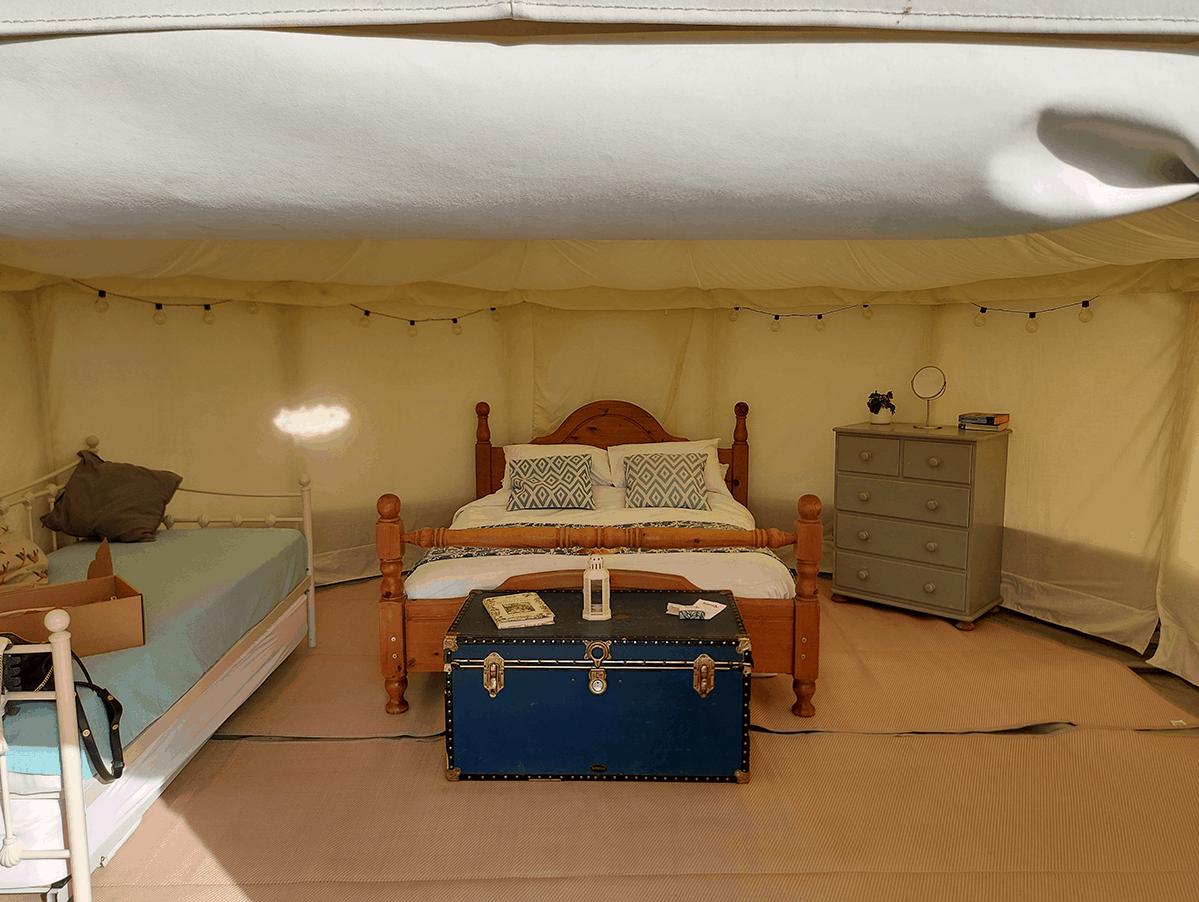 Food hampers and breakfast
Of course, no glamping trip would be complete without scrumptious food, and Home Farm provides that in spades.
While guests have the option of bringing their own food to cook on the barbecue, food hampers are also available from Sainlo Events which can provide cooked breakfasts, lunch/afternoon tea hampers and BBQ meal boxes.
The food is easy to prepare and tastes delicious in front of a roaring fire outside your tent.
And nothing quite beats the stroll down for a warm full English breakfast in the morning, served in the on-site cafe tent with pots of tea and coffee.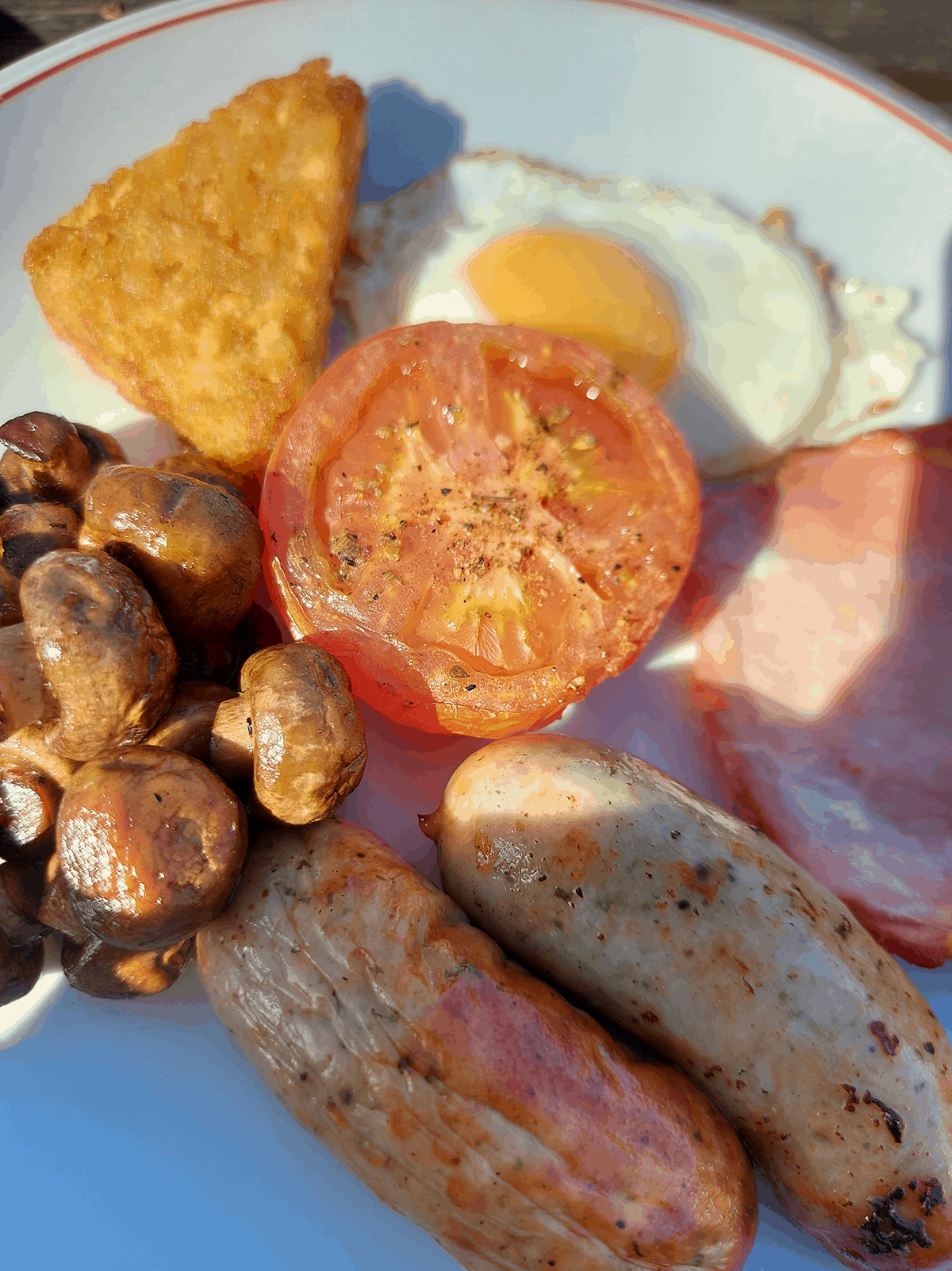 Facilities
Elsewhere on the campsite you will find a range of facilities to make your stay comfortable.
All bell tents and yurts are fully kitted out with beds, bedding a linen as well cushions, blankets, outdoor chairs and tables.
There is a basket of wood for the fire pit and charcoal and utensils for the barbecue, with crockery, tumblers and a bottle opener in the tent on arrival.
In the barn you will find a shared kitchen area for washing up as well as fridges, freezer, hot water urn and mini oven/ hob and microwave.
Hot water bottles can also be found in the barn and can be a godsend on chilly nights.
Upcoming events
Make sure to look out for upcoming events at Home Farm Glamping, such as At Home Farm Live featuring Jack Garratt and others playing live in the woods.
The Rogue Theatre, Woodfired Canteen and Outdoor Yoga also hold regular events, so keep an eye out for that.
Find further details about glamping, events and FAQs at homefarmglamping.com.