by Pat Levy
Aeroplane food, cramped feet, bad movies, wandering the sterile walkways of Johannesburg Airport while waiting for a connecting flight…why put up with all this?  Answer: the hauntingly beautiful and supremely unspoiled Okavango delta in Botswana. Arriving at the country's Maun airport, ferrying point for adventurers heading deep into the delta, you are greeted by smiling (yes, smiling) immigration officials whose questions seem more motivated by friendly interest than interrogative inquiry. A small herd of light aircraft waits on the tarmac for intrepid travellers; until your return, this is the last time you will see queues or crowds or concrete.
Boundless areas of untrammelled earth form the vista below as the plane grumbles into the sky, shades of green dotted with tiny oases of trees around tinier water holes, winding ribbons of road and rivers. Animal life remains hidden but, landing on a ridiculously narrow landing strip, the engine's noise scars off bird life that flutters away at the edges of a dense jungle of palm, mopani and sausage trees. This is Botswana, landlocked in southern Africa, undamaged by the modern world. We are not in the Anthropocene.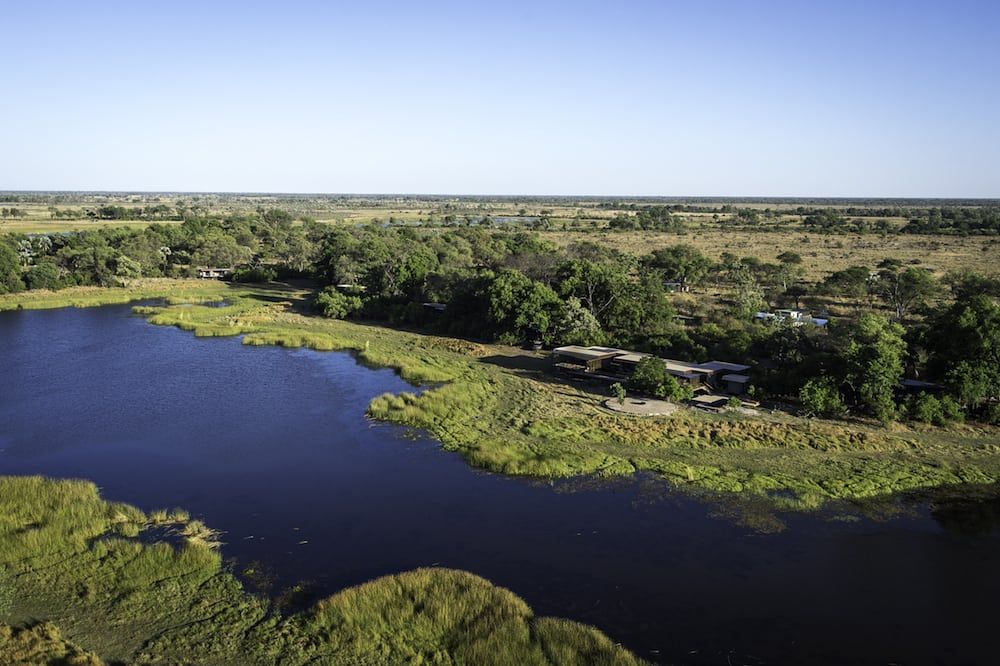 The Okavango is an inland delta, a huge fault line in the underlying rock blocking the 1,600 km-long Okavango River and spreading its vast waters out towards the Kalahari Sesert. Lagoons, river systems and marshes are temporarily created, watering the verdant plant life of slightly higher ground. Seasonal rains that fell thousands of miles away in Angola keep this region of Botswana naturally fertile.
Yawning hippos, grumpy elephants, snuggly lions, a festival of birdlife, slinky leopards, wild dogs – all 600,000 sq km of Botswana abounds with creatures you've probably only seen pale shadows of in zoos and wildlife parks. What's uncanny, moreover, is that they're looking at you just as speculatively as you're gazing at them.
It is possible to hire a fully equipped jeep and stay at camp sites but, for luxury and guides who know  where to locate the wildlife, it's tempting to shell out and stay at one the small-scale but expensive camps dotted around the delta. The camps are mostly located beside lagoons where there are guaranteed sightings of wildlife from your balcony, sometimes alarmingly close. The routine follows a time honoured pattern: animals are most active in the early morning and evening so this is when you set off for a carnival ride in a jolting jeep, travelling along barely visible tracks, into and across waterways and at speed if another guide reports a good sighting.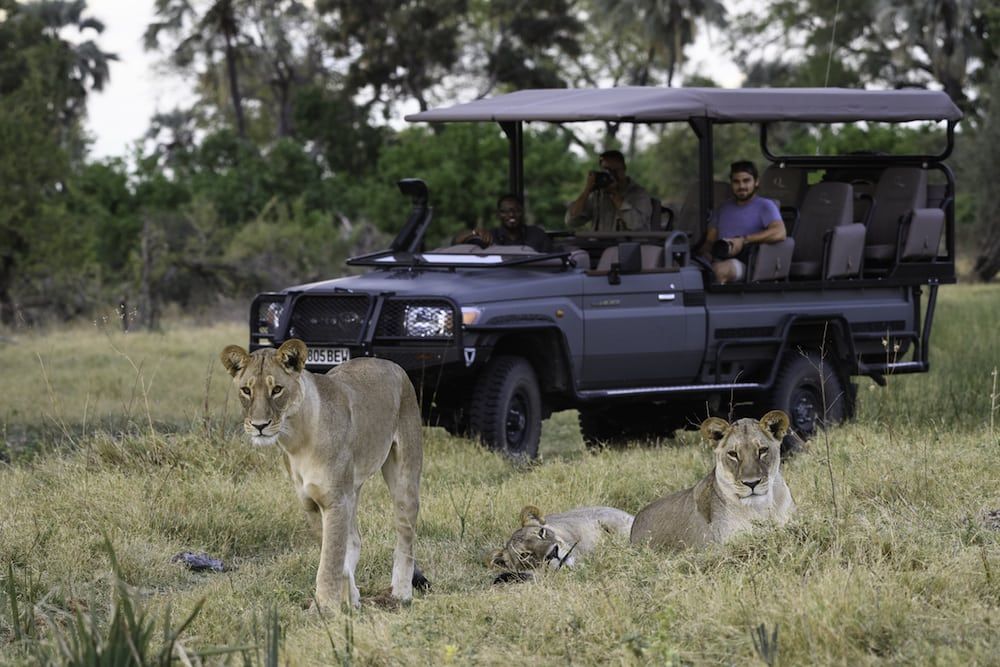 Arriving at a pride of lions chewing on some unfortunate zebra, or a rare pack of wild dogs, following and bringing down their prey is exciting. Red in tooth and claw, life for the smaller creatures is a tenuous affair while the bigger ones – elephants, Cape buffalo, hippos –live undisturbed by and uninterested in mere humans peering at them from a vehicle. Early evening is sundowner time in the bush, watching a huge African sun glide below the palm trees, listening to the settling down calls of birds, hyenas, and the occasional noisy yawn of a hippo, while sipping a G&T.  At Qorokwe camp in the south of the delta, sundowner includes a punt through water lily-filled lagoons, a guide ahead of you looking out for submerged crocodiles and hippos who wouldn't take kindly to a dugout canoe scraping their back.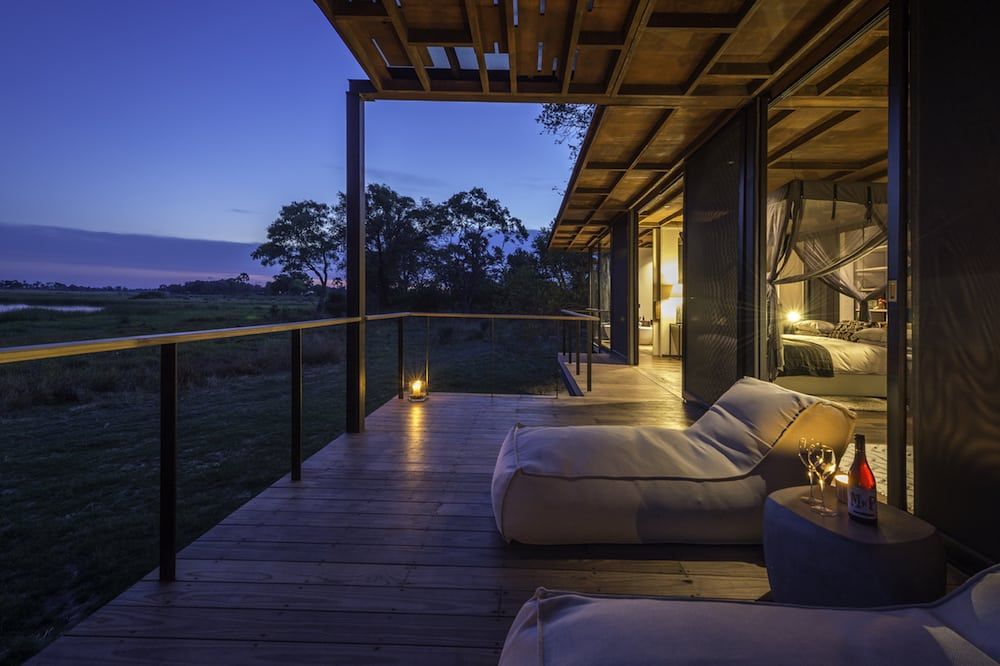 At Duma Tau camp in the north of the Delta, run, a highlight is a silver service lunch on a barge out in the lake where young elephants frolic, and tiny jacanas walk on the lily pads.
There is always a frisson of unpredictability: elephants wandering through a camp, a photogenic bird landing on your breakfast table, a roaring lion too close for comfort. Every day brings some new wonder, from a leopard and its cub dining on a young lechwe carcass, a honey badger tumbling around in the grass to your jeep hitting an aardvark burrow. The evenings are filled with travellers' tales about their sightings, animatedly telling the story of their day's brush with nature in the raw.
One last experience, the candy on the cake, involves a short trip over the border to to Victoria Falls in Zimbabwe. The Falls deserve their status as a bucket-list destination and, after the peace of Okavango, the relative razzle-dazzle hoopla of the place prepares your mind for a return to the modern world: fast food joints, traffic jams, tourist tat, bungee jumpers, helicopter rides – it's all here. At the Victoria Falls Lodge, a Gormenghast-like warren of a hotel, a lunch show easily matches some of the best moments of the Okavango as great chunks of meat and bone are thrown down beside the hotel for hundreds of vultures and marabou storks to squabble over in a cloud of dust. Later you can eat dinner, looking over the balcony of the dining room at hyenas clearing up the leftovers from the vultures' lunch.
Mahlatini Luxury Travel (028 90 736 050) offers a 6 night luxury holiday at Wilderness Qorokwe Camp and Duma Tau Camps and Victoria Falls Safari Lodge (2 nights at each camp) from £5,400 per person sharing. Includes international flights from London, transfers and  safari activities.