The all-conquering SUV has largely seen off the estate car. People looking for a bit of extra practicality once flocked to estates; now the UK's roads are a largely amorphous blob of crossovers and SUVs. So many of them have been hastily produced simply to appeal to the insatiable demand and, depressingly, they have sold in their droves. The estate car isn't quite dead yet, though. Whilst it may have been on life support, it is beginning to show some signs of recovery. The doyen of the segment, the Audi RS6 is still going strong. BMW has launched the M3 Touring to much fanfare. Mercedes still shifts a few 43s and 63s in CLA, C and E class estate guise. The VW Arteon R is another contender.
There's just something about the shape of estates/shooting brakes. To address that, quickly: shooting brakes are, or were, based on two-door coupes, whilst estates were based on four-door versions. The Arteon coupe is a four-door but VW refers to this as the VW Arteon R shooting brake. Shooting brake sounds undeniably sexier than estate. I see where the marketing folks are coming from.
Anyway, the VW Arteon R shooting brake looks superb. It's an undeniably attractive car. So attractive, in fact, that you wonder why anyone would buy a Tiguan. I don't hate the Tiguan, but it can't compete with its stablemate on the aesthetics front.
Nor can it compete with it on the performance front. Equipped with VW's EA888 engine that is found in models such as the Golf R, the 2-litre turbocharged unit produces 320hp and 420Nm of torque. Married to a seven-speed dual-clutch gearbox, it propels the VW Arteon R from 0-62mph in just 4.9secs. That's enough to pin your dog firmly to the rear windscreen.
What's the VW Arteon R like to drive?
The highest compliment you can pay the VW Arteon R is that are times behind the wheel when you could believe you're driving a Golf R. There are times. It being a much longer, heavier car than its hatchback cousin, however, this isn't always the case. And yet the VW Arteon R is rather enjoyable for that. Where the Golf can feel like it's on rails, so planted is it, the VW Arteon R is a little looser, a little more playful.
It gathers pace so competently that you barely believe a 2-lire engine with 'only' 320hp can send such a car along at such a rate. It doesn't provide the most sonorous of acoustic accompaniments, but my word is it effective. It's good fun, too.
Brake hard and late and the chassis begins to squirm beneath you. Get on the power early and the back end begins to rotate around you. It encourages you to lean on it. There's even an overbearingly tempting 'R' button winking at you from the steering wheel. One press and the VW Arteon R is in race mode. This makes the responses sharper and hold the gears lower in the range to more quickly exploit the performance on offer.
You can put it in manual mode, although it will upshift for you eventually. Whilst that's a bit of a shame, it does at least have proper paddles behind the steering wheel that encourage you to use them.
The steering is accurate and gets more reactive in race mode. There's not much in the way of feedback, as is the case in almost every modern car, but it enables you to place the VW Arteon R exactly where you want it.
Living with the VW Arteon R
And then breathe. Dial it back to comfort and there's the family estate car again. The VW Arteon R potters around rather pleasingly. It's set up more firmly than a standard model to account for the extra performance, but the compromise isn't too great. Sure, you'll notice potholes and speedbumps, but given the lamentable state of the UK's roads the same is true of anything.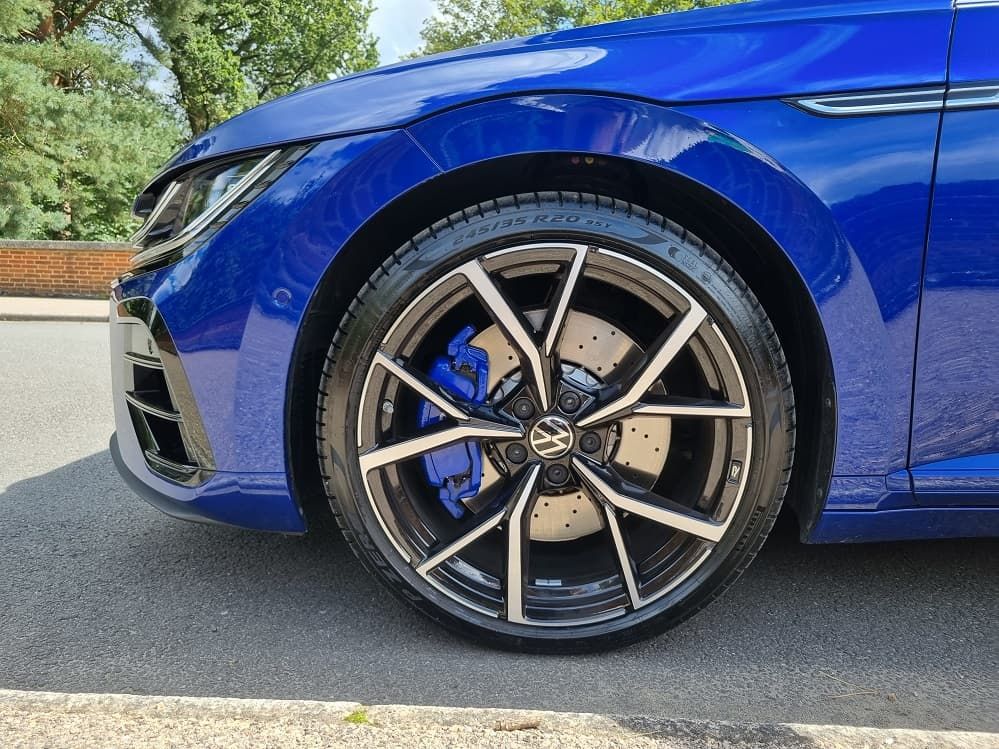 It being an estate, sorry, shooting brake, the VW Arteon R ticks all the practicality boxes. Cabin space is plentiful and the 590-litre boot will accommodate anything. In opting for the R, the panoramic sunroof comes as standard and it's a nicely appointed car. Opt for the assistance pack (£345) and you get an overhead view and self-parking which makes life very easy indeed, even protecting those 20" Estoril wheels (£615, 19" wheels come as standard).
The infotainment has been a sticking point for some. If you like physical buttons, this isn't the place for you. One drawback of writing these reviews is that you only generally get a week with the car. With ownership, I'm quite sure that the infotainment would become second nature. Hooking your phone up is really easy and then you're away.
Once up and running, the VW Arteon R is a little thirstier than its more relaxed equivalents. Over 268 miles of driving I achieved 26.7mpg. Now, I did spend rather a lot of time on B-roads. I rather enjoyed the VW Arteon R and couldn't resist that R button. On longer motorway journeys it will, however, comfortably return north of 30mpg.
It's also comfortable itself in those mundane settings. It does all the family and commuting stuff impressively. The you can then hit that R button and make other cars a lot smaller in your rear-view mirror.
Conclusion
One question that repeatedly came to mind during my week with the VW Arteon R was: why don't I see more of them? Sure, most would inexplicably opt for an SUV, but it looks amazing, drives well and is incredibly practical.
This brings us to the cost. The VW Arteon R is £56,750 on the road before options. The model tested comes in at £64,225.19, to be exact. In a nation on badge snobs (ask Infiniti, Genesis and even Lexus), that's a lot of money. It brings the VW Arteon R into direct competition with the BMW 340i Touring. An Audi RS or Mercedes AMG will set you back north of £70,000, but the VW Arteon R in this guise is approaching that territory.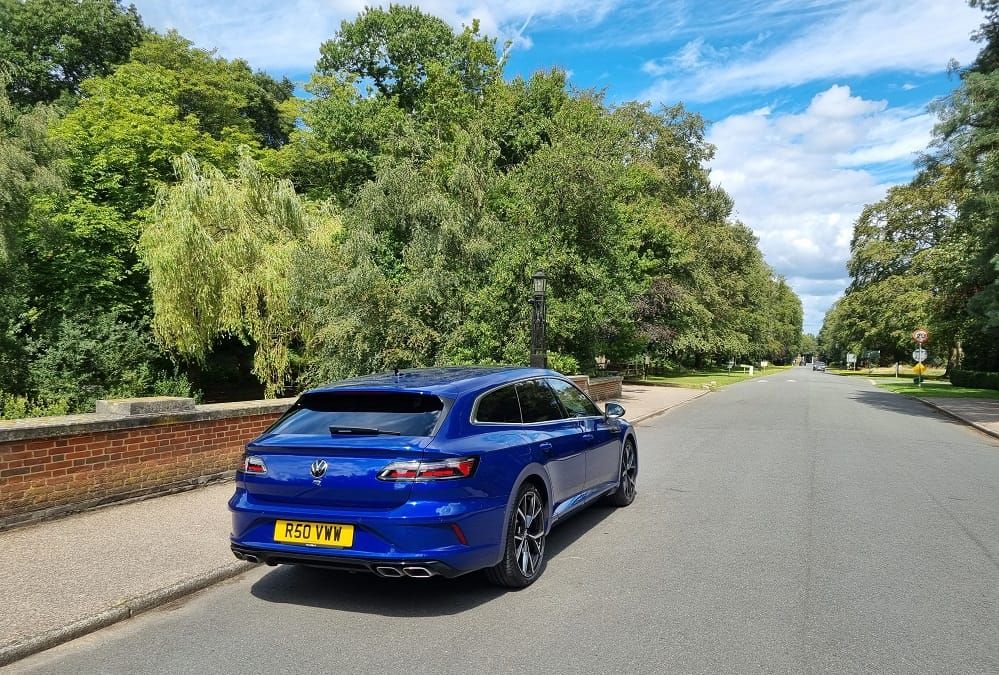 Let's have a quick look at the options. I'd have the assistance pack and 20" wheels mentioned above. Discover pro navigation system at £1,525? Mirror your phone and use Waze, it's free. I don't need a towbar, so that's £935 saved. Head up display at £575, I could live without. The matrix headlights are impressive but cost a further £1,375. The tracker costs £540. The Lapiz Blue looks superb and I'd be sorely tempted to part with £1,165 for the pleasure. I could reduce the price by £5,000 and not diminish the appeal of the VW Arteon R. £59,000 is still pricey, though. I guess it comes down to the monthly repayments you can achieve on finance/lease.
That likely explains why you don't see too many VW Arteon Rs out in the wild. Which is a great shame, because it's an excellent car. I enjoyed it and it excelled in everything from commuting to B-road bashing. Did I mention that I think it looks great, too? It's a genuinely appealing family estate. Sorry, shooting brake.