This football-loving sheep has been busy developing his incredible dribbling skills – as England fans prepare to flock around TV screens for the big semi-final.
Loner sheep Alan, likened to his namesake Shearer, can be seen honing his footballing talent in front of his bewildered fellow ewes.
In this brilliant clip, Alan can be seen using his head to perform 'Sterling-style' dribbling skills across the field.
His bemused owner Alison Thorpe, 54, can't understand how her unique sheep discovered his footballing prowess since she took him in last year.
However, Alison said he is a fan favourite who loves to show off to the crowd.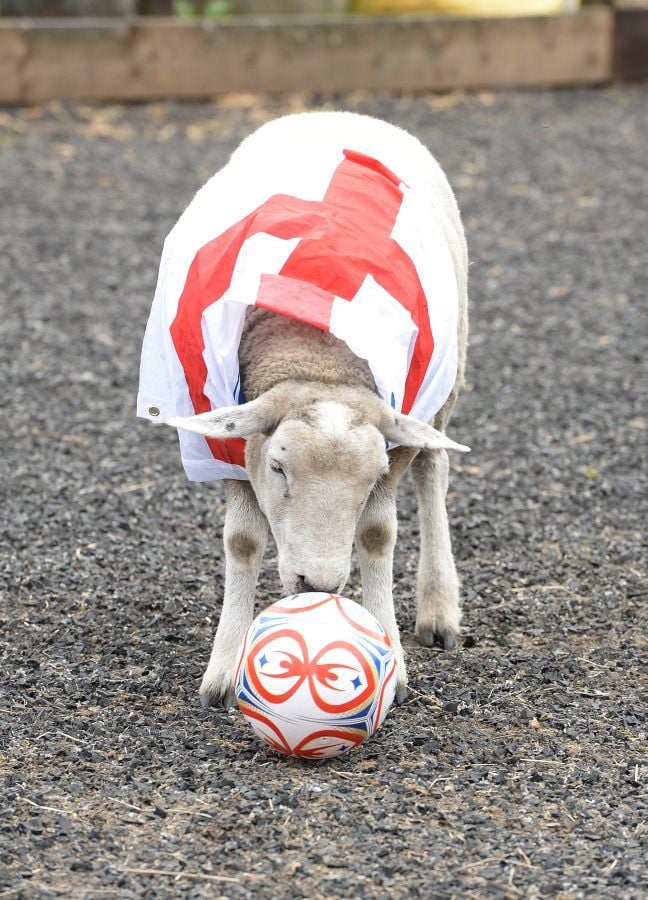 She said: "We have had Alan for around a year.
"My daughter loves kicking a football around and Alan must have fancied a go.
"His favourite ball was an orange one but he has so many.
"Alan won't ever be found very far away from a football, I have seen him falling asleep with his head resting on a ball many times.
"He goes to sleep with different ones.
"It's really fun to see him playing with it. It's hilarious.
"He can get some speed up when he is dribbling across the field and our other sheep will have a wander over to see what is going on.
"He is always showing his skills off to visitors and the other animals, he is a real fan favourite."
Alison, who has run the Lucky Hens Rescue in Wigan Lancs., since 2004, rescued Alan last year when he was still a lamb, along with his sister Little Mo, who sadly died a few days later.
They were part of triplets being bred for food, but their mother could not cope with three babies and they were being bottle-fed.
He has become popular with visitors to Lucky Hens and a party was held earlier this year to celebrate his birthday.
Alison said Alan even used to watch football on the TV when he was being bottle-fed in the house.
She added: "I don't think he knows he is a sheep.
"If he gets the opportunity to come inside to watch a bit of telly, he will be straight in.
"He is so placid, if you stroke him and stop he will nudge you to carry on.
"He is more comfortable with the horses or the dogs than the other sheep, he just keeps himself to himself.
"He's got his own fan club. Everyone comes in and asks to see him.
"As soon as I say his name he baas."
Unfortunately, Alison doesn't take after Alan's love of the beautiful game and said she would rather be on the lookout for the next animal to be re-homed.
She said: "I don't really follow football myself if I am honest.
"I would sooner watch Alan dribble the ball around the field than watch the big game."