A builder working on the new Spurs football stadium was scarred for life after being repeatedly kicked and battered with bottles during a "savage" beating.
Police say he was kicked in the head as he lay unconscious on the ground during the brutal "unprovoked" attack by four thugs near the ground in north London.
They even rifled his pockets and stole his chain before leaving him for dead.
The 40-year-old man, who has not been named, suffered "life changing" injuries including a fractured skull, a bleed to the brain and permanent facial disfigurement.
He is still undergoing treatment three months after the callous attack.
Brothers James and Wesley Henry have been jailed for a total of 26 years for their part in the shocking assault
James, 26, and 24-year-old Wesley pleaded guilty to grievous bodily harm at Wood Green Crown Court and were jailed for 13 years each.
The brothers, both from Tottenham, had initially been on trial for attempted murder.
The court heard how they and their victim had been drinking near the Tottenham Hotspur Stadium.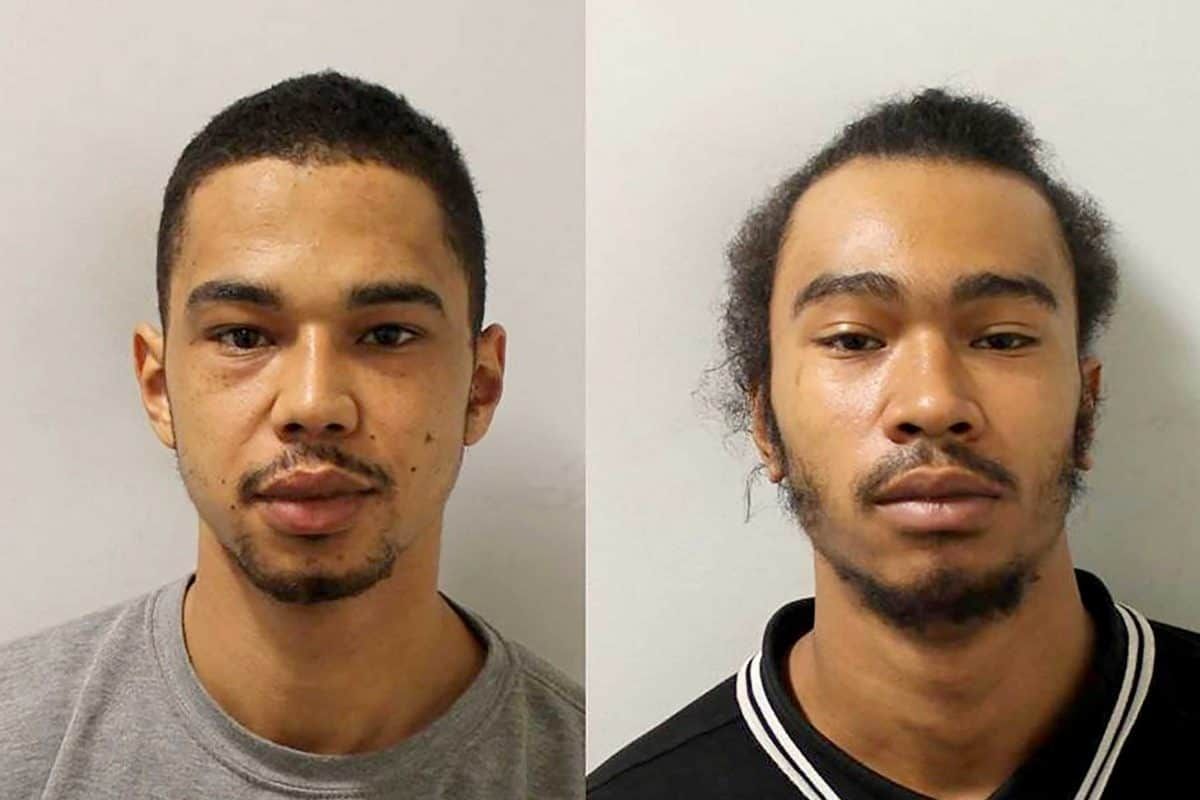 CCTV footage captured the moment the brothers turned on the builder, who had been buying them drinks that night, in the early hours of Wednesday September 19th.
As they brandished glass bottles, the builder tried to step away.
But he was punched to the ground by Wesley Henry before being glassed over the head by his brother.
Wesley then returned to the prostrate victim and kicked him repeatedly in the head whilst he was lying already unconscious.
The brothers even stole his gold chain and rifled through his pockets before running off.
A passer-by contacted police and paramedics after they spotted the victim, assuming he had been hit by a car due to the severity of his injuries.
Detectives pieced together the attack with CCTV footage and the brothers were identified through forensic evidence.
They were arrested in October on suspicion of attempted murder.
Both pleaded guilty to GBH due to the overwhelming evidence against them.
Wesley Henry claimed when interviewed that his heavy use of cannabis played a role in his actions.
Two other men are still being sought by police in connection with the attack.
Det Constable Pembe Rayif, of North Area CID, said: "This was a savage attack which appeared to be completely unprovoked.
"The victim is clearly trying to get away from all the men, but was set upon by them all prior to receiving the first strike from Wesley.
"Once unconscious and helpless on the ground, the group target his head showing no mercy and even returning to steal his chain and search his pockets for valuables."
DC Rayif added: "The victim suffered permanent facial disfigurement and requires ongoing treatment for anxiety, dizziness and blurred vision as a result of the savage attack.
"I hope this verdict goes some small way to helping the victim move on from such a harrowing attack."
By Stephen Beech