Yes that is meant to be the likeness of Spurs record goal scorer Harry Kane shaved into the back of an England fan's head.
Kai Ward, 48, got the extreme haircut to celebrate England's leading goal-scorer spearheading England's World Cup efforts in Russia.
Kane's form in front of goal inspired hair stylist Daren Terry, 50, to shave the likeness of the Tottenham Hotspur striker on to the head of client Kai to show his support for the Three Lions.
Fans have been approaching Kai in his home town of Bognor Regis, West Sussex, to rub his head for luck hoping more good fortune comes England's way at the tournament.
The creation, dubbed 'Hairy Kane' by artist Daren, has attracted a lot of attention from Barmy Army supporters this week.
Daren, who with wife Kate runs the Lotus Styling hair salon in Bognor Regis, has hit the headlines in the past for similar creations of celebrities, including high-profile players such as Wayne Rooney and Theo Walcott.
Liverpool supporter Daren said: "We dubbed the image 'Hairy Kane' and we're encouraged by the response the image is getting.
"It took almost five hours to create and we're replay pleased with the likeness.
"We're encouraging people to rub his head to bring the lads goods luck.
"The World Cup is proving to be fantastic for England so far and Harry Kane is in red-hot form.
"So, when Kai asked for his image shaved into the back of the head I was well up for it. I've created quite a few similar cuts and applied similar techniques.
"You get a feel for the work, and to be honest I really enjoy doing it and getting a great reaction to it.
"We've been gripped by a kind of World Cup fever in the salon and this just adds to the excitement and fun. We need Harry to bang in a few more goals and give it a real go in the knockout stages."
Gareth Southgate's men face Colombia on Tuesday after losing 1-0 to Belgium leaving England second in their group.
In other superfan news, a group of scaffolders are getting right behind England's footballers with probably the biggest World Cup flag yet.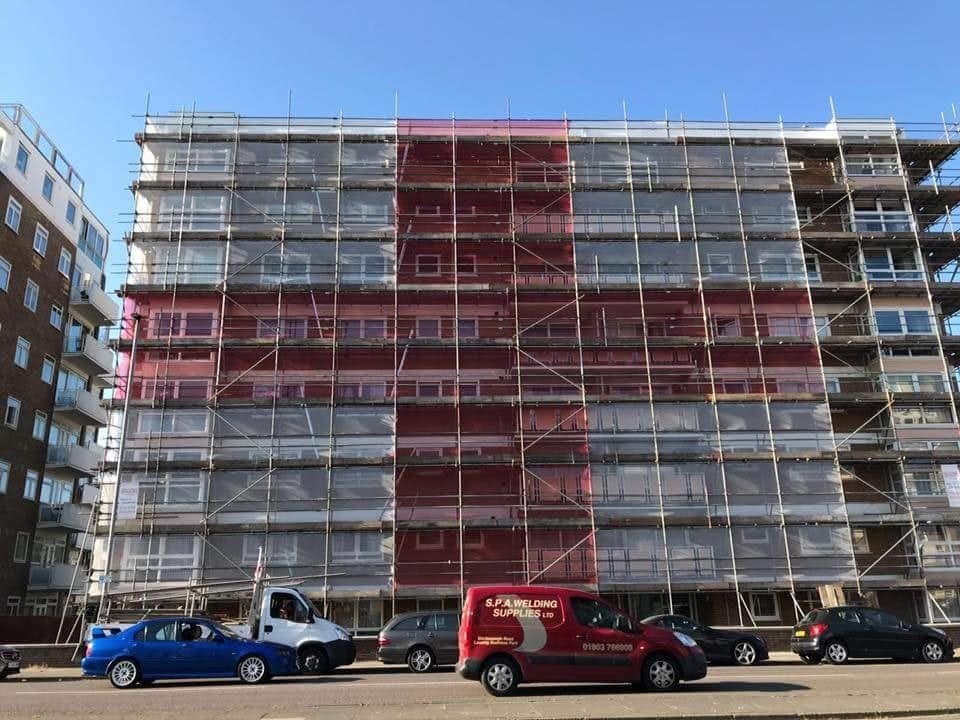 The nine lads from Seasons Scaffolding in Brighton decided to show their support for the Three Lions by making a 120ft by 60ft St George's flag from scaffolding safety netting.
Steve Eason, owner of Seasons Scaffolding, said: "It took us about a week to do. We've been getting loads of comments, people cheering on the way past."
The flag spans eight stories, proudly displayed on the seafront in Hove. Steve said the idea sounded like a fun thing to do and came in the lead up to the tournament.
He said: "It just felt like a fun thing to do, and we're happy that people enjoy it.
"We are like a family here and me and the boys have all been watching the football at the pub."
The 50-year-old said the move has even earned respect from rival scaffolding firms, some even as far as 50 miles away in Portsmouth.
The Brighton native said: "We have had such a great reaction even from other local scaffolding firms which means a lot to us.
"It's just been so lovely to be able to be patriotic and supportive of our football team without the negativity that is shown at times for being patriotic.
"Everyone has been supportive and we have had such a great reaction from friends, family and the public.
"It's been amazing and has created some fun, happiness and joy for people all over the country."
Asked will it become a feature of every big tournament the Three Lions play in, Steve said: "I'm not sure about that yet!"
By Ben Gelblum, Chris Dyer, Laura Cartledge, Leigh McManus