Frank De Boer has been replaced by Roy Hodgson after just four matches as manager of Crystal Palace. The Eagles lost all four games. And they didn't score any goals. But De Boer's managerial spell isn't the shortest in football history. Not by a long shot.
In fact to cheer him up today as he ponders his footie future, here are our top ten managers with shorter reigns. – A sack race of the shortest spells as manager in English football – and some of these barely had time to hang up their sheepskin coat before they had to get it again and leave.
10) Johnny Cochrane – 14 days at Reading 
When Johnny Cochrane applied to manage Reading, the club couldn't believe their luck. He had enjoyed a glory-filled 12 years managing St Mirren,winning the Scottish cup in 1926, followed by winning the league and the FA Cup at the helm of Sunderland for 11 years. The seasoned manager signed a three year deal with the Berkshire club on 31 March, 1939, but players soon began to get alarmed by his bizarrely nonchalant attitude. Spending more time at the bar at Reading's Great Western Hotel than in training, missing matches and strolling in with a cigar and a whisky, the seasoned – and sozzled manager was sacked after just 14 days.
9) Micky Adams – 13 days at Swansea 
Swansea City ploughed through six managers in less than 18 months in one particularly bad spell in the 1990's. Micky Adams was promised funds to rebuild the squad after he replaced Jan Molby sacked in October 1997. Sadly Adams lasted less than a fortnight when it became evident that the money would never materialise. Astoundingly – his wasn't the briefest managerial spot in a very silly spell for Swansea. (See below.)
8) Dave Cowling – 10 days at Doncaster Rovers
Tasked  with turning round the fortunes of Doncaster Rovers in the 1997-1998 season, Dave Cowling became their shortest-lived manager, resigning after just ten days in October 1997 citing the interference of Rovers' notorious chairman Ken Richardson over picking players and tactics.
7) Martin Ling – 9 days at Cambridge United
In 2009, Leyton Orient manager Martin Ling was offered the top job at Cambridge United after a spat between the East Anglian club's chairman George Rolls and manager Gary Brabin. But Brabin's successor lasted just nine days before he too fell out with the chairman. Though after George Rolls finally left the club, Ling was to return and enjoy a rather more successful two years at the club.
6) Tim Ward – 8 days at Exeter City
Ward made his transition from playing football at Barnsley to management at Exeter City on 4 March 1953. Only after travelling to Exeter's match against Third Division rivals Ipswich Town, he was recalled back to Barnsley who had never released him on 12 March, and appointed Ward manager two weeks later. There his management career was rather longer, lasting until he left to manage Grimsby in January 1960.
5) Jack Crompton – 7 days at Luton
Old Trafford legend Jack Crompton served as a goalkeeper for Manchester United between 1944 and 1956, retiring to become a trainer at the club. In 1962 Luton Town invited to be their manager, but after a lot of soul-searching and just seven days in the job he decided that his heart was as Old Trafford and decided to stay with United.
4) Kevin Cullis – 7 days at Swansea
A week is a long time in football. And a short career for Kevin Cullis. "Kevin Who?" said the headlines when an unknown part-time youth coach from Cradley Town was appointed as the new manager at the beleaguered Welsh club on February 8, 1996. And two disastrous matches later, with the Swans even more of a laughing stock, Kevin Cullis' name went into history books as one of the shortest reigns as a football manager ever.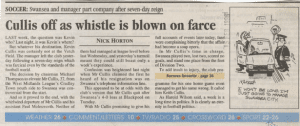 3) Dave Bassett – 4 days at Crystal Palace 
After three years managing Wimbledon, their South London rivals Crystal Palace enticed Dave Bassett over for all of four days he would rather not remember in 1984. But before even putting pen to paper and signing at Selhurst Park, Bassett decided the club wasn't for him actually and bolted back to Plough Lane. Just as well for Wimbledon as Bassett helped them rise up from Fourth Division football to top flight.
2) Bill Lambton – 3 days at Scunthorpe 
William (Bill) Lambton was an English football player, coach and manager. He played in goal for Nottingham Forest, Exeter City and Doncaster Rovers, though he made just three league appearances as unfortunately for him, his match days largely coincided with the Second World War. And his career as a manager wasn't that much more successful, his shortest spell by far at Scunthorpe United in April 1959 for just three days!
1) And last, but, yes least : Leroy Rosenior's TEN MINUTES at Torquay 
Most measurably meagre management by a margin is Leroy Rosenior's TEN MINUTE tenure at Torquay on 17 May, 2007. In his first spell at Plainmoor, the club had been promoted to League One. Unfortunately for Rosenior the second time he was asked back to the English Riviera club coincided with a new takeover, the new owners informing him just ten minutes after his job was announced that he was surplus to requirements.
NB: If you are aware of any shorter or less successful managerial careers than these please let us know in the comments below !
Related: 
Transfer window winners and losers as Premiership clubs spend a record-breaking sum
Cut-price Arsenal have become the laughing stock of the Premier League