UPDATE: In a long and feisty debate on the Second Reading of the EU Withdrawal Bill, the opposition insisted that a Labour amendment was necessary to stop Brexit turning into a dangerous undemocratic power grab in which Theresa May and her ministers could reinterpret decades of human rights and EU legislation as they see fit. And without the debate and votes of parliamentary scrutiny that we are accustomed to in this country.
The Labour amendment stated that "this House respects the EU referendum result and recognises that the UK will leave the EU" but that the EU (Withdrawal) Bill as drafted by the Government hands "sweeping powers" to ministers allowing them to "bypass parliament." However it was defeated just after midnight, and the Bill passed onto its Second Reading by 36 votes.
Yet the Bill could still face defeat as MP's – including 12 Tory MP's – tabled crucial amendments to be examined as the Bill as it moves on to Third Reading. Former Conservative attorney-general Dominic Grieve who called the bill an "astonishing monstrosity" intimated that he may rebel at Third Reading.
And if the seven Labour MPs who defied Jeremy Corbyn's whip to vote the Bill through and  as few as seven of Theresa May's Conservative colleagues who had sounded alarms over its anti-democratic elements during the debate rebel, the PM could yet face defeat.
Labour MP Helen Goodman summed up the fears of many MP's, constitutional experts, lawyers, human rights organisations, trades unions and charities when she went through the clauses that allow the Government to operate without parliament's assent and warned: "this is a power grab by Tory ministers who cannot be trusted."
Pointing to clause nine of the Government's Brexit Bill, which says that the government can change the law to comply with the final withdrawal agreement, the MP for Bishop Auckland added: "how can the House be expected to agree to this given that the government has refused to share its negotiation objectives?"
"They have been secretive, nervous and uncooperative. We cannot trust these ministers. We cannot give them these vast powers," warned Goodman. Watch her explain the full worrying situation that now faces the country:
https://www.facebook.com/TheLondonEconomic/videos/1335552053222941/
Last week Theresa May faced similar accusations from MP's in her own party, but it seems that the Conservative Party whips whipped them into towing the Prime Minister's line on the Brexit Bill.
The veteran Tory MP Anna Soubry had warned that the EU withdrawal bill would "become an unprecedented and unnecessary government power grab."
And MP's from all parties had sounded similar alarms. Shadow Brexit Minister Keir Starmer insisted: "while we accept the result of the referendum we are not giving a blank cheque to the government to do it in whichever way it wants because it is not in the public interest."
This was the Labour Party amendment: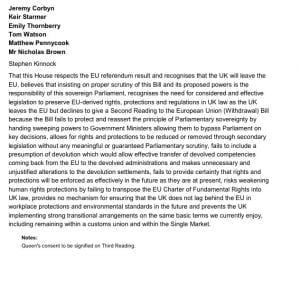 Even human rights watchdogs Amnesty International and Liberty called on MP's from both sides of the House of Commons to amend the Bill to include a binding commitment on the Government to prevent it eroding Brits' rights.
"This law will affect everybody in the UK – you, your parents, your children – for generations to come. Ministers saying 'trust us' just is not enough when the stakes are this high. Surely the Government can't oppose one simple amendment to stop them taking away our rights?" insisted Liberty's Corey Stoughton. "People voted to leave the EU – not lose their rights."
"As it is, the Withdrawal Bill would see Parliament surrender broad power to Ministers to change laws without proper scrutiny, setting a dangerous precedent. Parliament would be less sovereign and that cannot be right," added Rachel Logan, Law and Programme Director at Amnesty International UK.
"We cannot stand idly by and risk Ministers using cloak and dagger tactics in the future to roll back rights and equality protections that are in place to defend us all."
"Although there is more to do, this decision means we can move on with negotiations with solid foundations and we continue to encourage MPs from all parts of the UK to work together in support of this vital piece of legislation," said the Prime Minister after the debate.
Related:
https://www.thelondoneconomic.com/news/leaked-document-shows-secret-government-studies-impact-hard-brexit/07/04/
https://www.thelondoneconomic.com/news/politics/vince-cable-theresa-may-suppressed-nine-reports-proving-immigration-little-effect-employment-wages/06/09/
https://www.thelondoneconomic.com/news/politics/theresa-may-accused-brexit-power-grab-rights-pmqs-ambush-mp-anna-soubry/06/09/