England cricketer Ben Stokes knocked two men unconscious after telling a bouncer he looked like a 'c*nt' and mimicking an openly gay couple, a court heard.
Stokes, 26, appeared in court to deny a charge of affray along with co-defendants Ryan Ali, 27, and Ryan Hale, 26, who were both attacked.
The England team were celebrating a victory over the West Indies at Bristol's' County Ground, while Ali and Hale were celebrating a promotion.
Stokes and cricketing pal Alex Hales left Mbargo nightclub, Queen Street, in the Clifton Triangle, Bristol, just before 1am, and returned just after 2am.
But a bouncer, Andrew Cunningham, refused them entry – despite the pair offering £300 to let them in.
Stokes verbally abused him, telling the doorman, who had gold teeth, 'your teeth make you look like a c*nt' and that his tattoos were 'sh*t'.
He lingered outside the club with Mr Hales, and began to "mimic" two openly gay men who left by a different exit, Kai Barry and William O'Connor, a court heard.
CCTV footage shown to the jury showed Stokes copying their hand gestures, before lobbing a cigarette butt at Mr O'Connor's head.
When the couple were joined by firefighter Ali and former squaddie Hale, and the group began to walk down the road, Stokes "lost his control and started to attack with revenge or retaliation," the court was told.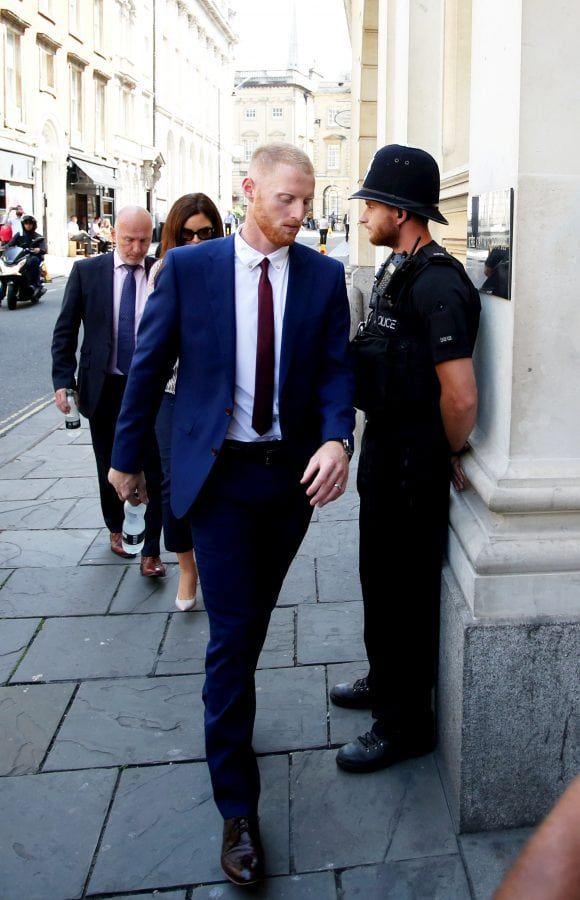 Prosecutor Nicholas Cortellis said CCTV showed Stokes and Mr Hales "sharing a moment of hilarity" at the expense of Mr O'Connor, before Stokes attempted to shake hands with the bouncer he had earlier insulted.
When Mr Cunningham refused, Stokes was caught on camera gesticulating wildly and pointing into the doorway of the club.
Mr Cortellis said: "It seemed to enrage him, the hand gestures, the head movement back, it all needs to be viewed in the context of the doorman, the mimicking of an openly gay man, that sets out what his state of mind was as they walk down the street."
The four other men, including Ali and Hale, could be seen on CCTV when Mr Barry touched Ali "inappropriately" in the groin area, prompting him to push Mr Barry away.
The jury were asked to consider whether this was "banter between men having had a few drinks," or the beginning of the conflict, which left Ali with a fractured left eye socket.
Prosecutor Nicholas Corsellis said: "During the incident, Mr Stokes lost his control and started to attack with revenge or retaliation in mind.
"He knocked Mr Hale unconscious and then – after enough time to pause for thought – did the same to Mr Ali.
"Mr Ali received significant injuries including a fractured eye socket and required hospital treatment.
"This was not a trivial moment of unpleasantness.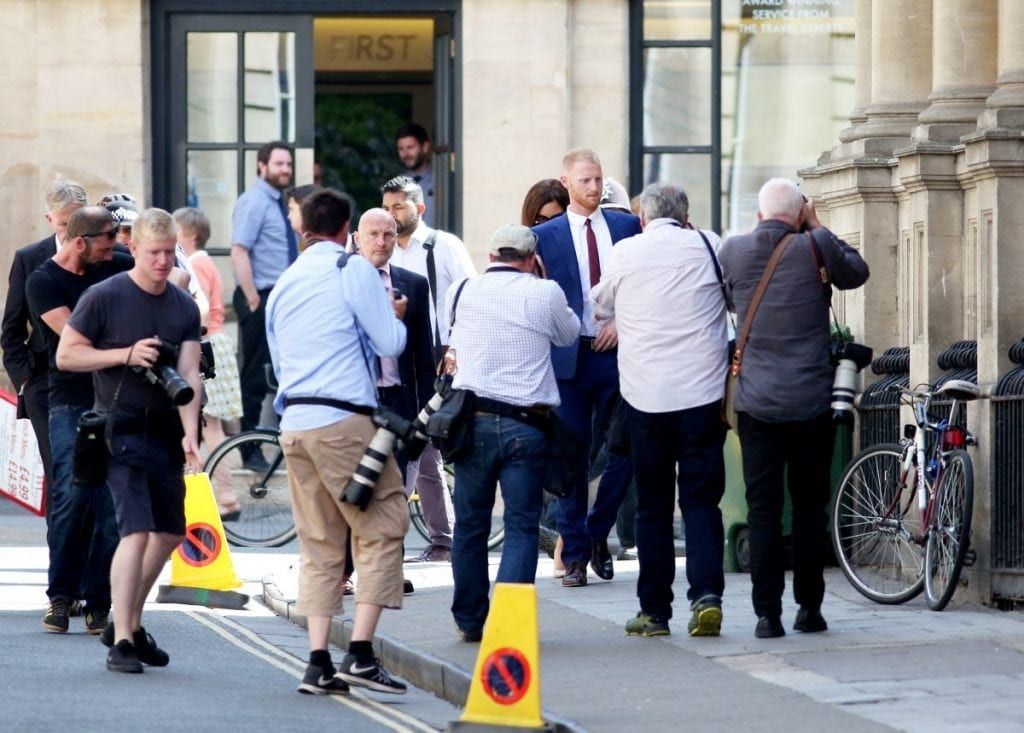 "It was a sustained episode of significant violence that left onlookers shocked at what was taking place.
"A bottle was used at the beginning and a broken street sign brought into the fracas at the end."
He added: "Mr Stokes is a professional cricket player, who has reached the top of his profession and represented his country.
"It almost goes without saying, but past success, fame or good deeds does not absolve you of your duty – and the law – to behave yourself.
"The law and Court favour no person and all are to be judged equally."
The court heard that Stokes had been partying in Mbargo with his fellow cricketers, but left the club just before 1am, and returned just after 2am.
He tried to bribe a bouncer, Andrew Cunningham, into letting them in but was turned away, and upped his initial offer from £60 to £300.
When Mr Cunningham refused, due to the licensing conditons which prevented customers entering after 2am, Stokes became abusive and told him 'look at the state of your teeth, they make you look like a c*nt,' before telling the bouncer his tattoos were 'sh*t'.
Stokes was said to be behaving in an 'aggressive' manner, and the bouncer recalled that he then began to mock a gay couple, Kai Barry and William O'Connor, who emerged from the club at 2.17am.
The prosecutor said: "Mr Cunningham knew these two gentlemen as regular attenders at the club and described them as flamboyant, extrovert and openly gay men.
"Footage from within the club suggests that they had also been inside earlier that evening and had some contact with Mr Ali and Mr Hale inside on the dancefloor.
"When they were outside the entrance, Mr Stokes and Mr Hales engaged in conversation with them.
"Mr Cunningham observed Mr Stokes' behaviour towards them.
"He noted that he was mimicking their voices and mannerisms in what he described as a 'derogatory way', thereby making fun of their camp behaviour.
"The CCTV, which does not have audio, suggests that sort of behaviour did take place, with Mr Stokes copying hand gestures made by the men."
Stokes was caught on CCTV lobbing a cigarette butt at one of the men's head, which prompted Mr Cunningham to tell him 'if you want to start on anyone, you start on me'.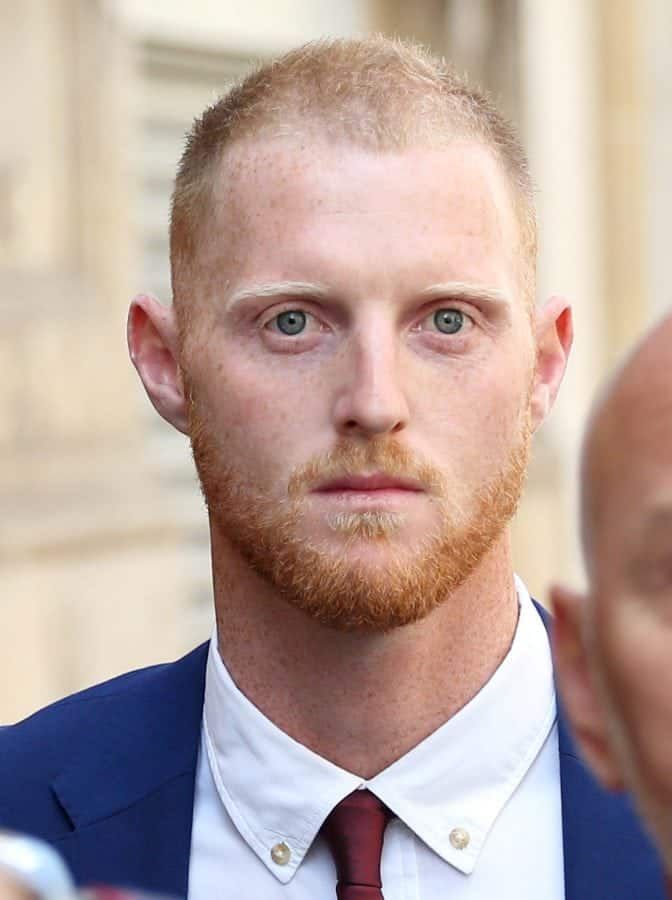 Mr Hales then told his pal 'Stokesy, don't do that', when told why the doorman had intervened.
The prosecutor added: "Mr Stokes' behaviour outside the nightclub set a clear tone for what happened that night.
"He was clearly frustrated and annoyed.
"He took to acting in a provocative and offensive way towards Mr Cunningham and then Barry and O'Connor.
"The evidence may well suggest that he left the outside of the club – where he had been for 18 minutes trying to get in – in an angry state of mind."