A determined couple located their stolen £9,500 racing bike, almost a thousand miles away in Poland.
Emily and Marc London said that finding the high-end triathlon bicycle at a Polish police station after months of frustration and detective work made them: "burst into tears."
The married couple returned home from a holiday in Dubai in August 2018 to find Marc's Cervelo P5 bicycle stolen from a locked shed.
Emily, 41, said: "It was just horrendous, the bike is Marc's absolute pride and joy.
"It had just disappeared, we thought it felt like a planned robbery- it was so well executed.
"We called the police immediately and knocked on everyone's door but no one had seen anything.
"We thought the police would be around really quickly but they just gave us a crime number."
It was at this point that Marc,46, and Emily took it upon themselves to try and find the "lucky bike".
Emily said: "Marc is a super keen triathlete, he's done loads for charity so he pictures of the bike on all his triathlon Facebook groups and asked them to look out for it, they're really kind and look out for each other.
"It took about a month before someone got back to us.
"We couldn't believe it but a Polish triathlete messaged us, saying that he saw Marc's bike for sale on a Polish website.
"He told us that the shop in Pognan was involved in another high profile bike theft just weeks before."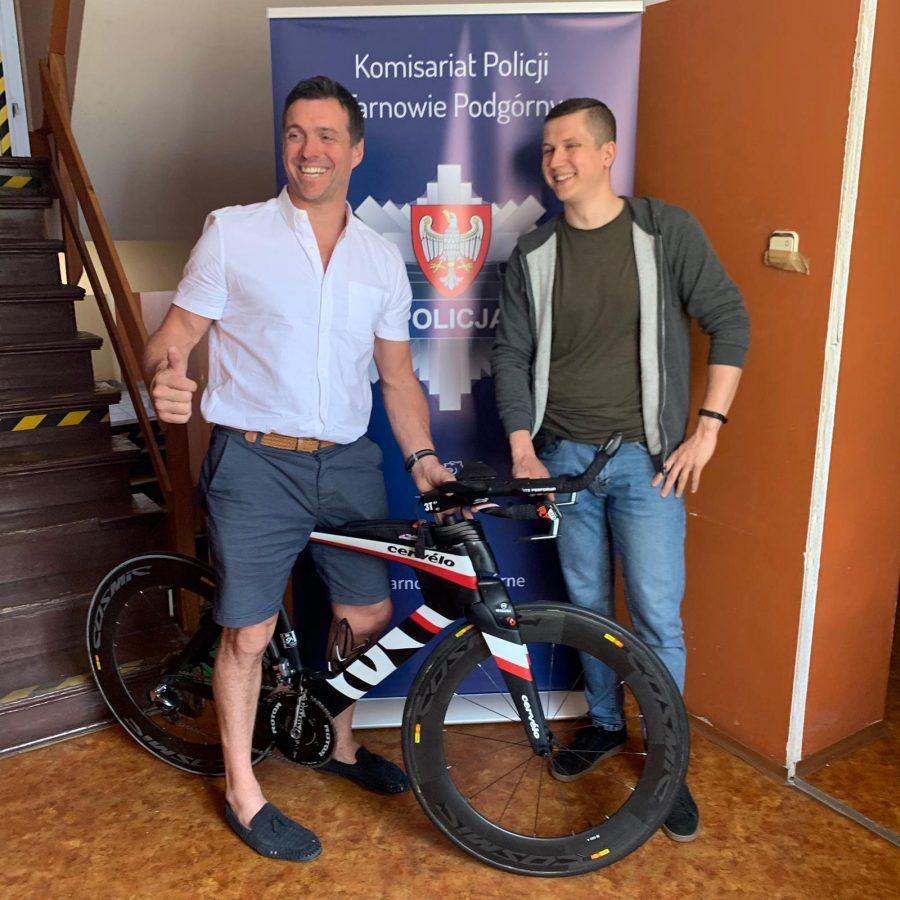 Emily, from Baldock, Herts., rang the shop in Poland but the owners told them that it was sold just the day before.
She said: "It was hell, we found the bike but we thought we'd just pop over to Poland and pick it up.
"But the shop owner got the bike back and sent it to a police station, but wouldn't even tell us which police station is Poland.
"Whoever had stolen the bike had also taken it's certificate with it's frame number- which meant there was no way to identify it as ours."
After eight months of searching Marc, who works as an Electrician, contacted his local MP Oliver Heald in a last ditch attempt.
Thankfully Heald put the couple in touch with a detective from the Metropolitan Police who immediately located the stolen bicycle and told Marc and Emily to get a flight immediately to Poznan in Poland.
Emily said: "We hired a bike bag and got a flight straight away.
"We were so excited when we got to the police station, but we still hadn't revealed our trump card.
"Marc had placed a tracking 'tile' in the frame of the bike, which meant that he could use an app on his phone to get close to the bike and set off an alarm.
"The second we heard that alarm we just burst into tears, the whole Polish police office were so happy.
"They started clapping and cheering and taking our pictures. It was a small fortune to get to this point.
"But it was all worth it, that night we celebrated in Poznan together and got very drunk.
"Marc has an Iron Man in September so he's happy he got his bike back, but mind you I won't see him now as he'll be cycling every night!"