A sacked "disgruntled" builder who filmed himself smashing a digger into a row of new-build retirement homes in a rampage over his pay has appeared in court today (Tue).
Daniel Neagu, 31, originally denied causing £4m worth of damage to the five bungalows claiming he was owed money for the building work.
But he changed his plea to guilty over the criminal damage in Buntingford, Hertfordshire, after it was reassessed to be around £850,000 and is now due to be sentenced in St Albans Crown Court.
Neighbours said the Romanian national laughed and took pictures of the wrecked homes before telling arresting officers he did it because he hadn't been paid.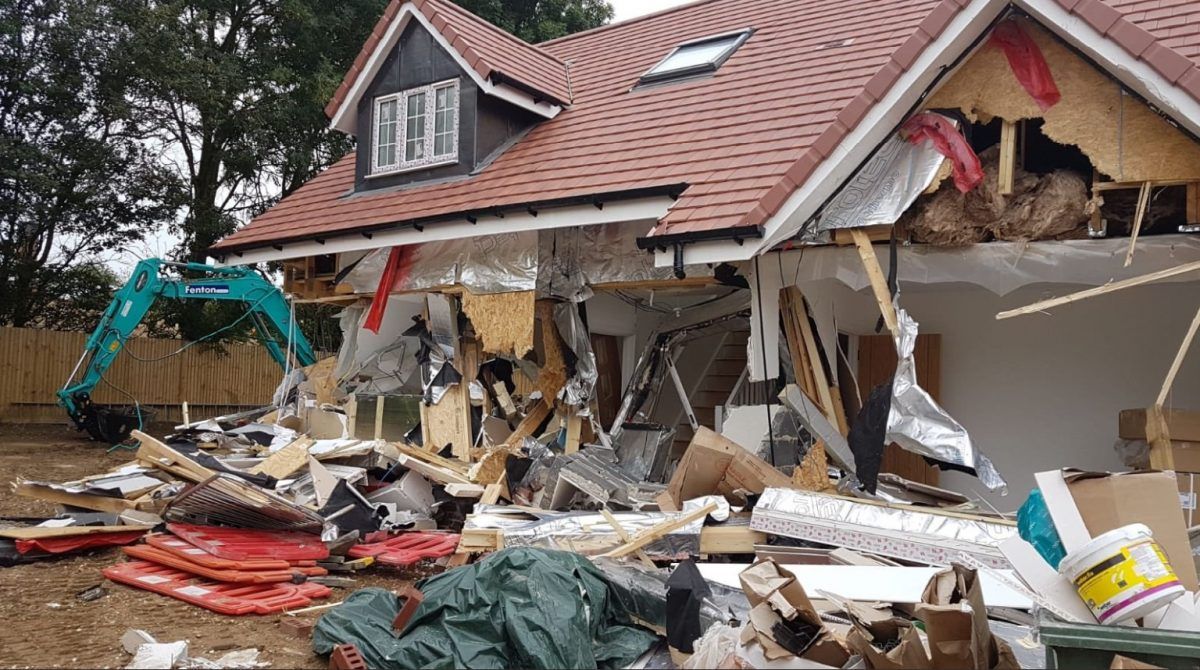 Neagu filmed himself using a go-pro camera and iPhone as he destroyed the houses which were only weeks away from being occupied.
Witness Elaine Francois, 61, who called the police on August 11 last year, said: "It looks like an earthquake or bomb struck.
"The man was laughing and taking photos of the damage.
"When police got here he told them he wasn't paid and that's why he did it. He was totally calm."
A fellow builder, who had been involved in the construction, said he was "angry" after going to see the damage because he did not know what he would do for work.
Neagu, of Harrow, north west London, wore a black t-shirt with a shrieking American bald eagle print – the symbol of freedom of America – when he denied the charge at an earlier hearing at St Albans Crown Court.
On his first court appearance at Hatfield Magistrates' Court, prosecutor Elaine McMillan said: "The allegation is that the defendant has taken a digger, has gone on to a housing development site and has used the digger to damage five new build houses of estimated value between £4m.
"The background to this is that the defendant and some co-workers had been working on the building site and they have been sacked.
"They have left the site with a company vehicle and are told that any wages owed will be put on hold until the vehicle was returned."
And Neagu's lawyer Sohail Bashir told the court: "It's right that this defendant has become disgruntled with his former employers relating to non-payment of wages.
"The suggestion that the company vehicle has been taken without the owners' permission is not accepted.
"Whilst I can see that the charge is a serious one, I've significant concern that the evaluation by the Crown has been egged up to make the charge more serious.
"What you have is a very primitive statement from the supervisor at the site who says the value of each of the houses, of the bungalows, would be a amount, multiply that by five gives you a value of £4m.
"The suggestion of £4m in reality, when you look at the facts is not going to stand up to what's happened.
"That loss would be significantly lower to what the charge is at the moment."
On the day of the wreckage, East Herts Rural Police shared pictures of the wreckage with bricks, walls and window frames collapsed after the demolition work.
Writing on Twitter, they said: "Potentially a disgruntled worker."
Neighbours said they confronted the man fearing they would also be targeted but the man apparently said he was only attacking homes he was owed money for.
A spokesperson for McCarthy & Stone, the developers said last year: "Following an incident at our Buntingford site on Saturday, our response team has been on-site and we can confirm that five newly-built bungalows have been damaged.
"We are now awaiting a structural engineer's report, so we can plan the work required to repair or rebuild these properties.
"The five properties were all unoccupied at the time, with homeowners set to move in in the coming weeks.
"We are absolutely devastated for the purchasers affected; and our priority is to continue to stay in close contact with them and their families, and to ensure that any disruption is kept to a minimum.
"We will also continue to assist the police with their enquiries; and we can confirm that the individual who has been charged is not an employee of McCarthy & Stone."
By Berny Torre