Protestors pelted UKIP election candidate Carl Benjamin and his tour bus with milkshakes in THREE separate locations over the weekend.
Benjamin has been visiting multiple sites in the South West on the campaign trail trying to spread the UKIP message and win over potential voters to the anti-Brexit right wing party.
But he has been greeted with a chucked milkshake on three consecutive days in Totnes and Plymouth, in Devon, and Truro, Cornwall.
And the Ukipper even had dead fish thrown at him as he canvasses to be the South West candidate.
Last September we revealed how UKIP had invited in controversial figures associated with racist, anti-semitic and misogynistic acts.
The London Economic reported how UKIP leader Gerard Batten asked Carl Benjamin to address the UKIP conference despite the controversial Youtuber using the racit epither "n****r," trolling Labour MP Jess Phillips with rape threats, bizarre opinions on women's rights and insisting that the age of sexual consent is "depending on the child."
"I wouldn't even rape you, @jessphillips," the controversial YouTuber also known as Sargon of Akkad responded to Jess Phillips' tweets about rape and death threats sent to women on the internet. – A tweet which precipitated further threats and trolling of the female MP.
The UK Independence Party candidate for the South West region has now been banned from Twitter.
Yet the UKIP leader called the remark "satire" and repeatedly defended his candidate, recently insisting on BBC's Politics Live that the rape tweet was OK because the candidate has said he wouldn't rape the MP.
But in new footage that Benjamin posted on YouTube just three days before, he quipped last month that he might rape Phillips "with enough pressure".
"There's been an awful lot of talk about whether I would or would not even rape Jess Phillips," Benjamin said. "I've been in a lot of trouble for my hardline stance of not even raping her.
"I suppose with enough pressure I might cave.
"But let's be honest — nobody's got that much beer."
Benjamin was travelling with far-right activist Milo Yiannopoulos – another UKIP member infamous for racist, islamophobic, misgynist views and controversial views on paedophilia – when trouble began when they gave a speech in Truro, Cornwall, on Friday, May 9.
As they gave speeches and were interviewed by the press, protesters gathered and one man tried to throw a milkshake over the UKIP candidate.
A short scuffle ensued and the man was pinned to the ground, a video filmed by the BBC appeared to show him being grappled by a group.
Police officers interviewed local witnesses, and Benjamin carried on with his tour – but ran into trouble again when he reached, Plymouth, Devon, on Saturday May 11.
Their tour bus, in iconic UKIP pink with a picture of party leader Gerard Batten on the side, was slapped with a ticket for parking illegally.
Then, a protester Amy Thompson threw a milkshake at the UKIP bus, covering Gerard Batten's face.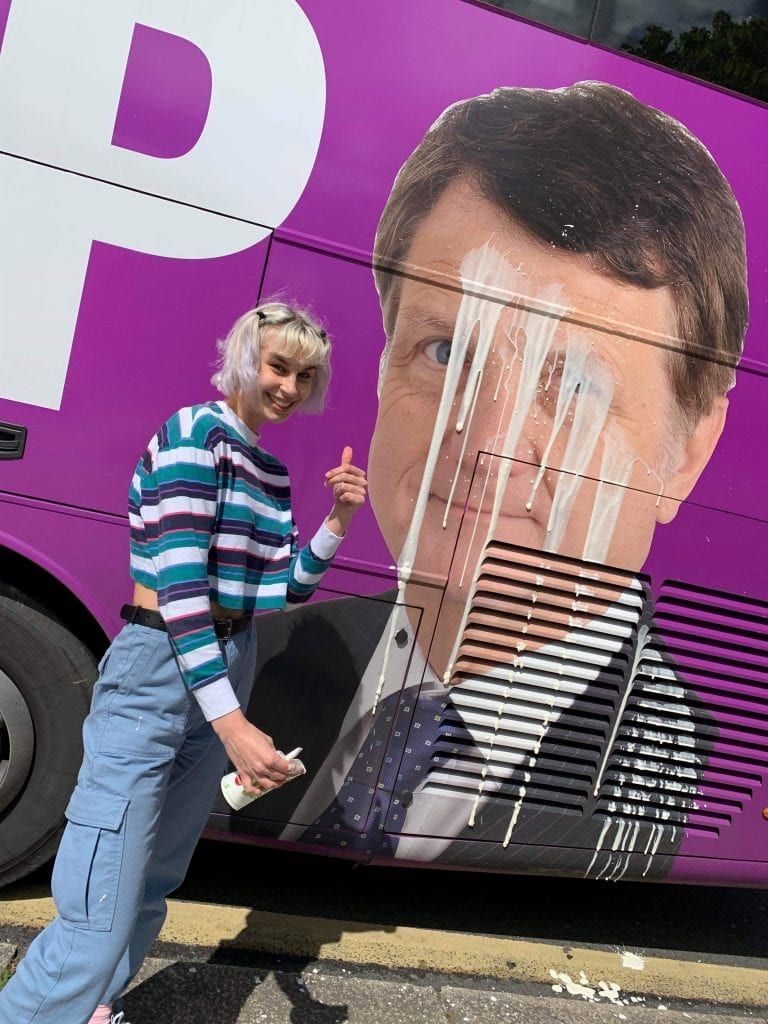 The party bus then carried on to Totnes, Devon, on Sunday, May 12, and local police had to call in reinforcements "in anticipation of disorder."
But that didn't stop one protestor arming themselves with milkshake and lobbing it at Benjamin. Other "pockets of disorder" were also reported.
A statement from Totnes Police said: "The Totnes Neighbourhood Team were supported by the Specialist Force Support Group but as pockets of disorder broke out, extra officers from Ivybridge, Newton Abbot and Torquay were drafted in to remain on standby in anticipation of further disorder.
"Luckily that did not happen. One arrest was made for throwing a milkshake."
A spokesperson for Totnes Together Against Hate Group said: "Using the pretext of the European elections, these attention-seekers and darlings of the alt-right have decided to 'have some fun' – according to the UKIP Totnes website – at the expense of Totnes and its citizens.
"Local activists and community members will gather at an alternative venue in town to show solidarity with the victims of hate speech, including women parliamentarians Jo Cox and Jess Phillips.
"We deplore Benjamin's use of rape threats, currently under investigation by the police, both men's regular use of racist tropes, their active woo-ing of white supremacists and conspiracy theorists, and their designation of feminism as ' a cancer'.
"We note that Yiannopoulos was recently banned from Australia for blaming the Christchurch mosque massacre on 'the establishment pander[ing] to barbaric alien cultures'. We affirm that Totnes is a place of peace, progress and tolerance, where these ideas have no place."