UPDATE: Gaza Ministry of Health say total of 52 Palestinians killed, more than 1,200 wounded by Israeli fire in Gaza.
Eight children under the age of 16 among the dead, the Palestinian envoy to the United Nations says.
Dozens of Palestinians, including a 14-year-old boy, are among a mounting death toll as protests greeted Donald Trump's controversial new embassy
Residents of Gaza gathered at the border with Israel to demonstrate against the controversial move which many feel cements Israel's de facto occupation of the whole of Jerusalem.
As they set tyres on fire and threw stones and burning projectiles, Israeli soldiers responded with live fire shooting dozens dead and injuring hundreds in the deadliest of a series of bloody responses to protests which have drawn criticism from around the world.
Amnesty International called for an immediate arms embargo of Israel, saying the latest dead included six confirmed children, with close to 2,000 people injured.
With 900 recorded live gun shots to the head and chest, the human rights watchdog said this is "a shameless violation of international law, in some instances constituting war crimes. The Israeli authorities show no signs they intend to rein in excessive force."
The Israel Defence Force (IDF) said its troops came under fire, accused protesters of trying to break through the border fence, and said three of the Palestinians shot dead were attempting to plant an explosive device. Hamas said four of its members were among the dead.
The weekly demonstrations on the Gaza border started in March to express frustration at the lack of utilities such as constant water and electricity in Israel and Egypt's blockade of Gaza, since it has been controlled by Hamas.
Scores of Palestinian protesters have been shot dead, thousands wounded by the Israeli army which has come under growing global criticism for shooting dead unarmed protesters.
Today's death toll is the bloodiest by far as thousands of protestors had also gathered to demonstrate Donald Trump's controversial move of the US embassy from Tel Aviv to Jerusalem which Palestinians consider their capital too.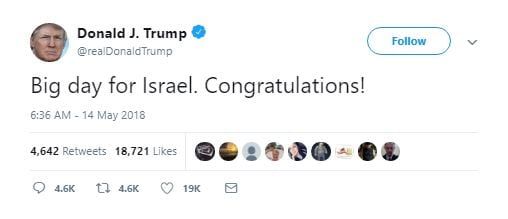 "A great day for Israel!" Trump tweeted earlier today as his daughter Ivanka Trump and husband and Jared Kushner arrived in Israel for the official opening. A new US embassy in Jerusalem had been one of Donald Trump's presidential campaign promises.
The controversial move had been avoided by previous US presidents and other countries who have embassies in Tel Aviv as Eastern Jerusalem is still under Israeli occupation, with multiple UN resolutions violated by Israel in its continuing occupation and growing settlements in occupied Palestinian territories.
The symbolism of moving an embassy to Jerusalem while there is still no peace agreement between Israel and Palestine has led to protest from around the Muslim world. Palestinians warned the timing was insensitive too – on the 70th anniversary of Israeli independence in 1948 – which for Palestinians is known as the "Nakba" (calamity) when around 700,000 fled their homes,with Israel refusing to let them return.
Jared Kushner has long been a supporter of Jewish settlements in the West Bank. The US President's Middle East adviser was co-director of a foundation that funded settlements on occupied Palestinian land considered illegal under international law.
France's foreign minister Jean-Yves Le Drian said the embassy move broke international law, and called for restraint: "France again calls on the Israeli authorities to exercise discernment and restraint in the use of force that must be strictly proportionate."
Turkey blames Israel and the US jointly for the "massacres" in Gaza.
Israel captured east Jerusalem in the Six Day War against neighbouring Arab countries in 1967 and still occupies despite the annexation not being recognised by the international community. The Palestinians seek the city's eastern half as the capital of a future state.
Palestinian President Mahmoud Abbas's administration say that the move breaks a promise not to move the US embassy until a peace agreement was reached, letting Binyamin Netanyahu's Israeli government off the hook.
"With this step, the US administration has cancelled its role in the peace process and has insulted the world, the Palestinian people and the Arab and the Islamic nation and it has created incitement and instability," warned the President's spokesman Nabil Abu Rdeineh, gravely.
Israel's Prime Minister Benjamin Netanyahu declared at the embassy inauguration: "Trump, by recognizing history, you have made history."
He added: "you can only build peace on truth and the truth is that Jerusalem has always been and will always will be the capital of the Jewish people, of the Jewish state."
Addressing Ivanka Trump and Jared Kushner, Netanyahu said "your presence here today is a testament to the importance of this occasion, not only to the Trump Administration, but in a very personal for you, for the pursuit of peace."
"Jerusalem must remain a city that brings people of all faiths together," insisted Kushner at today's ceremony.
Trump's son-in-law and senior adviser added: "by moving our embassy, we have shown the world once again that the US can be trusted."
Billionaire US political donor and Netanyahu backer Sheldon Adelson was also in Jerusalem for the ceremony.
Most of the hundreds shot in the mass protests had been near southern Gaza towns of Khan Younis and Rafah. Tear gas was seen to be fired before gunshots were heard.
An IDF spokesman said that Israeli forces had defended Israeli civilians from attempts to break through the border fence. He said three Palestinians were shot dead trying to plant a bomb along the fence. And that an Israeli aircraft had fired at Hamas in northern Gaza after Israeli troops were shot at.
Israeli Public Security Minister Gilad Erdan blamed Hamas for a "cynical and malicious use of bloodshed," insisting that Israel didn't want deaths on its hands.
He then, according to Israeli newspaper Ha'aretz, added that the mounting Palestinian death toll "doesn't indicate anything: just as the number of Nazis who died in the world war doesn't make Nazism something you can explain or understand. There is one truth."