The Education Secretary said he is "absolutely confident" there will be no further delays to school reopenings, after soaring coronavirus case rates in December forced the Government into a U-turn in pushing back the start of terms for millions of pupils.
Gavin Williamson moved to reassure teaching staff, pupils and parents the newly rescheduled staggered return dates for England would remain in place, despite concerns about safety and transmission rates among younger people.
On Wednesday, the Government announced primary school pupils in some of the areas hardest hit by Covid-19 will not return to their desks as planned next week, with students in exam years returning to secondary schools a week later than planned, from January 11, while other secondary and college students will go back full-time on January 18.
The vast majority of primary schools will return on January 4 as planned.
The announcement, less than a week before the start of the new term, was described as a "last-minute mess" by teachers, who accused the Government of failing to heed warnings from school leaders that remote learning may need to be implemented.
But Mr Williamson said he did not anticipate further delays.
The Education Secretary told BBC Radio 4's Today programme: "We are absolutely confident that all schools are returning.
"You're going to see over 85% of primary schools returning on Monday morning, you're going to be seeing exam cohorts going back right across the country on January 11."
Asked if he can guarantee that, Mr Williamson said: "We are absolutely confident that is what is going to happen."
Other pandemic education U-turns
Here are some of the other u-turns…
– The first primary school return
Following the first national lockdown, Mr Williamson set out ambitions in early May that all primary-age children would return to school for at least four weeks before the summer break.
But on June 9, he said there was "no choice" but to scrap those plans amid concerns that the two-metre social-distancing rule would make a full return impossible.
– School meals voucher scheme
Following pressure from a campaign headed by England footballer Marcus Rashford, the Government reversed its decision not to extend the children's food voucher scheme into the summer holidays.
Cabinet minister Grant Shapps said on June 16 that free school meals were not normally extended to cover the summer period.
But a few hours later, No 10 backtracked on its stance, confirming that it would in fact extend the programme.
– School face coverings
The policy that children should not be required to wear face coverings while in school was reversed by the Department for Education in August, when it announced that face coverings should be worn in corridors and communal areas by staff and students in Year 7 and above in schools in areas with coronavirus restrictions.
Mr Williamson had insisted previously that the Covid-secure measures being adopted in schools meant that the wearing of face coverings would not be necessary.
– A-level and GCSE results in England
Following criticism from students and headteachers, and a backlash by Tory MPs, the Government announced A-level and GCSE grades would be based on teachers' assessments rather than a controversial algorithm devised by regulator Ofqual.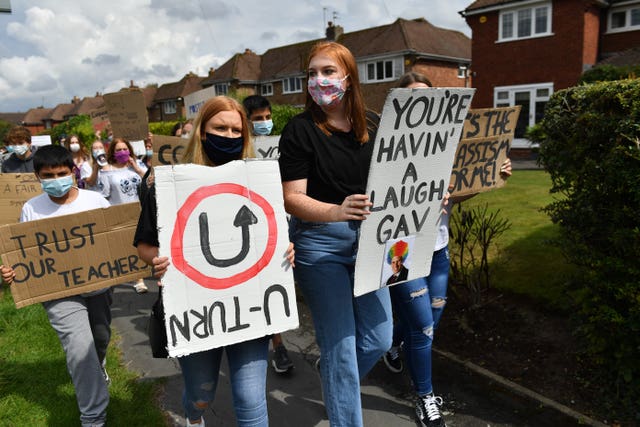 The Prime Minister and Mr Williamson had previously defended the "robust" system, which saw almost 40% of A-level grades reduced from teachers' predictions.
The announcement on August 17, just days before GCSE results were due to come out, followed an earlier vow from Mr Williamson that there would be "no U-turn, no change".
Related: Back-to-school likely to be delayed for secondary schools and universities