A delivery driver who fantasised about killing the Queen and Tottenham Hotspur football fans was jailed for eight years today for trying to join Islamic State.
Somalian Aweys Shikhey, 38, also discussed killing former Prime Minister David Cameron and gunning down Jews.
The Dutch national branded "dangerous" secured a £10,000 loan from Barclays Bank to fund his travel to Syria or Iraq by pretending it was for a wedding.
Shikhey, who has a wife in Kenya, a wife in Holland and children with both, planned to abandon them to fight for IS.
But he was arrested on May 23 last year at London Stansted Airport, where he had taken a 'selfie' to look like a tourist.
He had $700, 400euros and a one-way ticket to Sarajevo via Istanbul – said by prosecutors to be a "red herring" to "hoodwink the authorities", as he planned to travel further east.
Although he appeared as a quiet, hard-working religiously observant man working for DPD and living in Tottenham, north London, he was described as a "terrorist hiding in plain sight".
Shikhey, of no fixed address, was convicted of engaging in conduct in preparation to commit terrorist acts.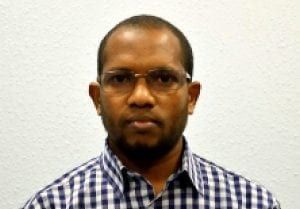 He was jailed at the Old Bailey for eight years and handed a four-year extended licence.
Judge Martin Edmunds ruled he was dangerous meaning he will serve at least two-thirds of his jail term.
The judge said: "In travelling you were abandoning your two families, one in Holland and one in Kenya, behind.
"You had been in this country since 2013. On the surface you appeared to be a hard-working man regularly sending money to your families.
"But under the surface you were increasingly radicalised.
"You had discussions about the murder of David Cameron and Her Majesty the Queen, and about committing atrocities against football fans and members of the Jewish community of the Tottenham area.
"Those discussions, although chilling, dangerous and testament to your increasing radicalisation, were in my judgment more in the nature of fantasy than conspiracy."
The judge said he was not sentencing him for "threatened acts of terrorism in this country", but for his plans abroad.
He added: "What you contemplated remains immensely serious.
"You can have had no illusions about the nature of the fighters whose ranks you aspired to join, no illusions about their murderous behaviour, their atrocities and the damage to property which they inflict, and it was with full intent to engage in such behaviour that you travelled.
"You are no impressionable youth but a mature man."
Judge Edmunds went on: "I take account that you had two families, one in Holland and one in Kenya dependent upon you and the regular sums you used to send them.
"However, it is all too clear that your intent in travelling was to leave them behind without information as to your whereabouts or financial support.
"It is you by your conduct who has deprived them of your support and the graver the crime the less the fate of your wives and children can mitigate the penalty."
Shikhey, who wore a red crew-neck jumper and glasses and was aided by a Somali interpreter, sat slumped in the dock during the sentencing and showed no emotion.
His plans came to light after messages were recovered from a laptop after a Somalian man in Kenya, Abdirahman Idris Hassan, was arrested in September 2016 for alleged terror offences.
In one message, Hassan told him, "May God bestow you in killing David Cameron and the old woman Elizabeth'", said to be a reference to the Queen.
At the end of the conversation, Shikhey replied, "amen brother".
In August 2016, Shikhey told Hassan, "I intend to put myself forward against Saturday people", referring to Jewish people.
Hassan told him that "men are needed who can shake the UK", and asked Shikhey if he could get hold of guns and bullets.
Shikhey replied: "Three or five people are needed who are connected to each other, who can carry out a bloody attack."
They both agreed the "task looks a bit heavy", and Shikhey said it "could be better" if an AK47, M16 and BKM automatic weapons could be found.
He said: "They could have been taken to Stamford Hill and when people leave from their game."
This appeared to be a reference "to White Hart Lane, which as I am sure you all know, is the home of Tottenham Hotspurs Football Club", Barnaby Jameson QC, prosecuting, said.
Referring to Stamford Hill, Shikhey said, "a lot of Jews gather over there…it's area in the UK where they are majority."
"It is good to shoot them live".
Despite earning a "respectable wage", Shikhey started looking early last year at how to raise "considerable amounts" of money.
He made unsuccessful loans applications to Amigo Loans and Everyday Lending Ltd in February and March 2017, but successfully applied to Barclays for one.
After Hassan's arrest things went "quiet", until Shikhey started speaking in December 2016 to a woman in Norway, Raaqiya Hussain, said to be an "avid supporter" of IS, who he fell in love with.
Mr Jameson said she was "anxious" to migrate from the West to IS territory, and marry a fighter, whether Shikhey or "another jihadist".
In March 2016, Shikhey sent her $8,400, and the next month transferred $3,000 and $600.
The judge said Shikhey did not radicalise Hassan and Hussain, but their conversations "mutually reinforced" his plans.
In mitigation Tim Moloney QC, defending, said: "Beyond the circumstances of this offence, he led a hard-working and law abiding life."
But the judge said: "Sadly, that outward appearance was a disguise for his inner radicalisation and views."
Mr Moloney replied: "Any radicalisation was towards moving from this country, rather than doing anything within this country.
"He didn't seek to radicalise others."
By Ben Gelblum and James Caven
https://www.thelondoneconomic.com/news/police-install-100-extreme-emergency-aid-kits-across-the-city-of-london-to-treat-terror-attack-casualties/14/03/
https://www.thelondoneconomic.com/opinion/higher-levels-of-islamic-expertise-are-needed-in-counter-terrorism/22/03/
https://www.thelondoneconomic.com/news/police-chief-loses-vote-no-confidence-suggesting-gun-toting-civilians-tackle-terrorists/04/07/