A double-decker bus smashed into a shop front, leaving two trapped and several injured.
The number 77 bus crashed just before 7am in Lavender Hill, south London, trapping two female passengers on the upper desk.
The driver of the bus, which travels from Tooting Station to Waterloo, was taken to hospital after the bus hit the Poggen Pohl Kitchen Design Centre.
Maude Grant said: "Lavender Hill at a standstill? Looks like a bus has crashed into a building.
"Looks like they are still trying to get people off the bus."
Matthew Corner added: "Bus crash on Lavender Hill looked awful. Hoping no one is badly hurt. Emergency services doing an excellent job."
London Fire Brigade said the two trapped were conscious and breathing.
A Metropolitan Police spokesman said: "Emergency services at the scene of a collision in Wandsworth.
"Police were called at approximately 06:55hrs on Thursday, 10 August to reports of a bus in collision with a building on Lavender Hill at the junction with Haltenburg Gardens, SW11.
"Officers, the London Fire Brigade and London Ambulance Service are in attendance.
"The driver has been taken to a south London hospital.
"A number of passengers were treated by LAS at the scene.
"Two passengers remain trapped on the upper deck.
"The road is currently closed to traffic."
London Fire Brigade added: "Two fire engines and three fire rescue units are at the scene of a bus which has crashed into a shop in Lavender Hill."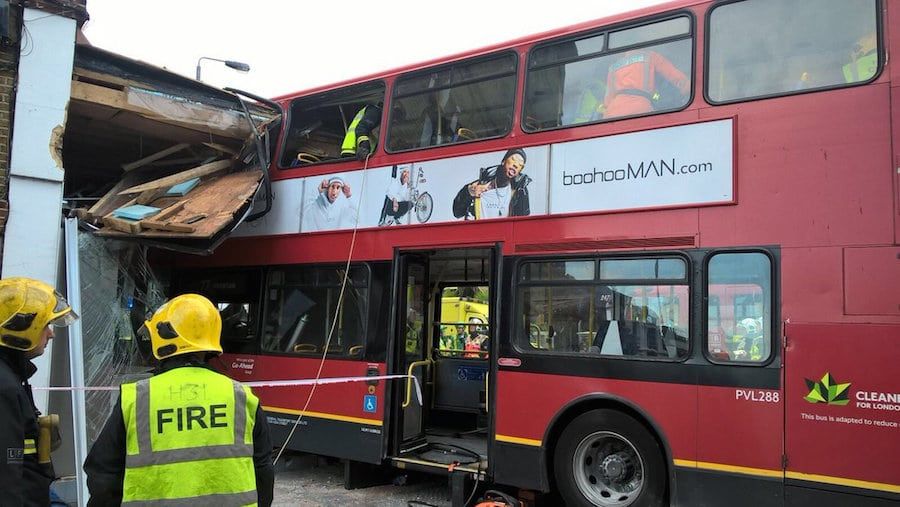 https://www.thelondoneconomic.com/must-reads/homeless-charity-starts-support-name-london-bridge-terror-victim/09/08/
https://www.thelondoneconomic.com/must-reads/15-year-old-stabbed-second-london-murder-24-hours/09/08/