The outgoing Conservative MP for Peterborough launched a tirade at a constituent after losing his seat to a Labour candidate for the first time in 12 years.
Businessman Christian Stanley who has lived in Peterborough for the past decade had criticised his MP Stewart Jackson in conversations with other constituents on Facebook but was shocked to get a barrage of abusive messages from the former MP for Peterborough late on Monday night, calling him a "pillock" and a "thick chav".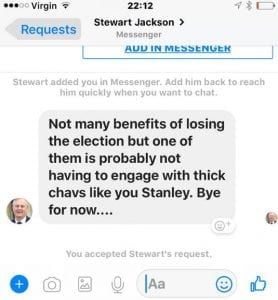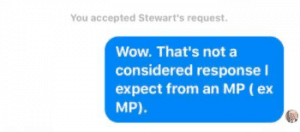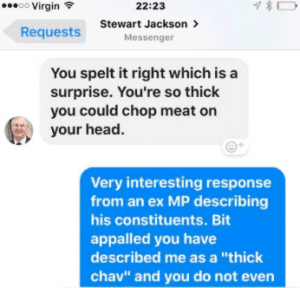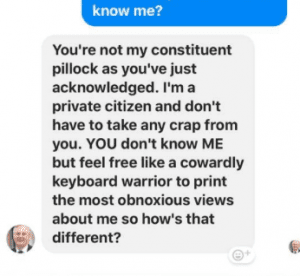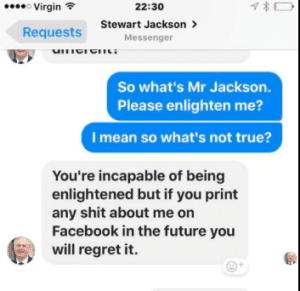 "I've never met him before," a shocked Mr Stanley told The London Economic, "but late on Monday evening I got a random message on Facebook . At first I thought it was a joke – that someone was using his profile but I carried on the conversation and he was very offensive. On tuesday morning I sent an email via his House of Commons email as I wanted to tell him how appalled I was – and to check it was really him and I got a threatening email back warning me not to share anything further on Facebook."
Nevertheless Mr Stanley published screenshots on Facebook which have started going viral  on social media of the angry exchange, with the former Tory MP also calling him a "cowardly keyboard warrior" with the "most obnoxious views."
"I wanted to get it out there as he's a bully and should not get away with it," Mr Stanley told us, "it could have been someone more vulnerable he started bullyingand who knows if he's been messaging any other constituents, as well as me? If you're on the public stage, it's no way to deal with people. I think Peterborough deserves much better and it would be appalling if he was elected again in next general election. I just hope he never returned  to public office."
Labour voter Christian Stanley, 46, said he was totally mystified as to why the former MP had picked on him and put it down to a few conversations he had had with other Peterborough constituents on social media in the run up to the election.
"I wouldn't describe myself as a keyboard warrior but I made a few comments on Facebook about Stewart Jackson and the MPs expenses scandal – he'd chalked up £66,000 on his second home in the constituency for all kinds of items including refurbishing a swimming pool and a £3,000 Berber carpet. As well as milking expenses I joined conversations where people were discussing how rude he was and homophobic – he's voted against anything to do with LGBT rights and a lesbian constituent wrote him a letter and he told her to never bother him again. I genuinely don't know why he picked me out out of thousands of people making worse comments about him."
The London Economic has not heard back from the former Peterborough MP.
http://www.thelondoneconomic.com/news/politics/jeremy-hunt-accused-gp-lying-election-night-reply-dynamite/13/06/
http://www.thelondoneconomic.com/news/watch-jeremy-hunts-name-rudely-mispronounced-twice-one-day-news/12/06/