An explosion that killed five people in Leicester was caused by petrol spread through a shop below a residential flat which collapsed in the blast and blaze that ensued, a court has heard.
The tragic explosion made headlines when it took out a Polish grocery store and the two bedroom flat above it on Leicester's Hinckley Road on the evening of 25 February.
Prosecuting solicitor Zoe Lee told Leicester Magistrates' Court: "It has been established that the explosion was caused by petrol and the petrol was spread throughout the shop."
Aram Kurd, 33, of Hillary Place, Leicester, Hawkar Hassan, 32, of no fixed address and Arkan Ali, 37, of Drake Close, Oldham all face five counts of manslaughter and one count of arson with intent or being reckless as to whether life was endangered.
Kurd was the manager of the Zabka grocery store.
The explosion that took out the three story building is believed to have claimed the lives of Mary Rajoobeer, 46, who is missing, presumed dead, along with her sons Sean, 18, and Shane, 17, who were in the flat above, as well as Shane's girlfriend Leah Beth Reek,18, from Melton Mowbray.
Viktorija Ijevleva, 22, of Oldham, Ali's partner, has been named among the dead too. She is thought to have been working in the shop.
A sixth man, in his 40s and from East Anglia, was arrested on Sunday and is being held on suspicion of manslaughter.
Two other arrested men have been released under investigation.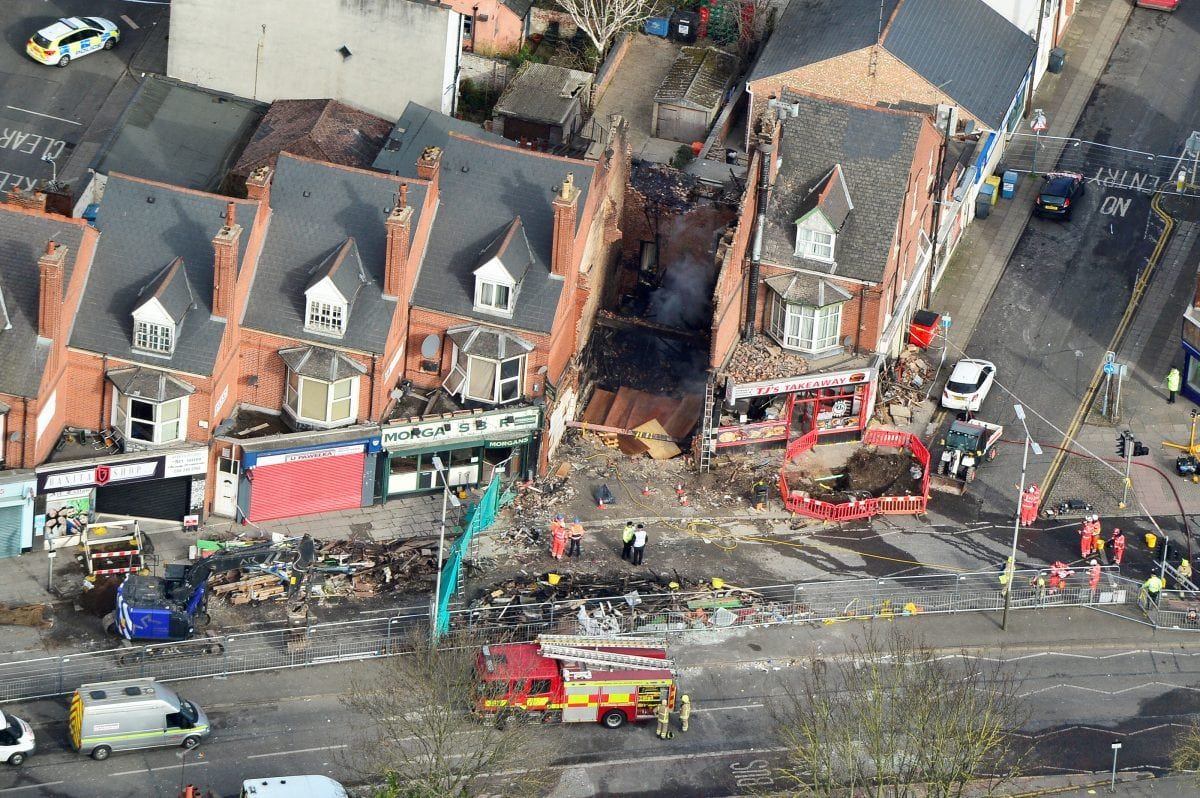 Leicestershire Police appealed for more information on people seen going in and out of the shop in the hours before the fatal blast.
Detective Inspector Michelle Keen said: "Our enquiries have established that there were a number of people in the area of the supermarket in the hour leading up to, and in the minutes after, the explosion.
"I want to hear from anyone who was near the supermarket at the time and who, thinking back, remembers seeing something that they thought may have been suspicious.
"It's vital that we speak to anyone who may have information about any people they saw coming and going into the supermarket in Hinckley Road in the hours leading up to the explosion.
"Was there anyone in acting strangely or in a suspicious manner? Did you see any vehicles parked up, or being driving in a strange manner in the area around the supermarket?
"What you saw may have seemed innocent and innocuous. But no matter how small the detail, no matter how insignificant it may have seemed, we need to speak to you. The information you have may be critical in this enquiry.
"People lost their lives in the most horrific way," she added. "We owe it to them to understand the cause of that explosion."