An elderly couple have received a letter from Theresa May asking for their support in the upcoming local elections addressed "Dear Mr Fuckingjoking."
Their neighbour posted it on social media, along with the enclosed form asking for a donation to the Conservative Party that she says accompanied the rude missive.
"Trying to argue they can run the country when they can't even work mail merge," said Laura McCormack, adding, "my elderly neighbours were more than a little upset to be addressed in this manner."
The letter signed Theresa May, complains that "Labour's organisation was better in many seats," and says "we cannot allow them to succeed." Hailing the Government's Brexit progress, the rudely addressed letter asks for donations for the upcoming Conservative local election campaign.
A Conservative spokesperson said "it is unacceptable that this letter was sent out and we apologise for any offence caused.
"We are currently investigating this matter to ensure it does not happen again."
Trying to argue they can run the country when they can't even work mailmerge. My elderly neighbours were more than a little upset to be addressed in this manner by the PM #youmustbefuckingjoking pic.twitter.com/dCHjRZFcMq

— Laura McCormack (@LauraAMcCormack) April 10, 2018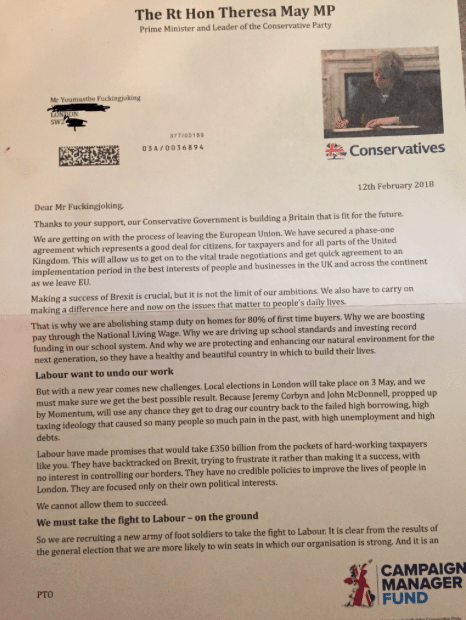 To add insult to injury the @Conservatives then had the cheek to ask for cash! pic.twitter.com/jA14qUY0Vg

— Laura McCormack (@LauraAMcCormack) April 10, 2018
I work in direct marketing and this should have been picked up. All the data would/should have been processed beforehand and checked for stuff like this. This one is so obvious it should never have got through.

— MOB (@Mob1967) April 11, 2018
RELATED:

https://www.thelondoneconomic.com/news/theresa-may-makes-worlds-most-admired-list-for-the-first-time-but-who-else-is-on-the-list/11/04/
https://www.thelondoneconomic.com/news/media/murdochs-fox-offices-raided-by-eu-antitrust-watchdog-over-broadcast-cartel/11/04/
https://www.thelondoneconomic.com/news/woman-diagnosed-with-terminal-cancer-writes-to-theresa-may-after-her-third-dwp-request-to-prove-she-has-cancer-goes-viral/04/04/