An ex-university friend of BBC Newsnight's Emily Maitlis has been jailed for more than three years after bombarding her with sinister letters – warning her "I will not relent".
Edward Vines, 47, re-started his 27-year campaign of harassment despite a restraining order banning him from contacting the journalist or her relatives.
He had previously sent mother-of-two Ms Maitlis three letters from his prison cell after he was jailed for three years in 2016 over his stalking.
When he was released early on licence, he ramped up his attempts to contact the presenter, subjecting her to "psychological torture".
Ms Maitlis, 47, did not receive the letters, which were sent to the BBC and intercepted by security guards.
Vines, of Clarks Row, Oxford, was today (Tue) jailed for 45 months after he admitted two charges of breaching a restraining order.
Jailing him at Oxford Crown Court, Judge Peter Ross said it was a "scandal" that Vines had been able to write to Ms Maitlis from his prison cell.
He said: "While Mr Vines clearly has mental health difficulties, as far as doctors are concerned there is a disconnect between this offending and mental health difficulties recorded there.
"There is considerable concern he was able to write the first batch of letters from prison whilst in Bullingdon – is there any explanation from the governor as to how on earth this happened?
"Police regarded it as unacceptable and unsatisfactory and so do I – I will inform the prison governor by a week on Friday a letter will be on my desk explaining as far as the public would view, inexplicable and wholly unacceptable lapse of security.
"It is something of a scandal.
"Here is a man that offended not just in custody but in probation-appropriate services.
"Exactly the same for which he was on licence – I fail to understand why a recall process was not put in place.
"It is completely incomprehensible no steps were taken to have this man in court."
Addressing Vines, the judge told him: "You knew when I sentenced you in September 2016 the very real concerns that existed in relation to not just Ms Maitlis but her children during a period when you were out of contact with the authorities.
"Steps were taken to ensure Ms Maitlis and her children remained in safety.
"This sort of protracted harassment has a compelling effect on the victim – it is clear to me that you are not prepared to accept an absolutely simple and fundamental truth – Ms Maitlis wants nothing to do with you, nothing whatsoever.
"No-one should have to live with that, whether they are a public figure or not – it is thoroughly disabling to them and their families.
"It is disgraceful conduct, it is psychological torture."
Vines admitted two charges of breaching a restraining order, which was imposed on him by the courts in 2009.
The first breach took place between November 28, and December 15, 2016.
The second breach took place between September 16 and 22 last year.
Prosecutor Julian Lynch said: "On January 4, 2017, a letter arrived at BBC in London addressed to Emily Maitlis via Newsnight TV programme, sent by Mr Vines.
"It never reached Ms Maitlis, it was opened by security, not least because Mr Vines in parts has been sending the letters.
"The letters were identified – there were three letters dated November 29, December 4 and December 14.
"In terms of content they are similar in type of content your Honour is aware of in the last case.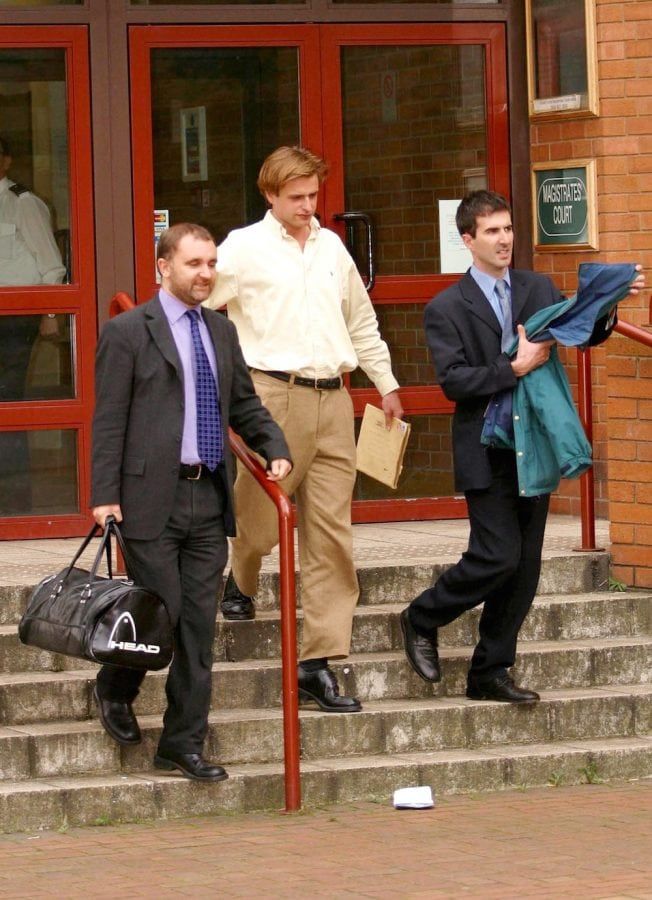 "Complaints about her behaviour to him at Cambridge and thereafter, and a feeling previous trials had been unfair and making complaints about that.
"He was interviewed while still in prison and raised, essentially, issues in respect of that he had reasonable excuses to contact Ms Maitlis because of her failure to contact him in the past.
"He was subsequently released from that prison sentence on licence and wrote further letters.
"These ones arrived at BBC on September 21, 2017, again intercepted without actually reaching Ms Maitlis, again sent via Newsnight to her.
"Letters consisted of three separate pieces of paper – content mainly of the same complaints and requests as before and sent off with, 'I will not relent until you talk to me'
"There was also a letter addressed to Ms Maitlis' mother Marie – I understand she was never told about it and does not know about it."
Vines first met Ms Maitlis in their first year at Queen's College, Cambridge, in 1989.
In a previous court hearing, Vines told how their friendship cooled in 1990 after Ms Maitlis "scorned" him.
The court heard Vines has nine previous convictions for 15 offences relating to Ms Maitlis and her family with the first being in 2002.
Ms Maitlis did not attend court but her victim impact statement revealed the torment she has undergone.
It said: "
"When I heard that Edward Vines had breached his restraining order I felt scared and let down.
"Scared because it meant that even from within the prison system the perpetrator was able to reach me – let down because the system had been unable to stop him getting in touch even though the crime he is serving time for is harassment through unwanted and ongoing contact.
"It has affected my relationship with my husband who is frustrated that we cannot get to the bottom of this problem even though we have been tackling it through the CPS and the courts for over 20 years and it has scared my children who thought the threat had gone away – albeit temporarily whilst he was behind bars.
"It has affected my ability to do my work – I am constantly thinking of where I am being sent and whether he will be attempting to track me down.
"And it affects everyday decisions like how I leave the house and how I get to work, what time I feel able to come home at night (I work late nights often).
"It also makes me jumpy around strangers for no reason as I fear any advance might be him.
"Altogether the breach has been a reminder for me that this man remains a constant threat in my life and my family's life and that my ability to do my work, hang out with my children, and lead a normal family life without constant sense of suspicion and fear has been badly damaged."
Vines, who defended himself, said: "I am not actually a prolific offender by nature, it has just come to this.
"Police don't want to look at the allegation she has made a lot up.
"She doesn't need to be so worried as she says in her impact statement – the fact her children are scared is new to me.
"The whole issue could be resolved for both of us if she would talk to me once – that hasn't happened since 1995.
"If she is unhappy, and she obviously is, now I can see that.
"I am very sorry about that, I really am.
"Through her television program I can see she doesn't look happy there – normally there would not be that visual impression that I am allowed through the TV.
"I knew her so I can judge that.
"It has dragged on for two or three decades, it could have been resolved more sensibly years ago."
https://www.thelondoneconomic.com/news/security-firm-worked-house-cards-accuses-kevin-spacey-racism/16/01/