These shocking images capture the early stages of the raging fire that has swept across Saddleworth Moor for the last three days.
Holidaymaker Kate MacRae, 48, snapped the scene from a plane when she spotted huge palls of smoke rising into the sky from her seat.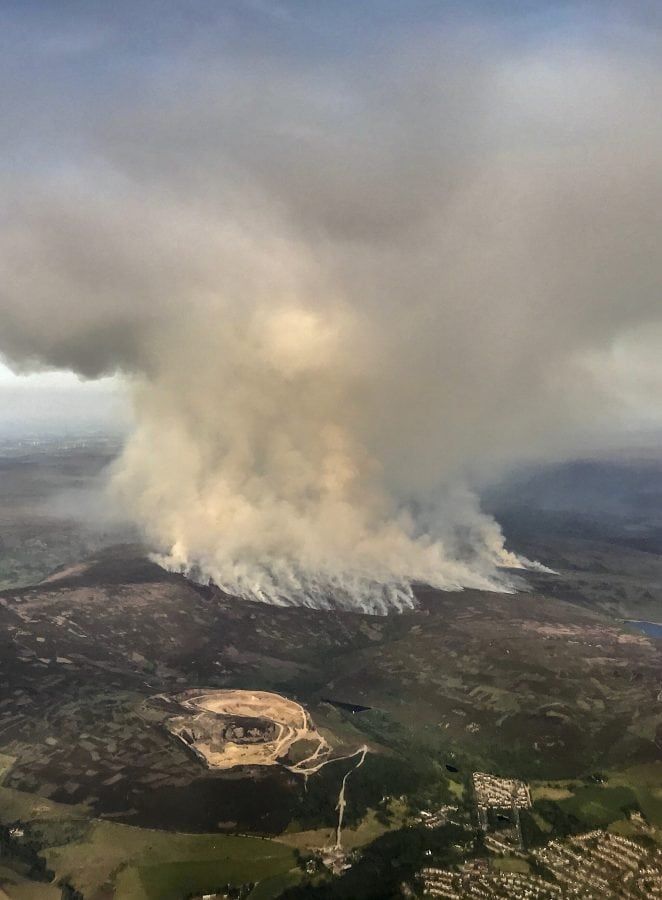 She was returning to Manchester Airport from a trip to the Shetlands via Aberdeen when she spotted the clouds of smoke as the plane was descending to land.
Kate described the scene as 'looking like a volcano.'
She said: "It was about 7pm on Monday when I was coming in to land that I noticed the smoke.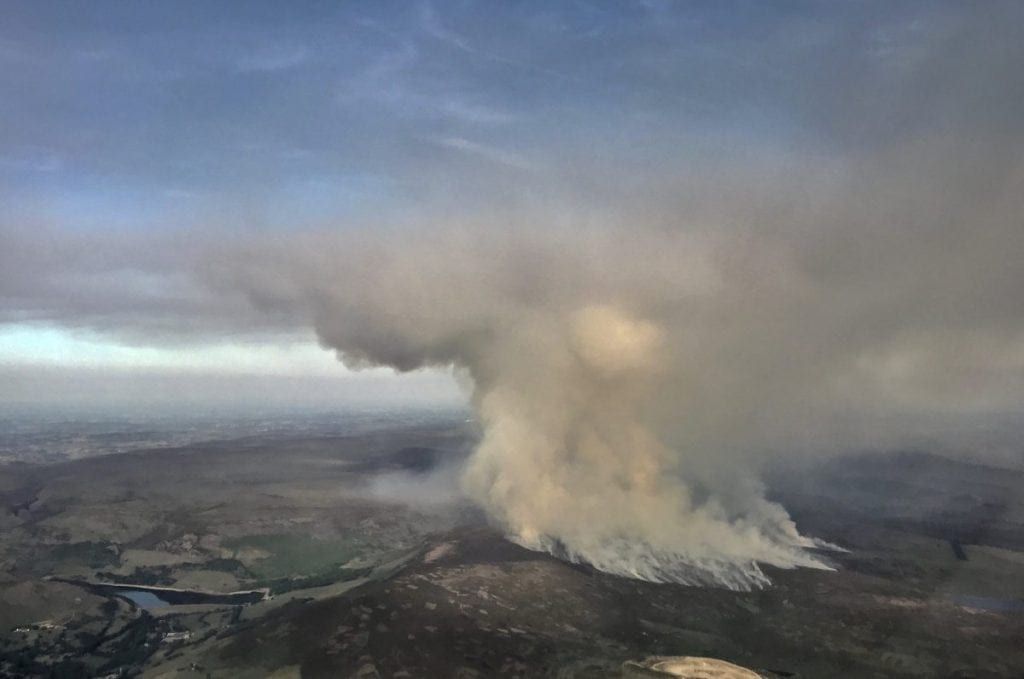 "It looked like a volcano with the plumes of smoke rising up into the air. I took some pictures on my phone through the plane window and thought nothing more about it.
"It was only when I saw the blaze on the telly last night I realised I had photographed the early stages of it.
"From a distance, it looked like a huge volcanic eruption."
More than 30 homes have been evacuated as the fire service struggle to take hold of the huge flames.
The blaze has been declared a "major incident" with the Army is on standby to step in if needed.
The fire began on Sunday night, reignited on Monday during the hot weather and then spread throughout Tuesday, fanned by evening winds.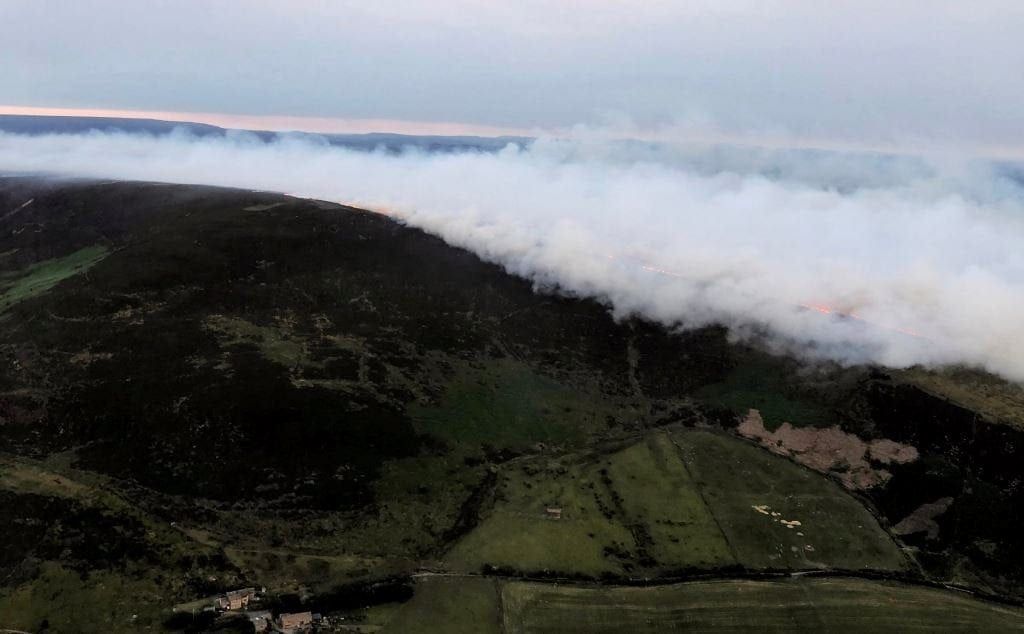 Thirty-four homes in Carrbrook, near Stalybridge, Gtr Mancs., were evacuated but there are no reported injuries.
Smoke has completely engulfed the village, with locals advised to keep windows closed and for asthmatics to continue taking their medication.
The fire, which measures 3.7 miles (6km) across the tinder-dry hills, has been raging for days despite efforts to halt it.
Great Manchester Fire and Rescue Service (GMFRS) confirmed the blaze was spreading and said crews have recommended "offensive firefighting".
Assistant Chief Fire Officer Leon Parkes said there are ten fire engines and 50 firefighters at the scene facing "enormous" challenges against the blaze which has "pockets" occurring in different areas.
Smoke and flames can still be seen for miles but Mr Parkes said crews had "quelled the risk" to homes at risk from the flames.
He said it had not been established what might have caused the fire.
Fire crews used a helicopter to drop water on the fire on Tuesday, and Mr Parkes said the blaze had "presented some real challenges to the fire and rescue service in terms of access".
Firefighter Ricky Case, who has been out on the hills, said: "It's just the sheer vastness of it. It's one of the biggest ones I've been on in a long time. The logistics of it all, trying to get water to the locations where we need it."
GMFRS group manager for Tameside, Phil Nelson, added: "Crews are still tackling this difficult fire and are working hard to contain the blaze and prevent further fire spread.
"Firefighters are faced with very difficult circumstances, intense heat and are working on challenging terrain.
"Our main considerations are for crew welfare. It is physically draining working at this incident and it is vital that our firefighters have regular breaks and that relief crews are available to take over."
On Tuesday night, GMP said more than 30 homes in Carr Rise, Carr Lane and Calico Crescent were being evacuated due to the proximity of the flames.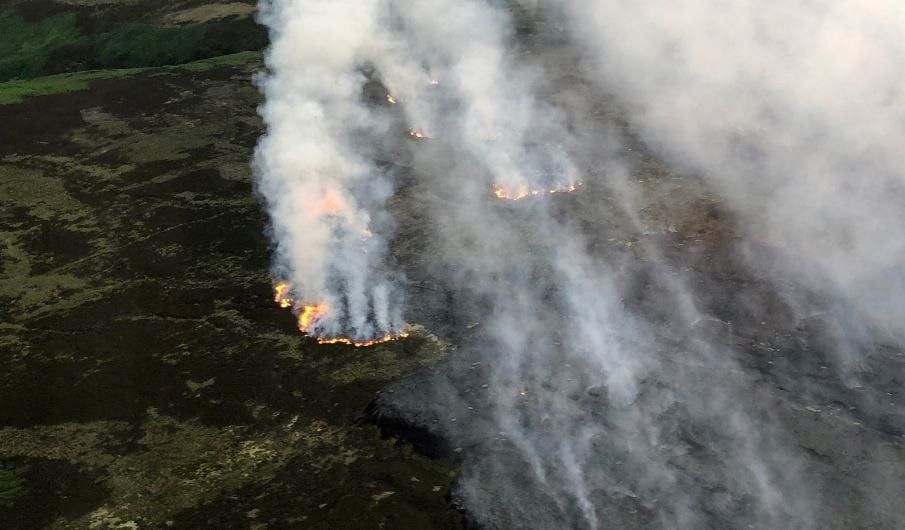 Calico Crescent resident Dee Blanchard, 28, stayed at home through the night to help save animals and pets on the street, including cats and hedgehogs.
She is a former military police officer who served in Afghanistan and Iraq but admitted she's now starting to get nervous.
"We went outside and there was just this fire crackling literally on the hill behind the house. The smoke was acrid and thick. We could hardly see," she said.
"There was ash falling. The horses were still in the fields and animals were struggling that people had left out. It was really bad."
Reverend Chris Finney has opened his church, St James' in Millbrook, to anyone who needs it.
"I'm about a mile away from Calico Crescent. I've lived in this area all my life and I think I can say that within my memory – and I'm in my 60s – I've not seen fires on the moors to the extent that we're looking at them at the moment," he said.
Tameside councillor Clive Patrick added: "It's terrifying. I've never seen it as bad as this. I've been here now 30 years and this is the worst I've seen."
The Mayor of Greater Manchester, Andy Burnham, thanked fire crews on Twitter after firefighters from across Greater Manchester, Lancashire and Derbyshire spent much of Tuesday tackling the fire.
People as far as 20 miles away reported being able to smell the smoke on Tuesday evening, although GMFRS stressed the smoke was not toxic.
Huge amounts of smoke drifted westwards, with large parts of Greater Manchester experiencing poor visibility.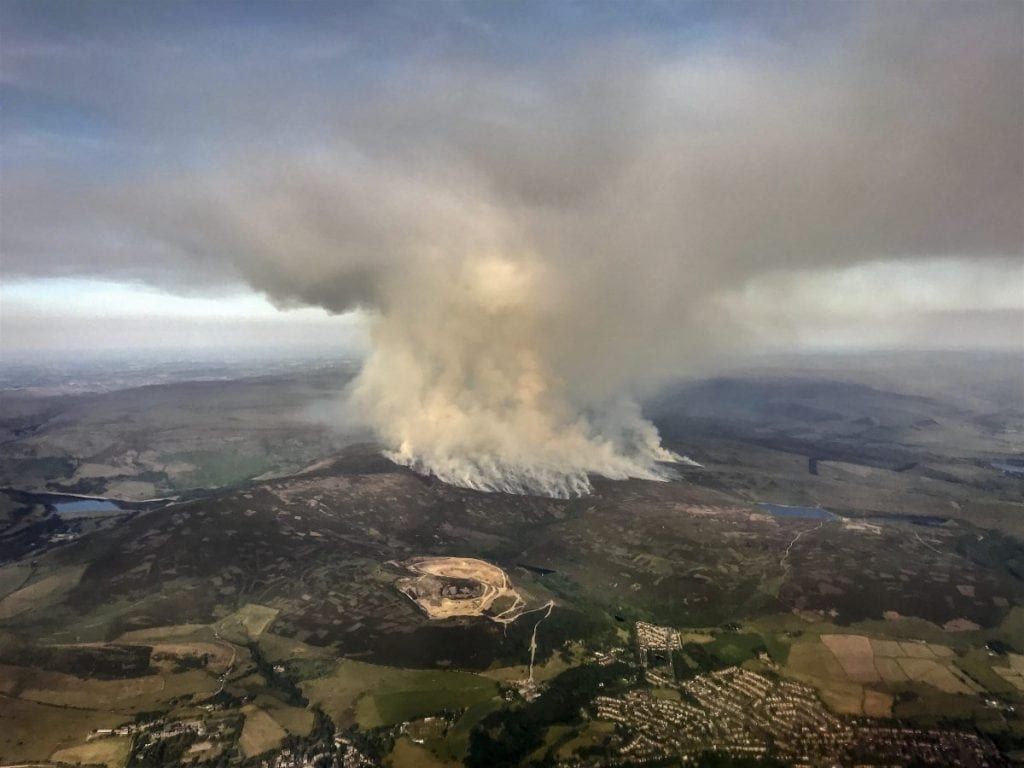 Public Health England offered advice to those affected by smoke. It tweeted: "Smoke is an irritant and can make people's eyes and throat sore. Wash your face with soap and water and keep hydrated by drinking water."
GMP has confirmed some schools in the Tameside area will be shut today/yesterday (WED), with two already confirmed closed.
Anyone who requires a safe place to stay should contact Tameside Council, the force said.
Bin lorry driver caught this dramatic picture of a menacing storm brewing