After train users have been slapped with their regular yearly ticket rise Virgin Trains has now "apologised unreservedly" for a tweet which some social media users described as "sexist".
In response to a complaint about being referred to as "honey", the official Virgin Trains East Coast Twitter account asked if she would "prefer 'pet' or 'love' next time".
The passenger, Emily Lucinda Cole, 27, said she was "stunned" by the response. Many other people took to social media to share their astonishment at the response from the train operator.
Average rail ticket prices have risen by 3.4% across the UK, in the biggest increase to fares since 2013, campaigners and unions warn many people were being "priced off" UK railways. For some travelling to work by rail is becoming economically unviable.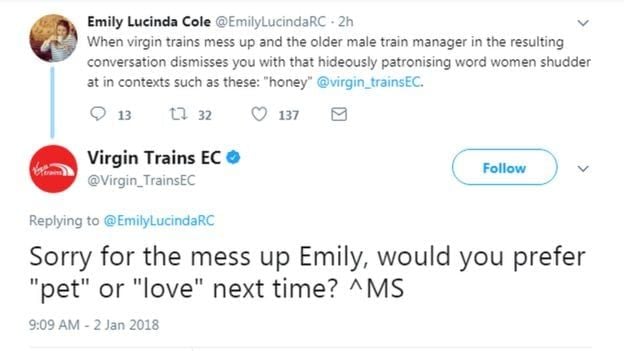 Virgin Trains East Coast subsequently deleted their original tweet.
A spokesperson for Virgin Trains on the east coast route said: "We apologise unreservedly for this tweet and for the offence caused. To avoid causing more offence we have deleted the original post".
https://www.thelondoneconomic.com/news/virgin-release-traingate-footage-proves-corbyn-told-truth-traingate/23/08/
https://www.thelondoneconomic.com/news/business/virgin-trains-east-coast-a-lesson-in-distasteful-branding/15/03/