Murder Squad detectives probing the fatal stabbing of a 15-year-old boy are looking at his links with the drill music scene for a possible motive.
Jordan Douherty was fatally stabbed when trouble flared on Saturday night as dozens of gatecrashers turned up at a birthday party in Romford, east London, advertised online.
The lad, from Grays, Essex, was the seventeenth and youngest teenager to be killed on the streets of London since Christmas.
A bus driver aged in his 50s was also treated for a head injury at the scene.
Three youths aged 15, 16 and 17 arrested on suspicion of murder have been released under investigation.
Police are appealing for witnesses to come forward.
Detective Chief Inspector Larry Smith, of the Met's Homicide and Major Crime Command, said: "We believe that this birthday party was advertised on social media, resulting in a large number of people attending.
"A number of people were escorted out of the Community Centre and this led to a fight breaking out and tragically Jordan receiving fatal injuries.
"The bus driver who was assaulted, received his injures as a result of refusing to take a number of party goers who wanted to leave the scene.
"Response team officers who attended the initial calls were confronted with up to 100 plus youths and I would like to directly appeal to those present to contact police about what they saw and heard to help my team build a clearer picture of what took place.
"Equally, if you have video footage or images of the violent aftermath to the party, we need to hear from you.
"We are also aware of reports circulating that Jordan was involved in 'drill music'.
"We are exploring all lines of enquiry to piece together what led to him losing his life, but there is no evidence at this stage that this was a motive."
Chief Superintendent Jason Gwillim, Borough Commander East Area Command Unit, added: "My thoughts are with Jordan's family and friends at this devastating time.
"Our homicide team are carrying out an investigation to catch the people responsible.
"This investigation will take time, there were a large number of people in attendance at this birthday party which sadly led to Jordan's life being cut short in the most tragic of circumstances.
"We are urging anyone who attended this party or was in the area at the time who can assist us to come forward and make contact with the incident room.
"The violence used has rightly caused concern, not only amongst the wider community, but the family and friends of the young people who were there.
"We are continuing to work with our partners and the local authority, and speaking regularly with community leaders to brief them on our response.
"Violence has no place on our streets and we will continue to use all the resources available to us to tackle anyone carrying a weapon."
Jordan Douherty was a popular member of Essex Drill group #C17, seen here rapping in a grey hoodie under his tag Young Valenti (Y.Valenti).
The rap troupe rap about "opps" (opposing gangs) and violence among their lyrics. The teenager also collaborated with trending Brixton-based drill collective 410 who rap about violent clashes. Though the police are not pointing to any link to his connections with either group.
https://www.youtube.com/watch?v=xmqL1yyOi2Y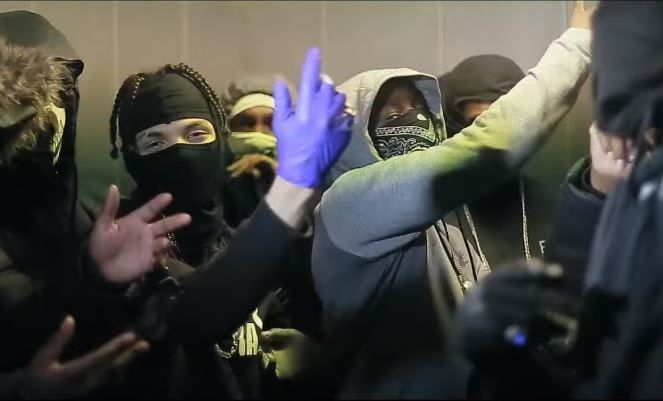 Police are failing to solve 63 per cent of such violent crimes against London youth.
London Mayor Sadiq Khan said: "Anyone involved in this tragic incident will swiftly face the full force of the law. If you have any information at all about the incident last night – please report this to the police.
"There is no honour in remaining silent."
The mayor added:  "these senseless deaths are devastating families and communities, causing pain, loss and fear".
"Let me be clear – these appalling crimes will not be tolerated in London. There are no excuses for carrying a knife."
By Ben Gelblum and Stephen Beech