A terrorist map is doing the rounds on social media claiming that the reason Poland hasn't suffered terrorist attacks is because of its strict anti-Muslim immigration policy – but it's completely inaccurate.
The map was released amid claims by Polish minister, Ryszard Czarnecki that the only way to protect Poland from terrorist attacks is by not allowing Muslim migrants into the country.
His words reflected a tough stance on Muslim immigration been peddled by Polish Prime Minister Beata Szydło in the wake of fresh terror attacks on UK shores.
But Poland is no stranger to extremism in its country.
Far right groups are becoming increasingly prevalent domestically and overseas, where millions of Polish immigrants have made their homes in cities and towns across Europe.
What's more, most of the propaganda being spread on social media is completely inaccurate.
This map seems to show that Islamic terrorist incidents have occurred in their droves across Europe in places with no reported terrorism activity.
Bristol in the UK is heavily cited as enduring severe terrorist attacks, as is Wisbech in Cambridgeshire and Canterbury in Kent.
There is even one terrorist incident reported in the North Sea.
It also omits the fact that Poland has scarcely been involved in the conflict in the Middle East, which has been cited as a primary motivation behind attacks in countries which were involved.
From 2002 until 2014, Polish military forces were only part of the Coalition Forces that participated in the ISAF mission in Afghanistan led by NATO.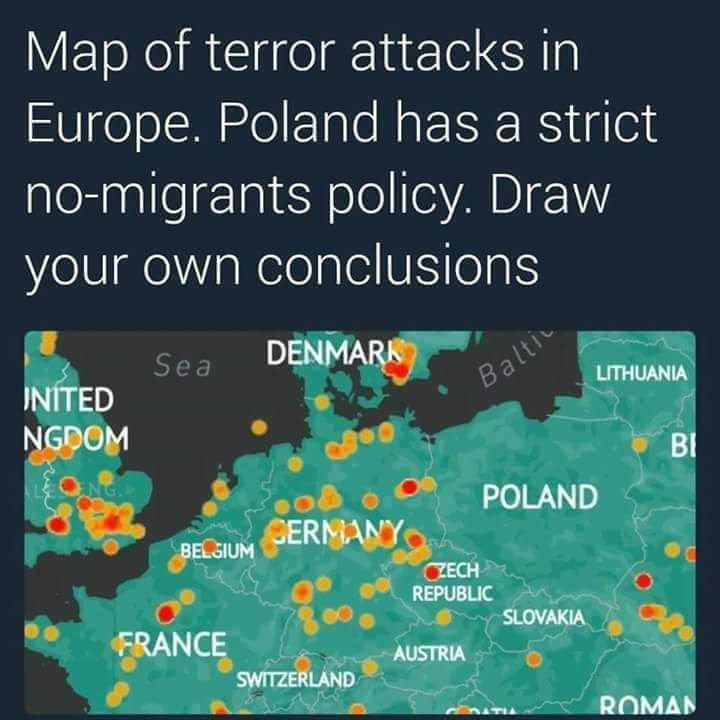 Here is an official list of terror attacks in the UK since the Millennium according to Wikipedia:
2000, 20 September: The IRA fired an RPG-22 rocket launcher at the MI6 headquarters in London.
2001, 4 March: The IRA detonated a car bomb outside the BBC Television Centre in London, damaging the front of the building and injuring one person.
2001, 3 August: The  IRA detonated a car bomb in Ealing, London, damaging buildings and injuring seven people.
2001, 4 November: IRA car bomb in Birmingham.
2005, 7 July: 7/7 central London bombings conducted by four separate Islamist extremist suicide bombers, which targeted civilians using the public transport system during the morning rush hour. Three bombs were detonated on three separate trains on the London Underground and one on a double-decker bus. 56 people were killed and 700 were injured. It was the UK's worst terrorist incident since the 1988 Lockerbie bombing and the first Islamist suicide attack in the country.
2007, January–February: Miles Cooper letter bomb campaign. Miles Cooper said he was motivated by anti-authoritarianism and opposition to surveillance.
2007, 30 June: Glasgow International Airport attack perpetrated by Islamist extremists. Five people were injured and the only death was of one of the perpetrators.
2008, 22 May: Exeter attempted bombing in a café toilet by an Islamist extremist, injuring only the perpetrator.
2010s
2013, 29 April to 12 July: Pavlo Lapshyn attacks. Lapshyn, a Ukrainian student and right-wing extremist, stabbed Mohammed Saleem, a Birmingham resident to death on 29 April. He later admitted to police that he wished to start a "race war". Lapshyn later detonated a home-made bomb outside a mosque in Walsall on 21 June. 150 homes were evacuated but no person was injured. On 28 June Lapshyn detonated a second home-made bomb near a mosque in Wolverhampton, and attacked a mosque in Tipton with an improvised explosive device containing nails on 12 July. Friday prayers were delayed that day, and so his intended victims were still inside. Laphsyn was later sentenced to serve a minimum of 40 years.
2013, 22 May: A British soldier, Lee Rigby, was murdered and decapitated in an attack in Woolwich by Michael Adebolajo and Michael Adebowale, two Islamist extremists armed with a handgun and a number of bladed implements including a cleaver. Both men were sentenced to life imprisonment, with Adebolajo given a whole life order and Adebowale ordered to serve at least 45 years.
2015, 5 December: A man with a knife attacked three people at Leytonstone Tube Station in East London. The attacker was 29-year old Muhaydin Mire who was shouting "this is for Syria". The attacker was found guilty of attempted murder in June 2016. Three people were injured in the attack and one was seriously injured.[51]
2016, 16 June. Labour MP Jo Cox, aged 41, was killed by Thomas Mair, according to testimony given in court. Cox was fatally shot and stabbed outside the library in Birstall, West Yorkshire, where she was about to hold a constituency surgery at 1:00 pm. A 77-year-old local man, Bernard Kenny, was stabbed in the stomach while trying to fend off her attacker. The Crown Prosecution Service described it as an act of terror. The judge, in his sentencing remarks, said that Mair's violence was politically-motivated.[54]Britain First distanced itself from the attack and Mair.
2017, 22 March: 2017 Westminster attack – Khalid Masood, a 52-year-old British man, born in Kent as Adrian Elms, drove a car into pedestrians on Westminster Bridge, before crashing the vehicle into the Palace of Westminster's perimeter. He then entered the grounds of the Palace of Westminster, the meeting place of the Houses of Parliament, before being confronted by a police officer, whom he fatally stabbed before being shot himself. Six, including the perpetrator and the officer, were killed in the incident, and 49 people were injured. The attack is being treated as an act of terrorism motivated by Islamic extremism.
2017, 22 May: 2017 Manchester Arena bombing – A large explosion caused by a British suicide attacker with a bomb at the Manchester Arena, Manchester, killing 22 individuals and injuring 120. The attack occurred shortly after an Ariana Grande concert had concluded, and is the most deadly terror related incident in the United Kingdom since the 7/7 London bombings in 2005.
2017, 3 June: June 2017 London attack. 8 people were confirmed dead and at least 48 injured, some critically. A white van drove at high speed across London Bridge, running into groups of people, then crashed. The occupants then ran to nearby Borough Market, where they stabbed many people. All three of the terrorists involved were shot dead by police eight minutes after the incident was reported. All three were wearing imitation suicide bomb vests.
This map, first published in the Washington Post, details 45 years of terrorist attacks up to 2015.