Nurses are to stage fresh strikes after rejecting the Government's pay offer in a shattering blow to hopes of resolving the bitter NHS pay dispute.
The Royal College of Nursing (RCN) announced that its members will walk out for 48 hours from 8pm on April 30, without any derogations, which means nursing staff working in emergency departments, intensive care units and cancer care will be taking industrial action for the first time.
The escalation followed a 54% vote to reject an offer of a 5% pay rise this year and a cash payment for last year.
The turnout among RCN members employed on NHS Agenda for Change contracts in England was 61%.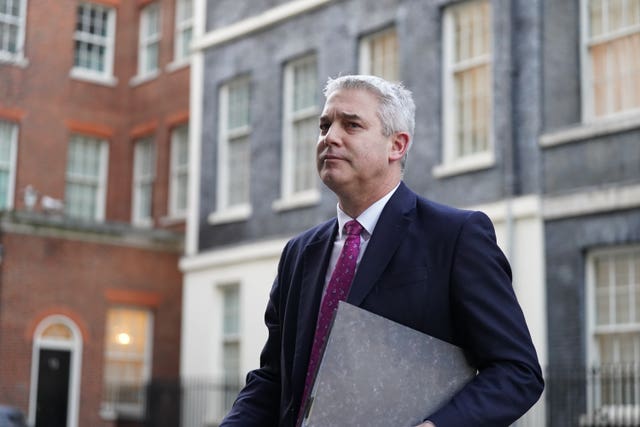 The move followed an earlier announcement by Unison that its NHS members had accepted the same offer by 74% on a turnout of 53%.
Unison's head of health, Sarah Gorton, said the vote did not solve the "staffing emergency" in the NHS.
RCN general secretary Pat Cullen has written to Health Secretary Steve Barclay to seek urgent re-opening of talks with the Government.
She said: "What has been offered to date is simply not enough. The Government needs to increase what has already been offered and we will be highly critical of any move to reduce it.
"Since our talks in February, we have seen the pressures on the NHS continue to increase.
"The crisis in our health and care services cannot be addressed without significant action that addresses urgent recruitment and retention issues and nursing pay to bring this dispute to a close urgently.
"Until there is a significantly improved offer, we are forced back to the picket line.
"Meetings alone are not sufficient to prevent strike action and I will require an improved offer as soon as possible. In February, you opened negotiations directly with me and I urge you to do the same now.
"After a historic vote to strike, our members expect a historic pay award."
The ballot results were announced as junior doctors in England staged the final full day of a 96-hour strike in a separate row over pay.
Meanwhile, workers at the Environment Agency will launch a four-day strike from 7pm on Friday, while Prospect unveiled plans for two strikes for next month and June after the Government announced a pay rise for civil servants of between 4.5% and 5%, sparking anger from unions embroiled in a long-running dispute over pay.
The RCN will reballot its members in England to see if they want to continue taking industrial action because the current mandate runs out in early May.
Unite and the GMB will announce the result of their ballots on the same deal in two weeks' time.
You may also like: Council official 'T-Dawg' makes rap video in photo ID reminder for voters