A hospital trust has been accused of wasting taxpayers' cash after splashing out thousands of pounds on changing the colour of staff uniforms from blue to BROWN.
Dudley Group NHS Trust has changed 675 outfits for clinical support workers and ward clerks to a new "biscuit" colour to make staff more "easily recognised".
But the controversial move has been slammed by taxpayers as well as their own members of staff working at Russells Hall Hospital in Dudley, West Mids.
Critics say the money could be better spent on life-saving equipment, employing more nurses or enhancing services at an already over-stretched NHS hospital.
Staff members have also blasted the "ugly" uniforms and say it makes them "look more like zoo keepers."
One hospital porter, who did not want to be named, said: "There's bigger issues going on at the hospital then worrying about the colour of uniforms.
"It is a ludicrous waste of money which could have been directed towards improving NHS services.
"Everybody is already overworked and spending money on changing the uniform to this unsightly brown is not going to achieve anything or improve working conditions."
An online petition has since been launched called 'Keep Dudley Group Uniform Blue', and has received over 500 signatures in just six days.
The page's description reads: "Clinical support worker staff are undergoing a sample uniform which is brown/ beige and a different style that is tighter fitting.
"Many people whilst talking to them around the hospital aren't happy about this, as it is only a sample at the moment, let's stop this before it rolls out and help save the nhs some money. Instead of wasting it on unnecessary changes."
One person who signed the petition commented: "I feel it would be a waste of money for the trust to change the uniform style and colour when the money could be used elsewhere – to either enhance services, pay for more nurses and csw's [clinical support workers] on the wards.
"Use the money towards equipment that will save lives!!"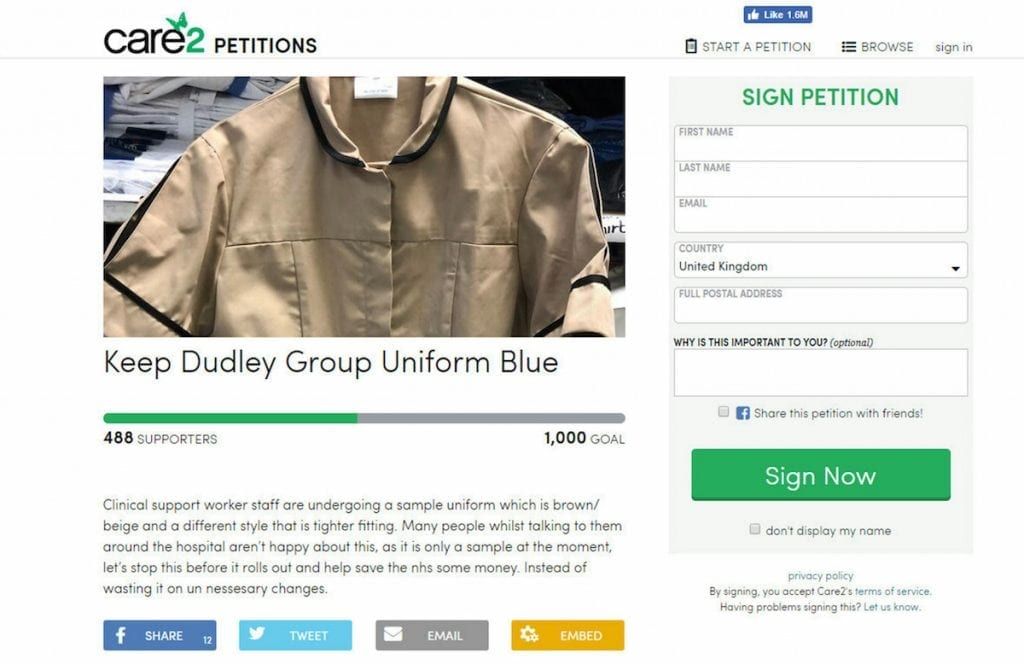 Another who backed the campaign wrote: "They are making us look more like zoo keepers. Its a really ugly uniform."
Tracey S said: "The beige uniform is awful but spend the money on more needed resources as the blue uniform is fine – new ones not needed"
Another said: "It's a waste of money, when we could be doing bigger and better things with the money to improve all areas of the NHS and patients care.
"Isn't that more important than a horrendous new uniform?"
The hospital has not disclosed how much each uniform will cost but previous ones purchased by University College London Hospital in 2012 cost £18 per uniform.
It means the Trust could have spent in excess of over £12,000 just on changing the colour of uniforms for non-registered healthcare staff.
John O'Connell, chief executive of the TaxPayer's Alliance said: "Who seriously thinks that the colour of staff members uniforms is the most pressing issue facing the NHS at the moment?
"It should be clear to the NHS that taxpayers expect their money to be spent on saving lives, not on colour co-ordinating clothes."
Diane Wake, the chief executive of the Dudley Group NHS, said: "The Trust is replacing selected staff uniforms to help patients identify the difference between registered and non-registered healthcare staff.
"The biscuit coloured clinical support staff uniform replaces the previous blue tunic often associated with registered nurses. Staff can choose from two styles, either a tunic and trousers or a dress.
"The roll out of new uniforms for ward clerks and clinical support staff means non-registered staff will be easily recognised by the colour and style of their new uniforms.
"The change in uniform will reduce confusion for our patients and visitors by making it easier to identify nurses, matrons and doctors from ward clerks and clinical support workers.
"The selection of the new uniforms was based on best quality and style to retain a professional and smart appearance.
"The replacement of uniforms comes under our current contract with our PFI partners at no extra cost to the Trust."
A spokesperson for the Royal College of Nursing said: "It's important that patients and the public are able to distinguish between healthcare staff who have different responsibilities and different levels of responsibility.
"In the NHS, the colour of a uniform is a conventional way to help people understand these differences.
"We would expect any employer to ensure that in considering changes to the characteristics of its uniforms it takes due account of the views and experiences of staff for whom a uniform needs to be fit for purpose and as comfortable as possible."
https://www.thelondoneconomic.com/news/nhs-payrise-the-government-giveth-with-one-hand-and-puncheth-in-the-face-with-the-other/09/03/

https://www.thelondoneconomic.com/news/watch-jeremy-hunts-laughable-attempt-re-writing-history/03/10/