An Oxfordshire man on trial for being a member of a neo-nazi terror group banned after the murder of Labour MP Jo Cox appeared to pose for a photo with his newborn baby dressed in the white robes of the Ku Klux Klan, a court heard today.
Jurors were shown the photo said to be of the accused Adam Thomas, 22, who gave his child the middle name Adolf after Nazi leader Adolf Hitler dressed in the hooded costume.
Prosecutor Barnaby Jameson QC showed jurors a series of photographs including one showing his partner Claudia Patatas, 38, holding her baby, standing next to another man holding a swastika flag and performing a Nazi-style salute.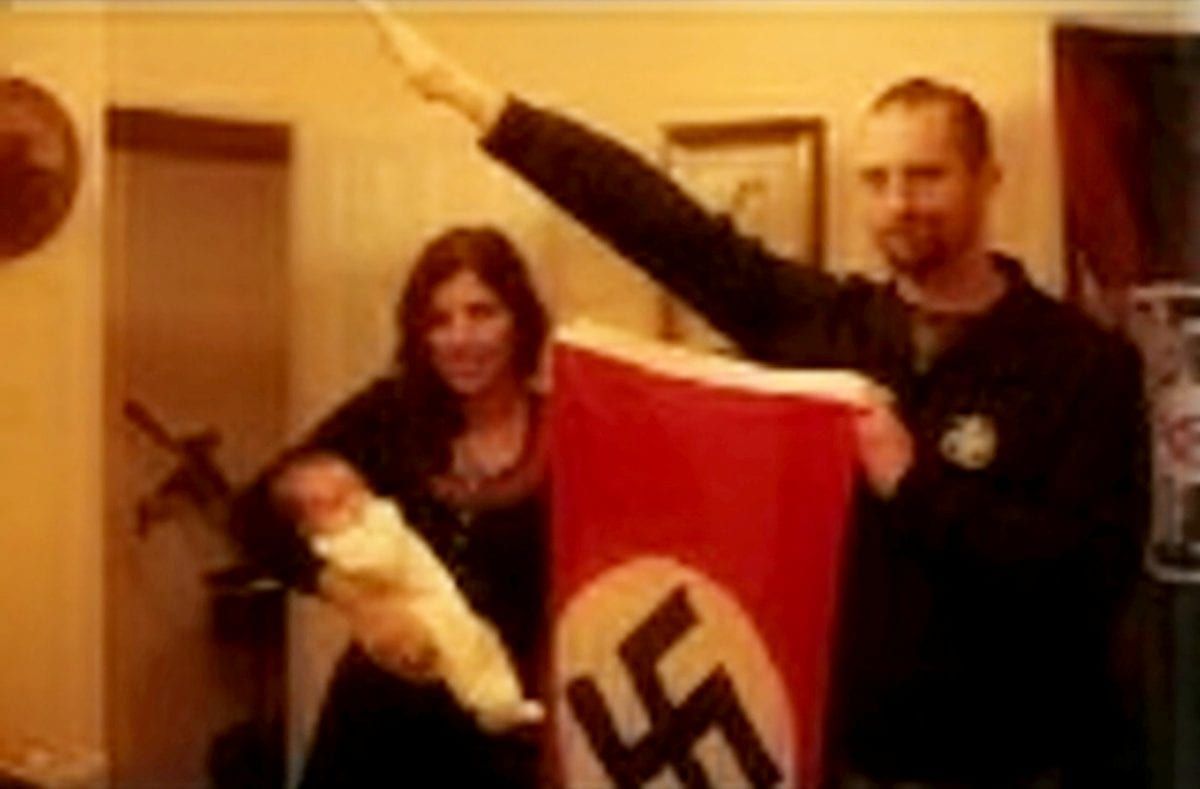 Describing another image, said to show Thomas in the hooded robe with his child, the prosecuting barrister said: "The suggestion is that is Mr Thomas and his child, whose middle name is Adolf."
Turning to an image of a hooded man with a machete, he added: "There is a strong inference, and you'll appreciate this when you look inside the Thomas and Patatas house, that that was taken inside their home, and that the person in the robes was Thomas."
These sinister photos were found on a memory stick hidden under the floor in their home. A frightening array of weapons, Nazi and far-right items – even a swastika cookie cutter – were found too as well as a banned guide to making explosives and hand grenades.
Clothes that had been used as target practice were found as well as crossbows.
The couple are accused of intending to carry out a "white holy war" on black people, Jews, Asians and homosexuals.
They had given their baby the middle name Adolf when he was born in late 2017.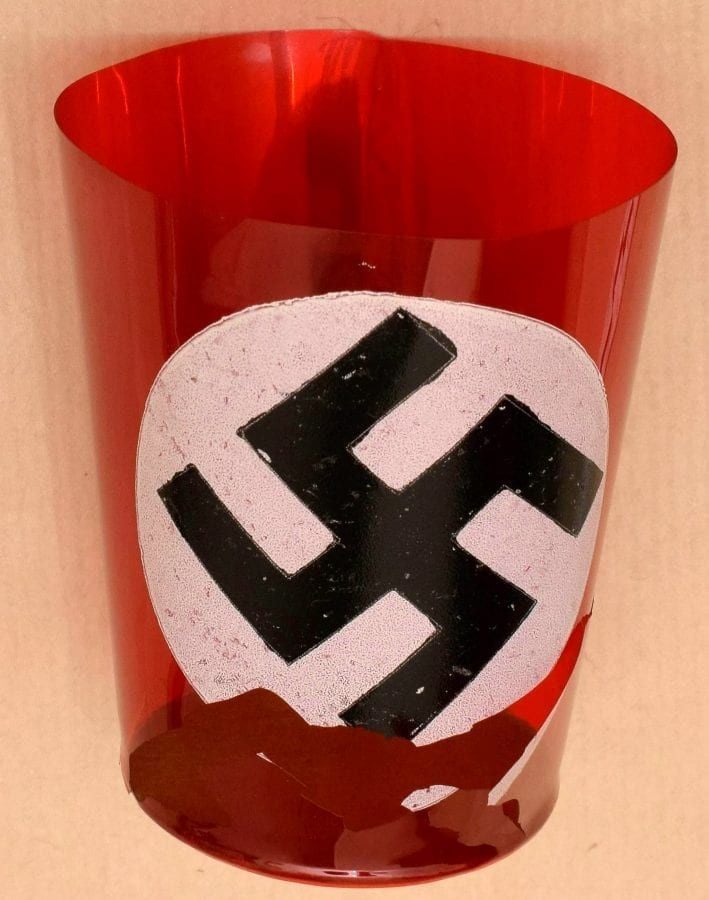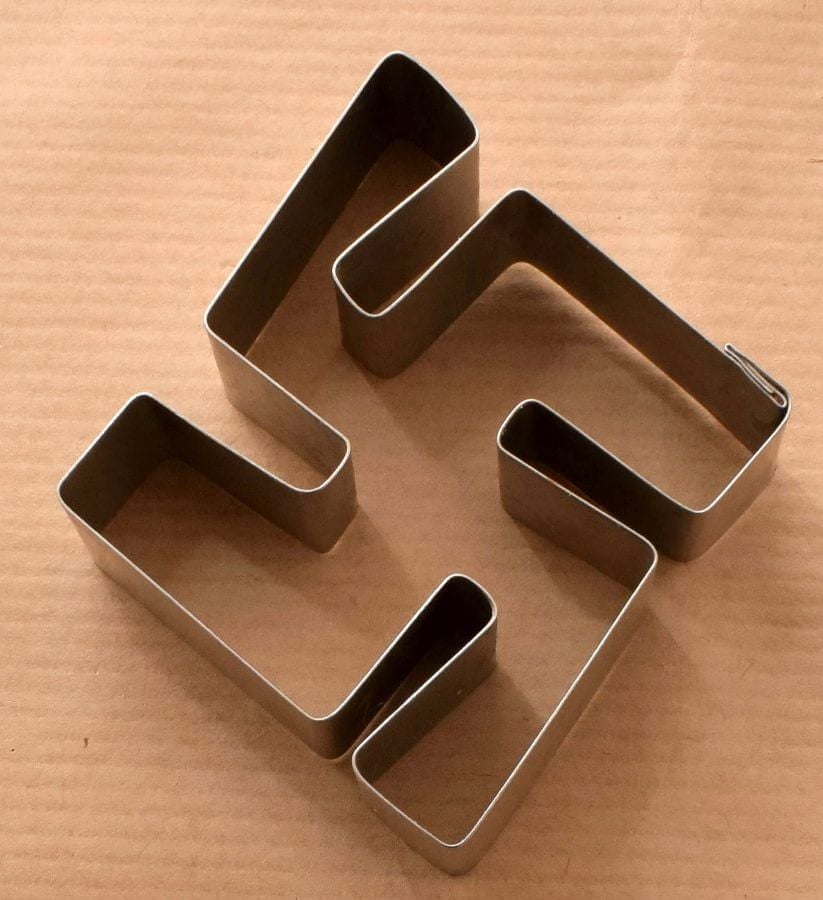 Thomas and Patatas, of Waltham Gardens, Banbury, Oxfordshire, are on trial accused of being members of the far-right terrorist group National Action, which was banned in December 2016.
Co-defendant Daniel Bogunovic, 27, of Crown Hills Rise, Leicester, is facing the same charge.
Jurors also heard that Claudia Patatas, 38, used WhatsApp to message "vehement Nazi" Darren Fletcher, 28, who pleaded guilty to membership of the banned extremist group saying "all Jews must be put to death".
The court heard other members of National Action also shared images showing an image of Hitler with the caption "National Socialism – The Final Solution".
Prosecutor Barnaby Jameson QC explained: "The Final Solution, as you know, relates to the final solution to the Jewish question – a Nazi euphemism for the eradication of Jews.
"February 16, 2017 – an image is created on the Patatas mobile.
"It is of the NA demonstration in York from May 2016. The protesters are masked. The banner says 'Refugees Not Welcome Hitler was Right.'"
Bogunovic also had an image found on his mobile phone which said: "You are entering a Nazi Controlled Zone."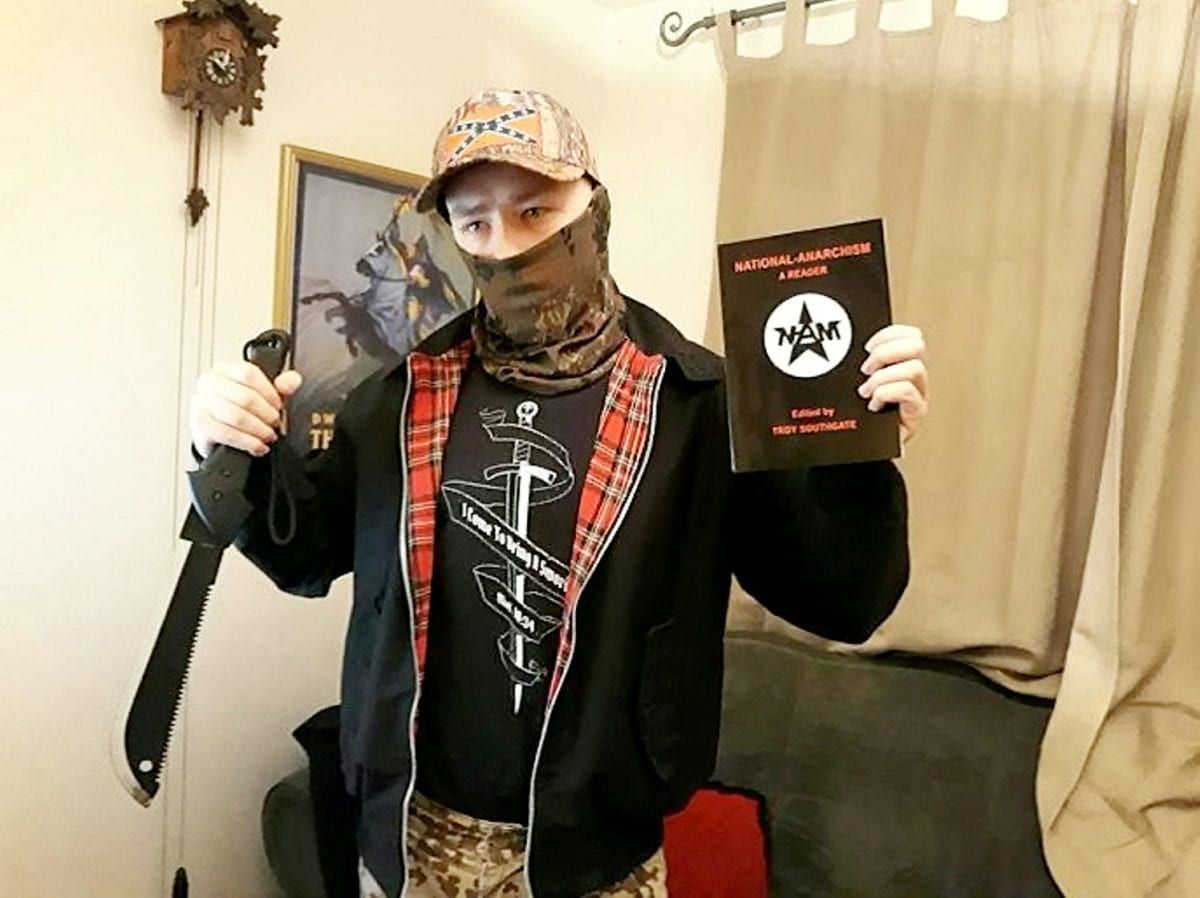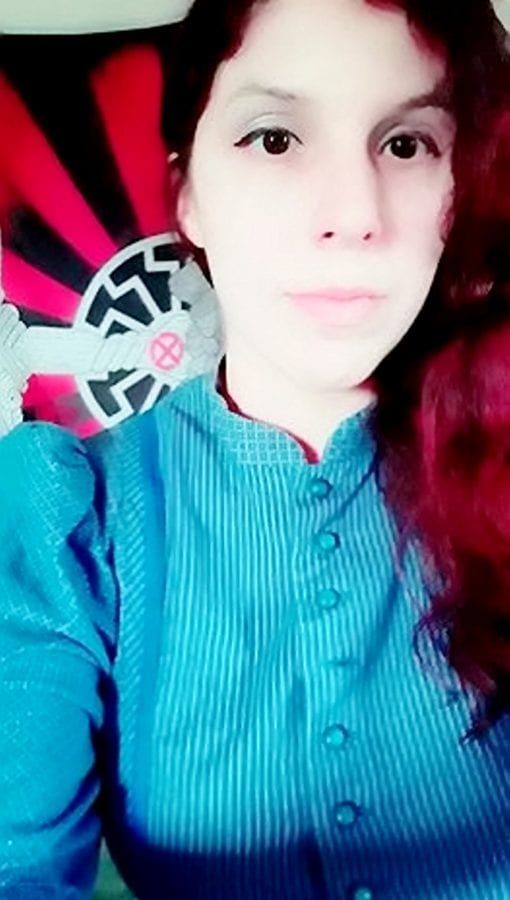 A search of the Thomas and Patatas' home by anti-terrorism police officers revealed Nazi flags, Ku Klux Klan robes and a variety of items bearing fascist symbols.
The couple also allegedly had a poster stuck to their fridge reading "Britain is ours – the rest must go".
Thomas faces a separate charge of having a terrorist document, the Anarchy Cookbook, which contained bomb-making instructions.
Two cushions bearing the swastika were found during police searches of the couple's home after their arrest for alleged terrorism offences in January.
A greetings card on the sideboard of the couple's living room featured KKK figures and read: "May all your Christmases be white."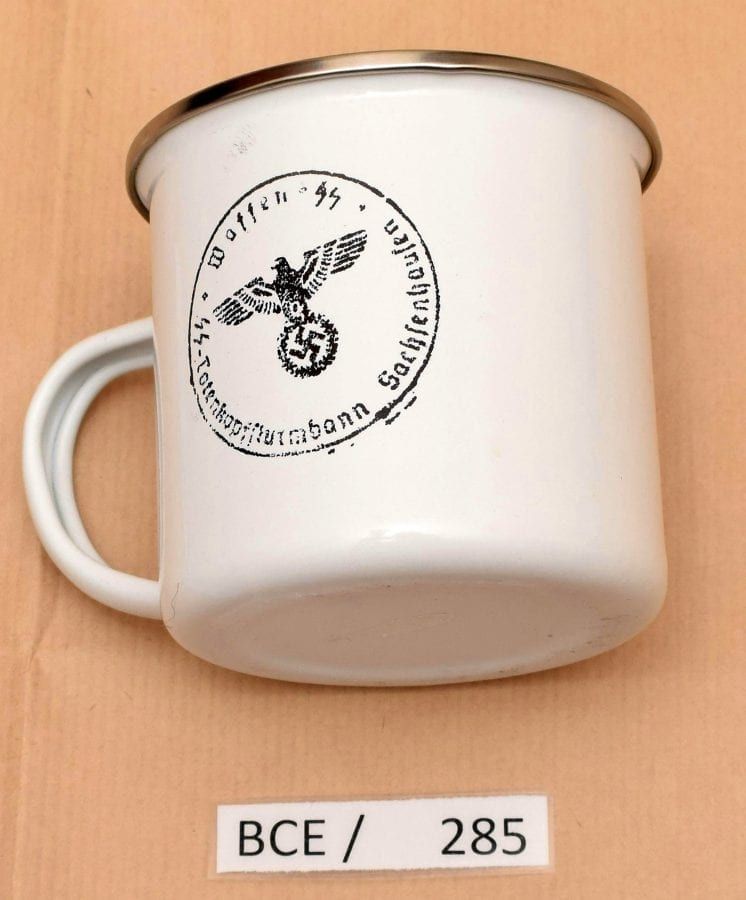 Counter-terrorism officers from Prevent had visited the couple's home in October last year "due to concerns Ms Patatas may be involved in the extreme right wing".
Following National Action's ban, the prosecution allege the group tried to "shed one skin for another"  and that the three defendants were avoiding prosecution in a "rebranding" exercise with  a successor group called the TripleK Mafia.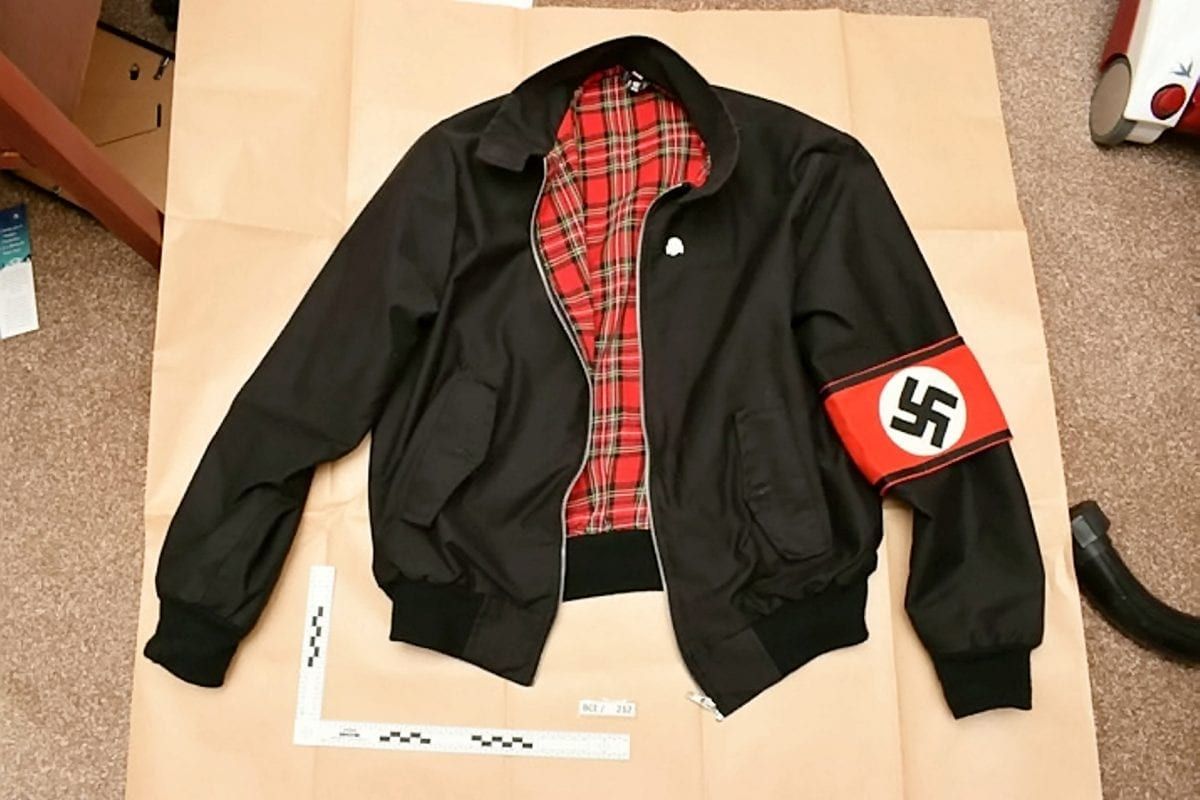 Mr Jameson QC told the jury: "all the defendants in this case along with those that have pleaded guilty or been convicted were cut from the same National Action cloth.
"They were fanatical, highly motivated, energetic, closely linked and mobile.
"And they all had, we say, a similar interest in ethnic cleansing, with violence if necessary, and the evidence in this case, we say, speaks for itself."
Jurors heard Adam Thomas, 22, created an application for a firearms licence on November 18, 2016 – less than a month before the group was banned, and plans were afoot for neo-Nazi groups to devolve around the country.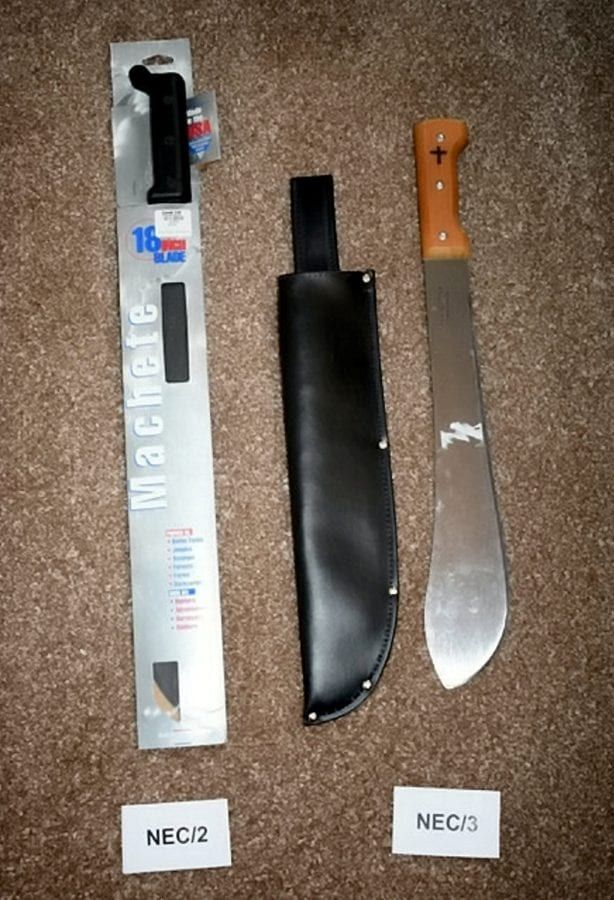 Mr Jameson told the court: "The group was within a month of being proscribed as a terrorist organisation.
"November 18, 2016 – Deakin sends out an encrypted round robin to Bogunovic and Wilmore noting the progress made by the East Midlands chapter of NA.
"The note includes the words – 'As the region grows in numbers we'll devolve power to county organisers so as prevent us from becoming cumbersome and so as to save us money and time on travel that could otherwise be dealt with by someone local.
"'I have already begun this process by establishing Nyo as County Organiser for Staffordshire; Nottingham will likely be the second area to become semi-autonomous'.
"The note concludes – 'Things are moving forward fast and we've made great progress since the summer, if we are to keep up or even exceed the rest of NA then we need to be as efficient as possible.
"'Lets make 2017 the year when the Midlands becomes the flagship region of National Action.'
"November 18, 2016: an application for a firearm's licence was created on the Thomas computer.
"Looking at some of the items found at Thomas' even the contemplation of a firearms licence might strike you as concerning.
"November 19, 2016 – an image on Wilmore's computer is modified.
"It shows, as we have seen before, a group in front of a memorial in Nottingham giving the Nazi salute.
"That includes Pryke, Bogunovic, Deakin, Thomas and others unidentified."
All three defendants deny wrongdoing and the trial, set to last four weeks, continues.