Last week we reported how mysterious billboards have been spotted trolling politicians with rash things they said that they must wish people had forgotten.
First up was this tweet that David Cameron must wish had been deleted – his promise from the 2015 election campaign: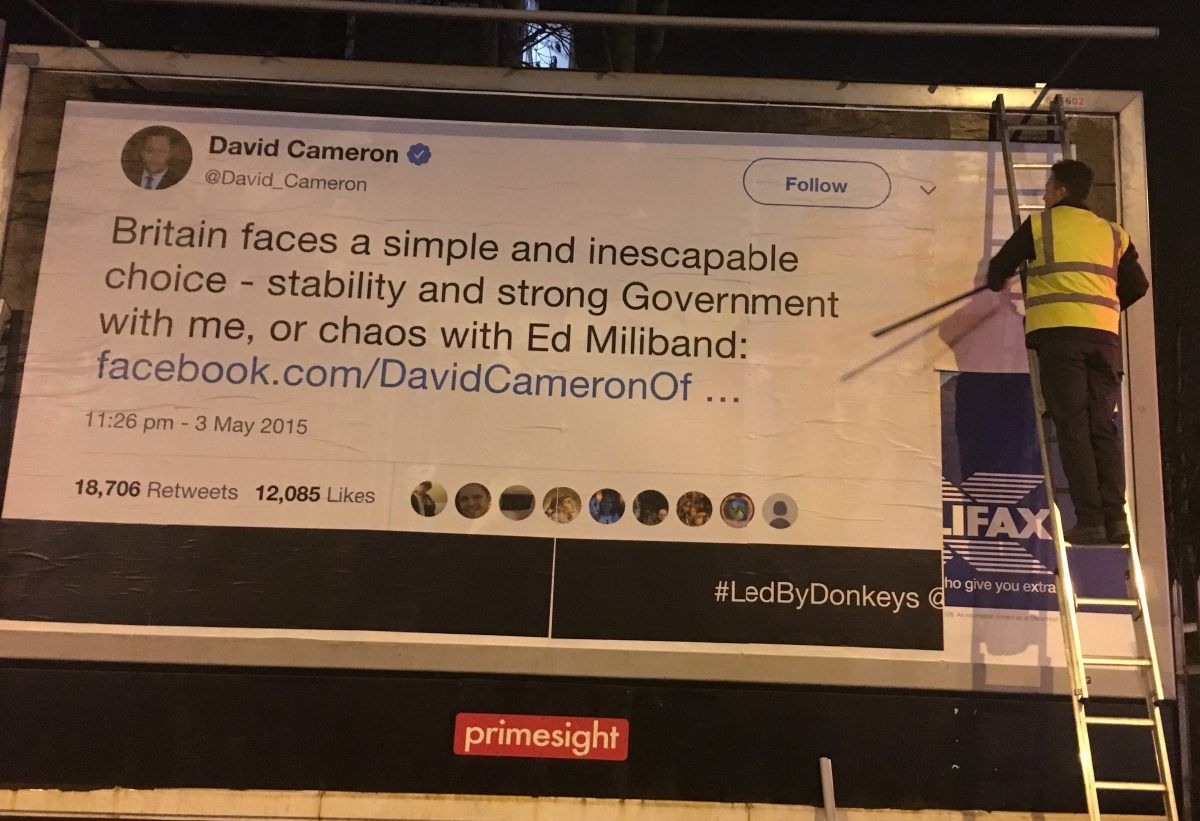 "Britain faces a simple and inescapable choice – stability and strong Government with me, or chaos with Ed Miliband" the former Tory PM warned solemnly.
And we all know how "stable and strong" things have been since he uttered those words, resigned straight after losing a divisive EU referendum campaign, which has left Britain with so much stability that we need this poster to remind us thanks!
The next poster to appear contained these perhaps over-optimistic words from David Davis who resigned as Brexit Secretary last year, angry at the Brexit deal he had been responsible for working on.
"There will be no downside to Brexit," he had promised. "Only a considerable upside."
The mystery posters were put up by Led By Donkeys who remained tight-lipped about who they are but told The London Economic: "We feel we're offering a public information service.
"The people steering the ship of state have a lamentable record of predicting the future, and yet as ministers and backbenchers they're now telling us that Brexit will lead to the Sunlit uplands. So we're recording for posterity what they once said."
Led By Donkeys say they are "a merry band of concerned citizens" and not affiliated to or involved with any political groups.
They told The London Economic that they are "just doing our thing after having a conversation down the pub, coming up with the idea and thinking 'Sod it, let's just do it.'"
The posters next appeared in areas where majorities had voted to leave the EU in the 2016 EU referendum, with words prominent Brexit supporters would not like to remind people they had said.
As Environment Secretary Michael Gove warned MPs that if they did not vote for Theresa May's flawed EU withdrawal deal "winter is coming" – an apocalyptic quote from TV's Game of Thrones – the pranksters trolled him this week with this cheeky billboard in Romford: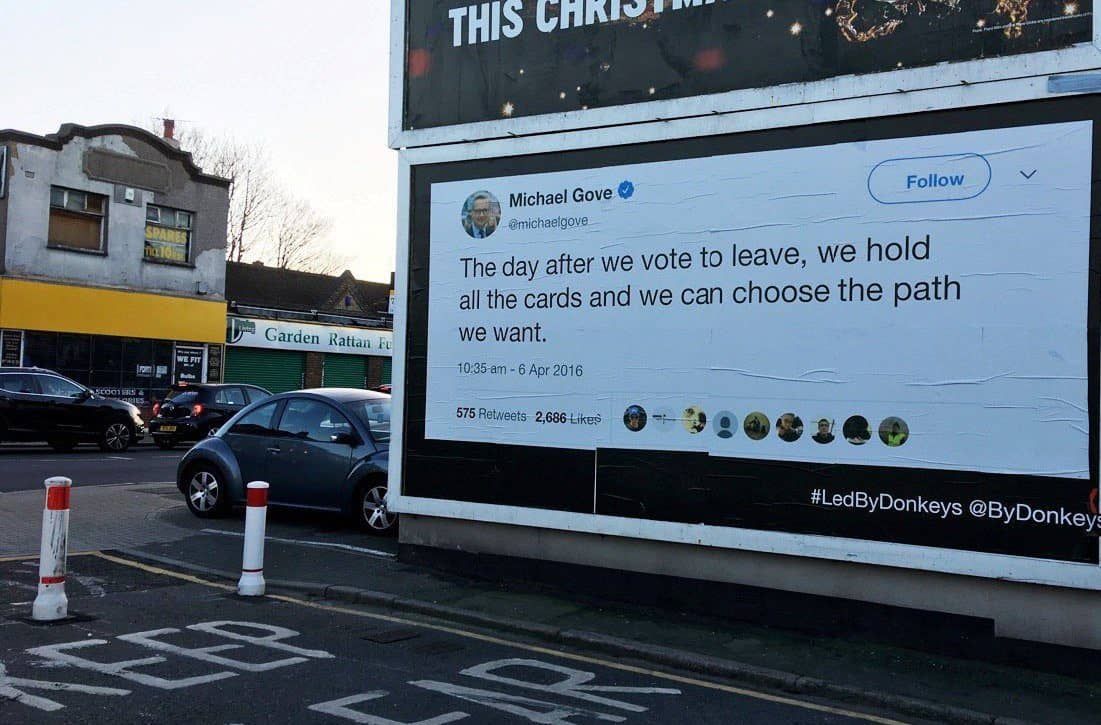 Back during the Brexit campaign in April 2016, Brexiteer Gove promised: "The day after we vote to leave, we hold all the cards and we can choose the path we want."
Words that have failed to measure up to reality, with Gove now pushing for the government's heavily compromised EU withdrawal deal which leaves the UK an EU rule taker not maker, with less bargaining chips for a future Brexit  trade deal with the rest of the EU.
Led by Donkeys say their stunts are a 'gentle reminder' to the public of statements made by the leaders of the country: "this is a public information service to remind people of politicians promises and predictions in the past so we can check it against reality.
"People can decide whether they trust the politicians who are directing our country, who are characterised by incompetence and fantasy.
"They tell us no deal will be absolutely fine. Well let's see what else they have told us previously."
Led By Donkeys opened a poll to their 10,000 Twitter followers to decide which tweets to use on the boards, and next a statement by Jacob Rees-Mogg came out on top.
The hardline Brexiteer had said: "We could have two referendums. As it happens it might make more sense to have the second referendum after the renegotiation is completed."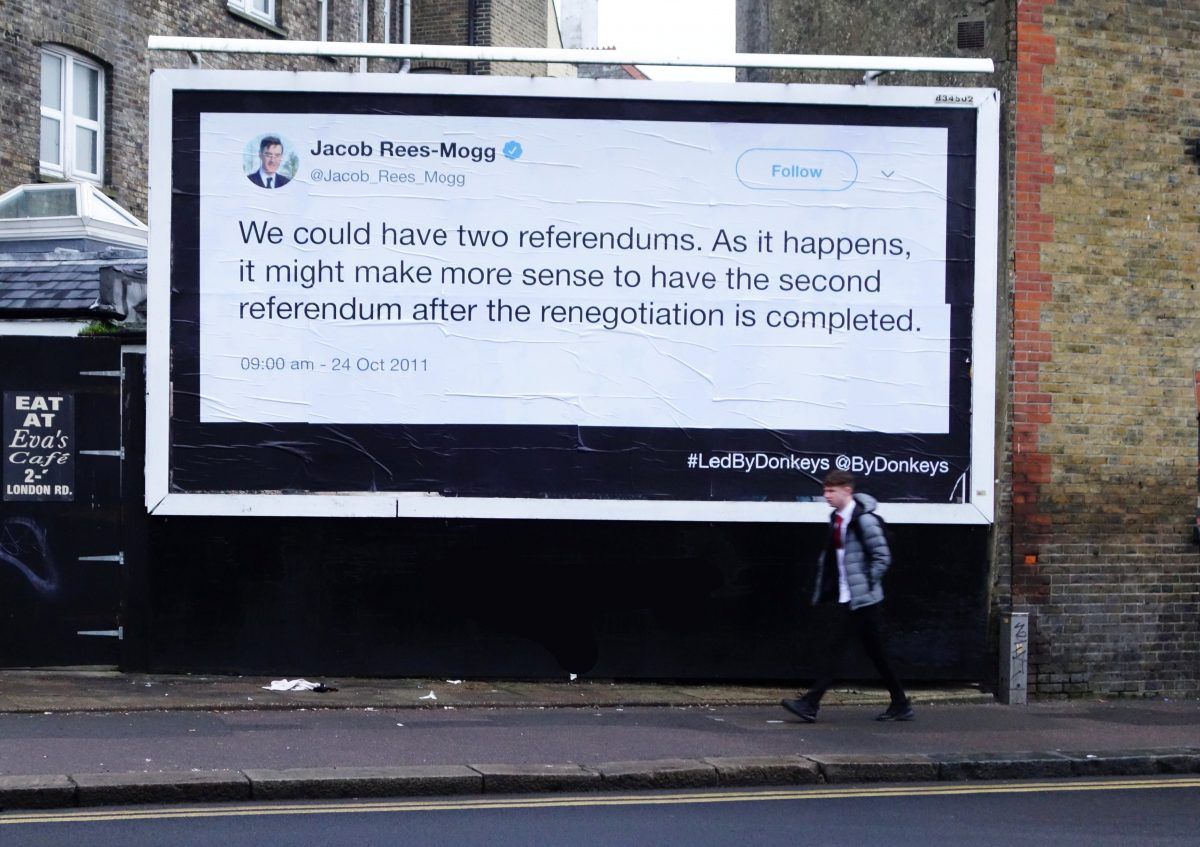 Other tweets posted on the boards by the group include a much-mocked statement by ex-Brexit secretary Dominic Raab MP from November 2018.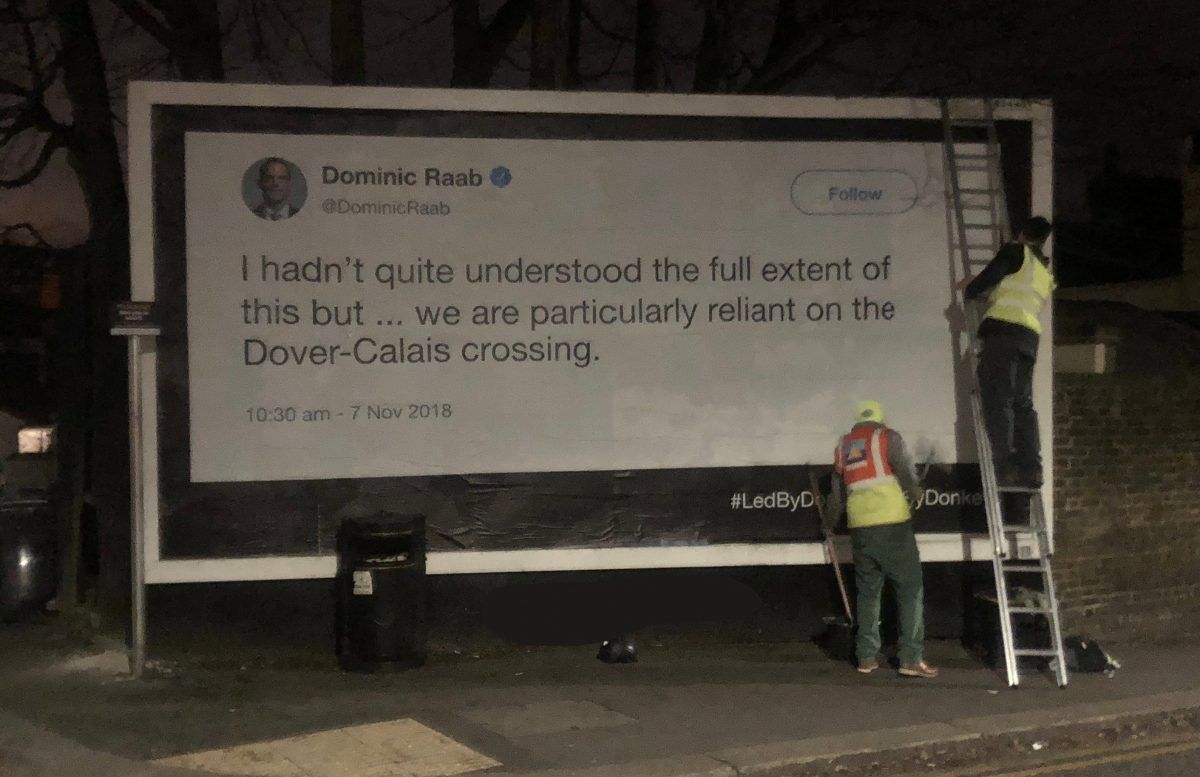 "I hadn't quite understood the full extent of this but… we are particularly reliant on the Dover-Calais crossing," he had confessed, much to Brits' dismay.
A statement from Prime minister Theresa May's speech setting out of all the reasons why Brexit didn't make sense when she campaigned for the UK to stay in the EU in April 2016 also made the boards.
Then Home Secretary, she had explained: "Remaining a member of the European Union means we will be more secure from crime and terrorism."
Another rather rash promise from Brexit campaigner and Trade Secretary Dr Liam Fox MP reads: "The Free Trade Agreement that we will do with the European Union should be one of the easiest in human history."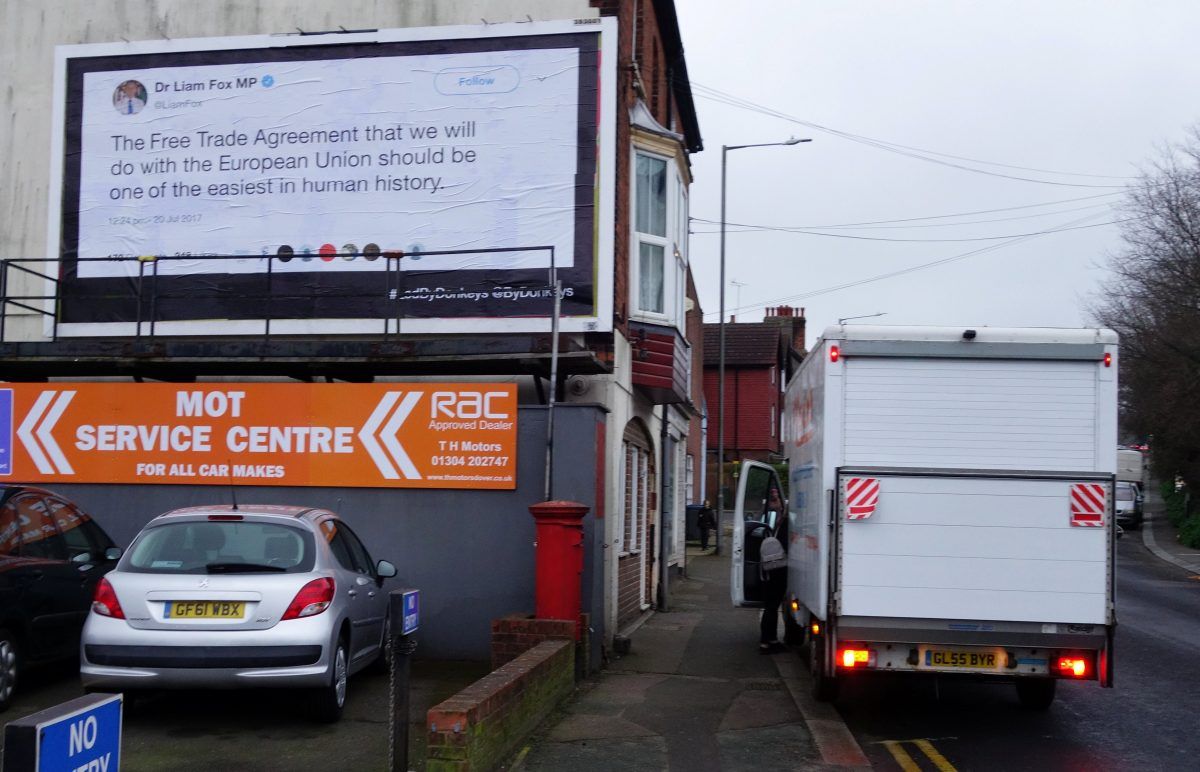 It's been so easy his government have not been able to negotiate an acceptible withdrawal agreement from the EU after two years.
The group say they plan to plaster more billboards around the country and in prominent leave areas.
They said: "We want to be able to do as many parts of the country as possible and areas where family and friends voted leave as a gentle reminder how to treat the predictions of the likes of David Davis by looking at their track record.
"It's no secret we are pro-remain.
"We had the idea down the pub and started doing it, we get a message every three minutes wanting to contribute financially.
"Our favourite tweet is from Dominic Raab.
"I am from Kent originally and the importance of the port of Dover and channel tunnel is ingrained into this country's economy.
"He was Brexit secretary and didn't understand that. It makes you stare at your feet and worry about the future of our country."
"We all have our own kids, lives and work in the creative sector."
Led by donkeys said the campaign cost them several hundred pounds which they financed themselves, but they did not buy the advertising space.
The spokesperson added: "We covered adverts we didn't mind covering.
"Led by Donkeys is not in favour of any political party, whenever party politics comes up in depth at the pub we usually have an argument, but we are pro-remain."
The name Led by Donkeys comes from the phrase 'lions led by donkeys' which refers to the British soldiers of the First World War being led to war by out-of-touch generals.
The spokesperson added: "We the people of Britain are lions, are we are being led by donkeys."
By Ben Gelblum and Milly Vincent