A Met Police firearms expert who blamed himself for the shooting of Mark Duggan blasted himself in the head in the street during a standoff with armed cops, an inquest heard.
Civilian employee Tony Hanley, 51, turned the handgun on himself when negotiations with armed officers broke down near his home in Wallington, south London, the hearing was told.
Officers tried to talk to him on January 30, 2016, and used a taser and fired two rubber bullets at him to try and bring the standoff to an end, but he shot himself in the head.
South London Corner's Court was told Mr Hanley had suffered a "breakdown" due to alleged bullying at work and three months earlier had threatened to harm himself and others.
The inquest was told he felt he was responsible for the death of 29-year-old Mark Duggan shot and killed by police in Tottenham, north London, in August 2011 because he had recommended the type of bullets used by armed police.
Mr Hanley worked for the Met as a physical protection technician and was a specialist in firearms and ammunition, the inquest heard.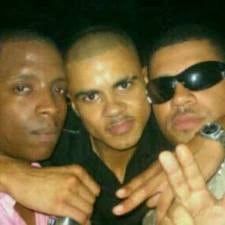 Prior to his death he had been off sick for three months suffering from anxiety and depression, and the day before the shooting he attended his GP's surgery, saying he felt suicidal and would "take others with him".
Senior Coroner Selena Lynch told the jury that on the day of his death he had been with girlfriend Tina Harper.
Ms Harper said he had been drinking and was upset and "discussed threatening to harm himself and others and was in possession of a hand gun".
She left his flat to call for help and, just after 8pm, he himself called the police, saying he had a gun to his head and asked for help.
Armed officers rushed to his house, but they found him in a nearby street with the handgun.
The Coroner said: "Armed officers then approached from the other side and fired two baton rounds and a taser.
"He raised the handgun and shot himself in the head."
The inquest heard he was taken to hospital by ambulance, but died the next day.
He was described as "placid and calm" by his sister Laura, who also said he collected decommissioned pistols and shells from World War Two.
His brother Gerard said he met with his brother a week before his death and there was no indication he was unwell.
He said Tony would complain about work and "felt his expertise was ignored " by management.
The court also heard from his GP, Dr Mohammed Amjad Khan, who said Mr Hanley had previously been off work for 18 months in 2000 suffering with depression.
Medical notes from a colleague who had seen Mr Hanley and his girlfriend for an appointment on October 29, 2015, were read to the inquest.
The notes said: "He spoke about drinking a bottle of whisky a day, on and off for eight years."
He was referred to mental health services and went to appointments to help with his alcohol abuse.
In a follow up report, clinical psychologist Dr Yvonne Hemmings said: "He reported extreme depression which had been triggered by long standing work place bullying.
"He was better when he was not at work."
The inquest heard Dr Amjad had seen Mr Hanley for an emergency consultation the day before his death.
Mr Hanley had told another doctor he had felt suicidal saying if he kills himself he "will take others with him".
However Dr Amjad said by the time he saw Mr Hanley, he was "calm and placid" and prescribed him Diazepam to help him sleep, but said he had refused to go to A&E for a psychiatric assessment, instead making an appointment to see someone on Monday.
The inquest was read a text from Tony to Ms Harper, in which he said doctors couldn't help him "because it was the weekend".
He said: "They told me to come back on Monday.
"I told them I don't think I'll be around by Monday. I told them I would take others. They said it's Friday and the hospital will be busy."
Ms Harper, who broke down in tears in the witness box while giving evidence, said she and Mr Hanley had been in an on/off relationship for about 20 years.
On the day of the shooting she went to his flat at about 6.20pm, where he answered the door to in boxer shorts and a T-shirt.
She said: "He told me he was really depressed.
"I said to him you will get through it. And he said 'you don't know what's going on in my head.'"
He eventually went to the toilet but came back to the room and grabbed her, which she said "was very unlike him".
Ms Harper added: "He kept saying he was responsible for the death of Mark Duggan because of the bullets.
"I said he wasn't. I said 'you didn't authorise it. You hadn't shot him.'
"He said he was the person who recommended the bullets they were using.
"He said he kept seeing Mark Duggan's ghost. It never left his mind.
"Then he said that I wasn't safe. There was something very, very different to how he was. He always made me feel safe."
The inquest continues.

https://www.thelondoneconomic.com/must-reads/croydon-murder-teen-21st-murdered-london-year-highest-9-years/31/10/
https://www.thelondoneconomic.com/must-reads/15-year-old-stabbed-second-london-murder-24-hours/09/08/