Despite parties backing Remain making vast gains in the local elections, with the Tories the biggest losers and Ukip losing most council seats, both Theresa May and Jeremy Corbyn appeared to suggest voters wanted MPs to back a Brexit deal.
The Conservative Party by Friday afternoon had lost 1200 council seats in a total humiliation for the Government.
Ukip had lost most council seats they once held and the Labour Party despite winning control of some key councils including the important Conservative Trafford council, had lost 80 councillors and was down control over 4 councils.
Results so far would translate into just 28% of votes for the two main parties both of which are in negotiations over a Brexit deal both party leaders would agree to.
Remain-backing Lib Dems, campaigning for a People's Vote for the public to have the final say over Brexit, gained over 600 seats, bouncing back from 2015's dire results with unprecedented gains.
The Green Party, also an unambiguously public vote and Remain-supporting party made historic gains.
Yet the Prime Minister insisted the lesson of the main parties' losses to Remain-supporting smaller parties was for MPs to: "just get on and deliver Brexit."
Theresa May was heckled as she addressed party members in Wales, saying local councillors weren't to blame for the losses. One party member was escorted out, shouting "why don't you resign?"
Other prominent Brexiteers such as Michael Gove have insisted today that the collossal losses were due to the public wanting the main parties to "get on with it."
And this afternoon despite many Labour MPs warning the party lost out due to its refusal to insist now is the time to take Brexit back to the people, the Labour Leader appeared to imply that the results meant Labour had to make a Brexit deal with the Government.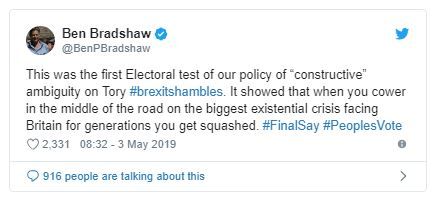 People's Vote supporting Labour MP Ben Bradshaw this morning warned his party: "when you cower in the middle of the road on the biggest existential crisis facing Britain for generations you get squashed."
Yet Jeremy Corbyn seemed to insist the vote was a "huge impetus" for the main parties to get a Brexit deal done.
"A deal has to be done and parliament has to resolve this issue," Jeremy Corbyn told ITV News. "I think that is very very clear."