A married Republican lawmaker who voted for stricter laws against prostitution has resigned amid allegations he twice met an escort for sex.
Jon E. Stanard reportedly paid a call girl known professionally as Brie Taylor for sex during two business trips to Salt Lake City, Utah, in 2017.
The conservative politician was elected to the Utah House of Representatives in 2012 and has three children with his wife LeeAnne.
Last year, 43-year-old Stanard, of St. George, Utah, voted in favor of stricter laws on prostitution, including increasing the penalty for soliciting sex to $2,500.
And on his website, which has now been taken down, he stated, "I am a strong advocate for conservative family values. I am pro life, as well as for traditional marriage."
But saucy text messages appear to show that he met with Taylor, 39, in Salt Lake City, Utah, twice last year, after seeing her advert online.
The number they were sent from matches Stanard's public profile on the Utah House of Representatives website, which has now been removed.
Taylor claims he paid her $250 for each of the one-hour sessions in June and August during which she says she performed oral sex on him and they had intercourse.
Speaker of the house Greg Hughes released a statement announcing Stanard's resignation citing "personal and family concerns".
But Stanard's attorney Walter Bugden said: "Given the current climate in this country with misconduct allegations and the way things are happening in the media right now, there isn't any explanation that my client could give that would overcome the shadow of these allegations.
"He has resigned his office."
The Utah House is now investigating claims that Stanard used a state-issued cellphone and hotel room paid for with taxpayer money, it said Thursday after the allegations surfaced.
Mom-of-one Taylor described Stanard's political stance as "hypocritical" and said: "It was inevitable that he had to resign.
"People here will be grossed out and appalled by this. They thought they knew him.
"I was surprised when I found out that he voted in favor of stricter laws.
"This is a Republican state so you have to stick with your buddies otherwise it will hurt your career but on the other hand, he is a john.
"It is hypocritical because he is supporting laws that make it stricter for other men who do what he does."
Taylor claims Stanard, who represents around 32,000 people living in Utah's District 62, first approached her on March 7 2017.
He allegedly wrote: "Looking at your website. Can you meet?"
In a second text he added: "Would need to be tonight. Only in town a little. Anytime. Can do in or out. At hotel in downtown SL."
They exchanged a string of messages but Taylor was unavailable because her 10-year-old son was sick.
He messaged her again the following month but she was again unavailable, and they met for the first time at the Fairfiled Inn by Marriott Hotel in Downtown Salt Lake City, Utah on June 20.
Taylor said: "I already knew who he was because I screen all my clients using a phone number service and I Googled him.
"I was surprised that he was using his real phone number. I thought that was kind of stupid but I knew he wasn't a psycho so I met him.
"He opened the door and he was very nice. He was a gentleman.
"We chatted just briefly and then I got changed out of what I was wearing into lingerie.
"Then the adult stuff started to happen. There was kissing and I gave him a blow job and then we had sex in doggy style and missionary and there was anal or Greek or whatever you want to call it.
"It was a one-hour session and it went pretty quickly, then the rest of it was chatting.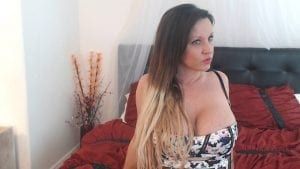 "I told him I had Googled him and we talked about what he does. He said he comes up to Salt Lake a lot and he would like to see me again.
"He said he never does this sort of stuff in St. George because it is really culturally strict down there."
The escort of three years, who has appeared in porn films and previously worked as a cam girl, says she also performed oral sex on him.
Taylor says Stanard returned on a business trip that summer and they met at the same hotel on August 22.
She said: "He also wanted me to play with his ass and I'm not really into that but I did.
"After that we chatted until the time was up.
"He doesn't drink so we didn't do anything like that but during that session they were trying to pass medical marijuana so we talked about that."
Screenshots appear to show messages sent from Stanard's cell beginning in March last year and running through to November 2017, when he most recently contacted Taylor.
One text from November 14 reads: "Any accessories/toys to bring?? Maybe a corset?"
The number matches the one listed for the politician on the official website for Utah's House of Representatives.
This comes after Stanard voted in favor of a bill which saw the crime of soliciting a prostitute reclassified from a class B misdemeanor to a class A one in March 2017.
If convicted, he could face a $2,500 fine.
The amendment also made it easier for officials to prosecute escorts working independently, as opposed to those operating primarily in brothels or loitering in public.
The allegations against Stanard backlash in fiercely Republican Utah, where the majority of the populace is Mormon and politics is heavily influenced by the church.
The LDS Church doctrine bars sexual activity outside of marriage and adultery is regarded as one of the greatest of all the sins next to murder.
In 2016, Utah also became the first to decry pornography as a public health crisis in a bill that Stanard supported.
RELATED:
https://www.thelondoneconomic.com/opinion/donald-trump-was-right-the-election-was-rigged-in-his-favour/15/11/
https://www.thelondoneconomic.com/news/brits-including-jeremy-hunt-react-defend-nhs-donald-trumps-attack-uks-national-health-service/05/02/