Professor Stephen Hawking CH CBE FRS FRSA has sadly passed away at the age of 76. He died peacefully at his home in Cambridge in the early hours of this morning.
Hawking was born on 8th January 1942 in Oxford, England, the eldest of four children, Mary, Philippa and Edward, of Dr Frank Hawking and Eileen Isobel Hawking née Walker.
His parents' home was in north London, but because of the bombing of London during the Second World War, his mother stayed in Oxford for his birth. When Stephen Hawking was eight, the family moved to St. Albans, a town about 20 miles north of London.
At the age of eleven, he went to St. Albans School and then on to University College, Oxford where he read Natural Sciences, leaving with a first class honours degree. His father, a distinguished doctor of tropical medicine, wanted his eldest son to read medicine but Stephen wanted to be a mathematician, so they compromised on Natural Sciences instead.
After graduating, he went to Trinity Hall, Cambridge to do research in Cosmology, there being no one working in that area in Oxford at the time. After gaining his Ph.D. under the supervision of Dennis Sciama he became first a Research Fellow and later, a Professorial Fellow at Gonville and Caius College. After leaving the Institute of Astronomy in 1973, he moved to the Department of Applied Mathematics and Theoretical Physics at Cambridge University.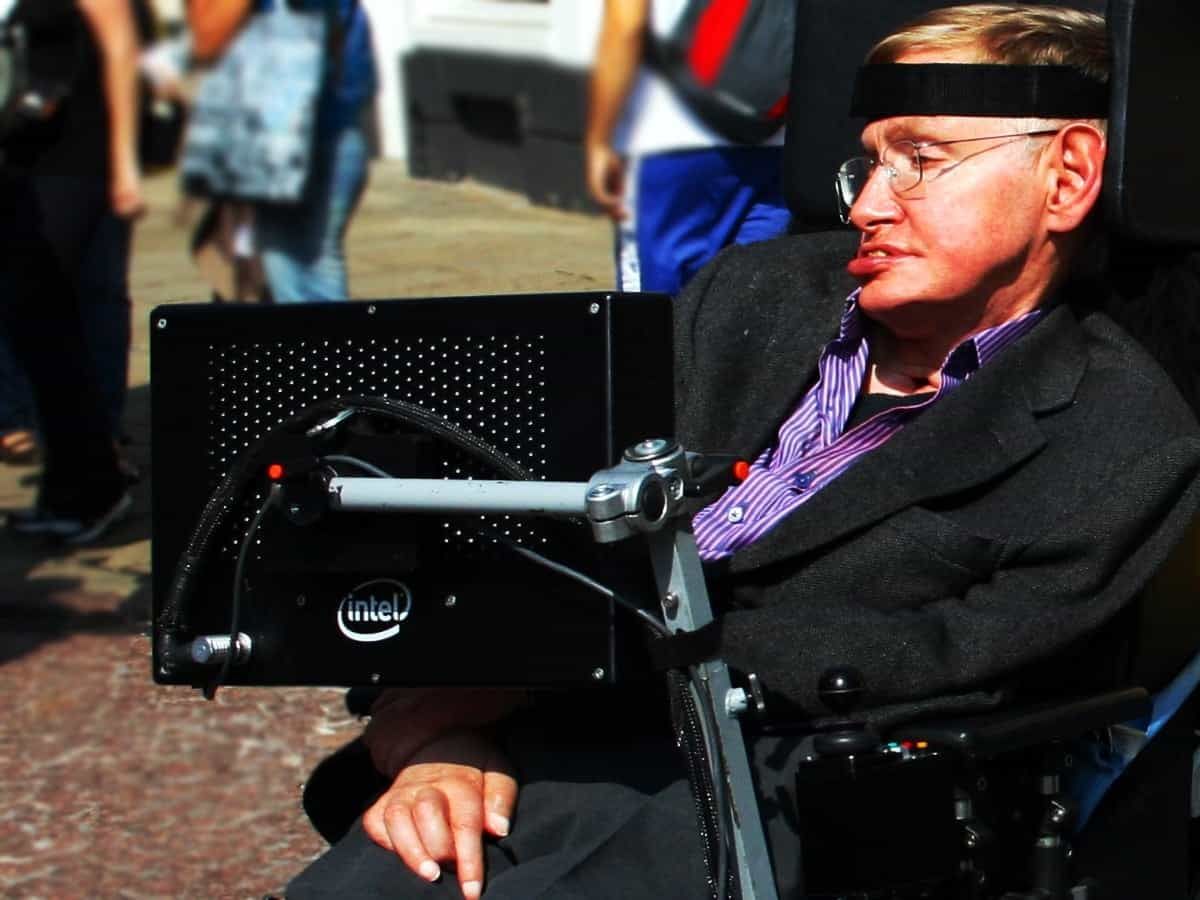 In 1979, he was elected to the Lucasian Chair, the post once held by Sir Isaac Newton. From 1979 until 2009, he was Lucasian Professor of Mathematics at Cambridge. From 2009-2014, he was a Director of Research at the Department for Applied Mathematics and Theoretical Physics where he remained for the rest of his career. From 2014 his title was the Dennis Stanton Avery and Sally Tsui Wong-Avery Director of Research.
Stephen Hawking worked on the basic laws which govern the universe. With Roger Penrose he showed that Einstein's General Theory of Relativity implies space and time would have a beginning in the Big Bang and an end in black holes. These results indicated that it was necessary to unify general relativity with quantum mechanics, the other great scientific development of the first half of the 20th century. One consequence of such a unification that he discovered was that black holes should not be completely black, but rather should emit radiation and eventually evaporate and disappear. This work was highly unexpected and very influential.
Because of Stephen Hawking's work, the radiation emitted by black holes is now called Hawking Radiation. Another conjecture is that the universe has no edge or boundary in imaginary time. This would imply that the way the universe began was completely determined by the laws of science. Throughout his career, Stephen Hawking collaborated with many leading scientists, publishing a significant number of important scientific papers. Many of his students have gone on to become notable scientists.
His many academic publications include: The Large-Scale Structure of Spacetime with George Ellis; General Relativity: An Einstein Centenary Survey with Werner Israel; and 300 Years of Gravity with Werner Israel. Among his popular books are his best seller A Brief History of Time, Black Holes and Baby Universes and Other Essays, The Universe in a Nutshell, The Grand Design and My Brief History. He has also written a successful series of children's books with his daughter Lucy.
A Brief History of Time was turned down by over twenty publishers before the rights were acquired by Bantam Press. A Brief History of Time was his first attempt to write a popular book about the physics of the start of the universe and turned out to be a runaway success, entering the Guinness Book of Records for its long stay on the best-seller lists. It played a large role in him becoming one of the best publicly known scientists of his time.
Stephen Hawking brought his trademark humour to his status as a widely recognized scientific figure with appearances on shows including the Simpsons, Futurama, Star Trek and the Big Bang Theory. In 2014, his life story was made into the Oscar winning movie, The Theory of Everything in which he was played by British actor Eddie Redmayne. The movie was based on a memoir by his first wife, Jane Wilde. He also made and featured in many television documentaries, bringing science to a general audience and hugely increasing the public's engagement with science.
Stephen Hawking had thirteen honorary degrees. He was awarded the CBE in 1982 and was made a Companion of Honour in 1989. He was the recipient of many awards, medals and prizes, including the Eddington Medal, Pius XI Gold Medal the Albert Einstein Award, James Clerk Maxwell Medal the Copley Medal of the Royal Society, the Fundamental Physics Prize and a Presidential Medal of Freedom awarded to him by former President Barack Obama. He was also a Fellow of The Royal Society, a Member of the US National Academy of Sciences and a member of the Pontifical Academy of Sciences, among many other fellowships and honorary posts.
Stephen Hawking was diagnosed with ALS, a form of Motor Neurone Disease, shortly after his 20th birthday. Despite becoming wheelchair bound and eventually, dependent on a computerised voice system for communication, he combined his work in theoretical physics with traveling the world to give public lectures about science. He had three children, Robert, Lucy and Tim and three grandchildren from his first marriage to Jane Wilde (1965-1995). He married Elaine Mason in 1995, divorcing in 2006.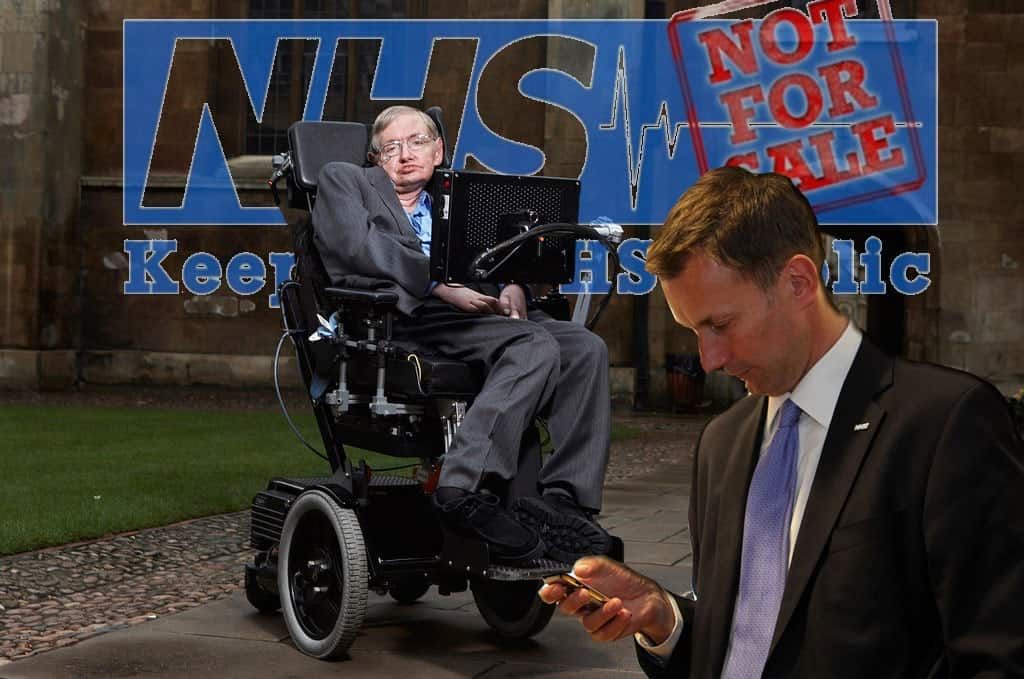 In addition to his academic and popular work, Stephen Hawking was a tireless advocate for the rights of disabled people and became an inspirational example to them through his life, work and through his speech at the Paralympic opening ceremony in London in 2012. He was a patron of the Motor Neurone Disease Association and was an active supporter of many other charities. Stephen Hawking was also a passionate supporter of the NHS, which he credited with his longevity along with the care he received from those who looked after him. Believing that his status as a scientist, his extraordinary life story and distinctive computerized voice gave him a unique public platform, he spoke out on a range of political and social issues such as nuclear disarmament and the dangers of technology to society. However, he retained his humility and would only say of himself that he was proud to have contributed to the field of cosmology and hoped his life and work had helped others.
His children Lucy, Robert and Tim have issued the following statement:
"We are deeply saddened that our beloved father passed away today. He was a great scientist and an extraordinary man whose work and legacy will live on for many years. His courage and persistence with his brilliance and humour inspired people across the world. He once said, 'It would not be much of a universe if it wasn't home to the people you love.' We will miss him forever."
Academic Roles
• Dennis Stanton Avery and Sally Tsui Wong-Avery Director of Research at the Department of Applied Mathematics and Theoretical Physics, University of Cambridge – 2014-2018
• Director of Research at the Department of Applied Mathematics and Theoretical Physics, University of Cambridge – 2009-2014
• Professor of Gravitational Physics, University of Cambridge – 1977-1979
• Lucasian Professor of Mathematics, University of Cambridge – 1979-2009
• Sherman Fairchild Distinguished Scholar at the California Institute of Technology 1975
Books
• The Large-Scale Structure of Space-Time (with George Ellis) – 1975
• A Brief History of Time – 1988
• Black Holes and Baby Universes and Other Essays – 1993
• The Universe in a Nutshell – 2001
• The Grand Design (with Leonard Mlodinow) – 2010
Television and Film
• A Brief History of time – 1991
• Stephen Hawking's Universe – 1997
• Hawking – 2004
• Horizon – The Hawking Paradox – 2005
• Into the Universe with Stephen Hawking – 2010
• A Brief History of Mine – 2013
• The Theory of Everything – 2014
Medals / Fellowships (including)
• Commander of the British Empire (CBE) – 1982
• Companion of Honour – 1989
• Fellow of the Royal Society [from 1974] and recipient of Copley Medal in 2006
• Patron of the Motor Neuron Disease Association
• Presidential Medal of Freedom awarded by former President Barack Obama [in 2009]
Curriculum Vitae
· Born 8th January 1942 at Oxford, England
· 1952-1959 – Educated at St Albans School
· 1959-1962 – Scholar in Natural Science at University College, Oxford
· 1962 – Final Honour School in Natural Science, Physics, First Class
· 1962-1965 – Research Student in General Relativity under Dr D W Sciama at Department of Applied Mathematics and Theoretical Physics, Cambridge.
· 1965-1969 – Research Fellow of Gonville and Caius College, Cambridge
· 1966 – Adams Prize for Essay 'Singularities and the Geometry of Space-time'
· 1968-1972 – Staff member of the Institute of Theoretical Astronomy, Cambridge.
· 1969-1977 – Fellow for Distinction in Science, Gonville and Caius College, Cambridge.
· 1972-1973 – Research Assistant in the Institute of Astronomy, Cambridge.
· 1973 – 'The Large-Scale Structure of Space-time' (with GFR Ellis),
· Cambridge University Press
· 1973-1974 – Research Assistant at the Department of Applied Mathematics and Theoretical Physics, Cambridge
· 1974 – Elected a Fellow of the Royal Society
· 1974-1975 – Sherman Fairchild Distinguished Scholar at California Institute of Technology
· 1975 – Eddington Medal, Royal Astronomical Society
· 1975 – Pius XI Medal, Pontifical Academy of Science
· 1975-1977 – Reader in Gravitational Physics, Department of Applied Mathematics and Theoretical Physics, Cambridge
· 1976 – Dannie Heinemann Prize, American Institute of Physics and
· American Physical Society
· 1976 – William Hopkins Prize, Cambridge Philosophical Society
· 1976 – Maxwell Medal and Prize, Institute of Physics
· 1976 – The Hughes Medal, The Royal Society
· 1977 – Professor of Gravitational Physics, University of Cambridge
· 1977 – Professorial Fellow, Gonville and Caius College, Cambridge
· 1977 – Honorary Fellow, University College, Oxford
· 1978 – The Einstein Award of the Strauss Foundation
· 1978 – Honorary Doctorate of Science, University of Oxford
· 1979 – The Albert Einstein Medal, Berne, Switzerland
· 1979 – General Relativity: An Einstein Centenary Survey (edited with W Israel), Cambridge University Press
· 1979 – Lucasian Professor of Mathematics, University of Cambridge
· 1981 – Honorary Doctor of Science, University of Chicago
· 1982 – Commander of the British Empire (CBE)
· 1982 – Honorary Doctor of Science, Notre Dame University
· 1982 – Honorary Doctor of Science, Princeton University
· 1982 – Honorary Doctor of Science, New York University
· 1982 – Honorary Doctor of Science, Leicester University
· 1983 – The Very Early Universe (edited with GW Gibbons and STC Siklos), Cambridge University Press
· 1984 – Foreign Honorary Member of the American Academy of Arts and Sciences
· 1984 – Foreign Member Elect to the American Philosophical Society
· 1985 – Gold Medal of the Royal Astronomical Society
· 1986 – 'Supersymmetry and its Applications: Superstrings, Anomalies and Supergravity'. (With G.W. Gibbons and P.K. Townsend), Cambridge University Press
· 1986 – Elected to Membership of the Pontifical Academy of Sciences, Vatican
· 1987 – Honorary Doctor of Science, University of Leeds
· 1987 – Honorary Doctor of Science, University of Newcastle
· 1987 – Paul Dirac Medal, Institute of Physics
· 1988 – Wolf Foundation Prize in Physics
· 1989 – Encyclopaedia Britannica Award
· 1989 – Prince of Asturias Foundation Award
· 1989 – Honorary Doctor of Science, Tufts University
· 1989 – Honorary Doctor of Science, Yale University
· 1989 – Honorary Doctor of Science, University of Cambridge
· 1989 – Companion of Honour (CH)
· 1999 – Julias Edgar Lilienfeld Prize
· 1990 – Honorary Fellowship, UMIST
· 1990 – Honorary Doctor of Science, Harvard University
· 2002 – Aventis prizes for science books, Gen. Prize, The Universe in a Nutshell
· 2003 – Klein medal, Nobel Institute Sweden
· 2003 – Michelson Morely Award, Case Western Reserve University
· 2005 – James Smithson Bicentennial Medal, Smithsonian Institution
· 2006 – Freedom of the City of Padua
· 2006 – Copley Medal, Royal Society
· 2007 – Zero-gravity flight, Florida, US
· 2008 – Fonseca Prize, Santiago de Compostela, Spain
· 2009 – Presidential Medal of Freedom
· 2009 – Director of Research DAMTP (new post)
· 2010 – The Cosmos Award (Planetary Society)
· 2012 – The Robert A. Heinlein Memorial Award from
· The National Space Society
· 2012 – Paralympic Games Opening Ceremony, London
· 2013 – Fundamental Physics Prize
· 2016 – Joint-awardee of the BBVA Foundation Frontiers of Knowledge Award in the category of Basic Sciences (Physics, Chemistry and Mathematics) with Professor Viatcheslav Mukhanov (Ludwig-Maximilian University, Munich, Germany)
· 2017 – Honorary Freedom of the City of London