Royal Voluntary Service 'mobility volunteers' provided support to older people at risk of falls and social isolation in two London boroughs
A seven month pilot run by London Ambulance Service NHS Trust in partnership with national volunteering organisation, Royal Voluntary Service has helped cut emergency calls and visits to A&E amongst frequent fallers in two London boroughs.
The active ageing pilot ran from November 2017 to May 2018 and was set up to decrease the number of falls in two London boroughs, with a goal of reducing demand on both the ambulance service and hospitals as well as improving outcomes in later life.
The pilot ran in Merton and Hackney, where need is particularly high, and tested a new model of 'mobility volunteers'. Older people who fall frequently and call 999 were referred to Royal Voluntary Service, who then paired local volunteers with clients. These volunteers visited clients in their homes and worked with them for a period of 6-8 weeks to improve their physical function and wellbeing.
Following 6-8 weeks of volunteer intervention, the active ageing pilot had a number of positive outcomes. These included a 42% reduction in falls amongst clients *, a 45% decrease in calls from clients to 999 as a result of a fall and a 29% reduction in clients being admitted to A&E.
Clients also showed improved physical function and health and wellbeing. 60% improved on a 30-second Sit to Stand test and almost 70% improved on walking or gait speed in the Timed Up and Go (TUG) test. Furthermore, over one in four felt their health had improved, more than one third felt happier and more confident and one in four said they felt less lonely.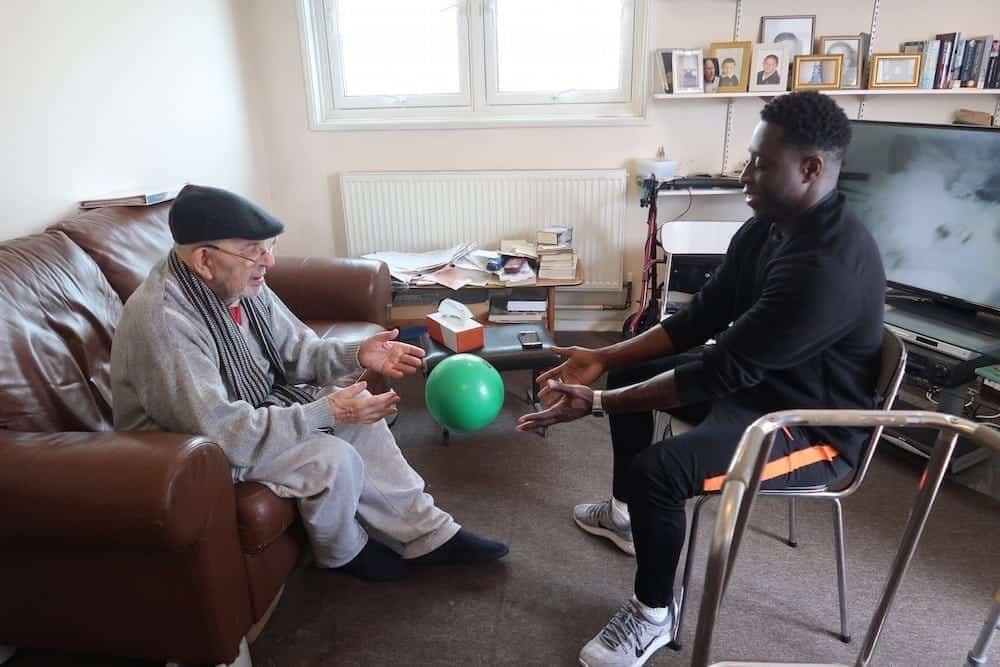 The programme was based on Royal Voluntary Service's 'mobility volunteers' doing one-to-one chair-based exercises with clients, as well as providing advice on hydration and nutrition.  At the end of the 6-8 weeks of visits, volunteers then supported clients to transition to a community exercise programme or other local activities to help them build and maintain their social connections.
During the pilot period, over 70 referrals were received from London Ambulance Service or falls teams working with the ambulance service. A total of 31 very frail clients, the majority of which were 85+ completed the full 6 to 8 week intervention. The pilot focused on recruiting volunteers from underrepresented groups (e.g. BME backgrounds) and a total of 34 volunteers were recruited from a diverse range of backgrounds during the course of the programme.
Dr Allison Smith, Head of Strategy and Development at Royal Voluntary Service said: "Frailty need not be an inevitable part of getting older. We know that targeted resistance-based exercises can significantly help older adults improve their physical function and reduce their risk of falls. Our volunteers received specialist training to provide 45-60 minute exercise sessions each week to help clients regain their independence.  This included leg strengthening exercises to help them get out of a chair or off the toilet and arm exercises to help them get dressed and out of bed. We are very pleased with these results. Given the age and high levels of frailty of these clients and a relatively short period of intervention. , such findings are very encouraging and suggest greater gains might be made with a longer support period."