Update: Police are hunting the bomber as there is a claim of responsibility on behalf of Islamic State.
Islamic State said a "unit affiliated with Islamic State" carried out the attack.

Theresa May says further attacks "may be imminent" and military officers will help armed police cover potential targets.
Transport For London say the the District Line has now reopened apart from Parsons Green station.
Police say 29 people have been taken to hospital following an explosion at Parsons Green underground station.
A Transport for London spokeswoman has confirmed the security alert at the station, with pictures emerging on social media of a bucket in flames on the carriage.
One witness said there were injuries at the station after a "stampede" of passengers. A reporter from Metro newspaper reported seeing people with facial burns.
According to reports on Twitter there was a woman on the platform who said she had seen a bag, a flash and a bang, so obviously something had gone off.
#ParsonsGreen Witness on the train tells LBC there are "around 20 people with physical injuries" after the explosion pic.twitter.com/KOBd502uEp

— Warren Richards (@warrenrichards) September 15, 2017
Councillor Daniel Holden tweeted: "Horror on District Line at Parsons Green, due to EXPLOSION/ Fire on train. People struggling to get out of station."
Emma Stevie added: "I'm safe – just had to run for my life at Parsons Green station – huge stamped, lots injured. Not sure why – fire/explosion mentioned."
Steven Slayford posted: "Huge police presence at Parsons Green. Was told by a police officer to "get somewhere safe as quickly as I can".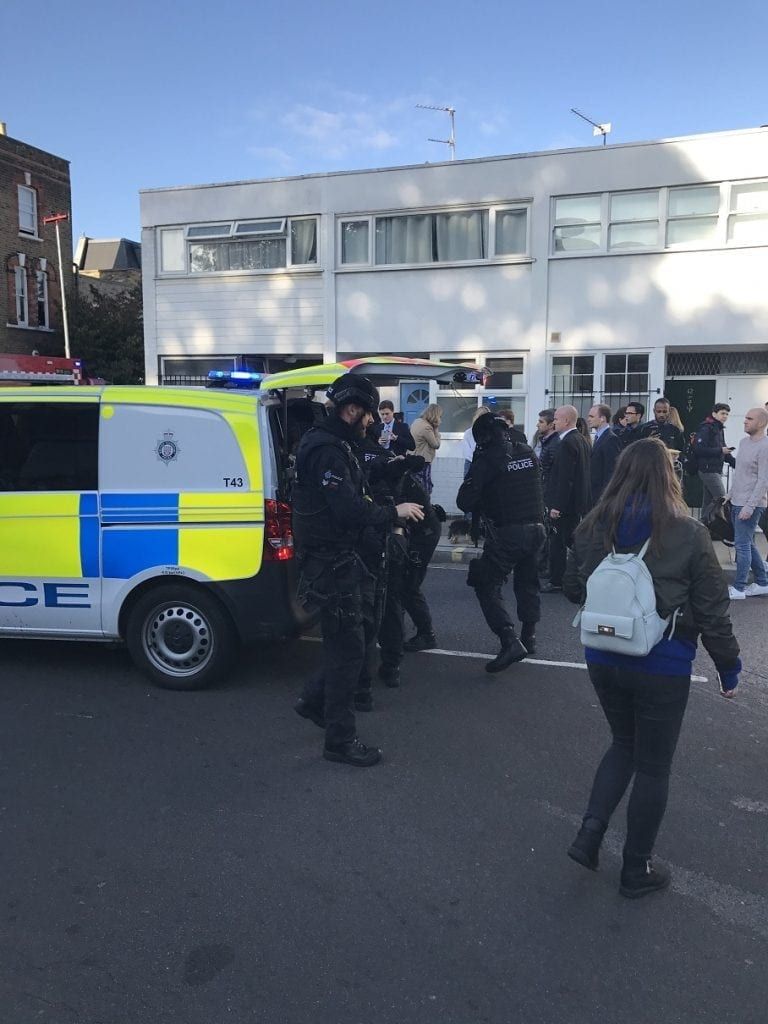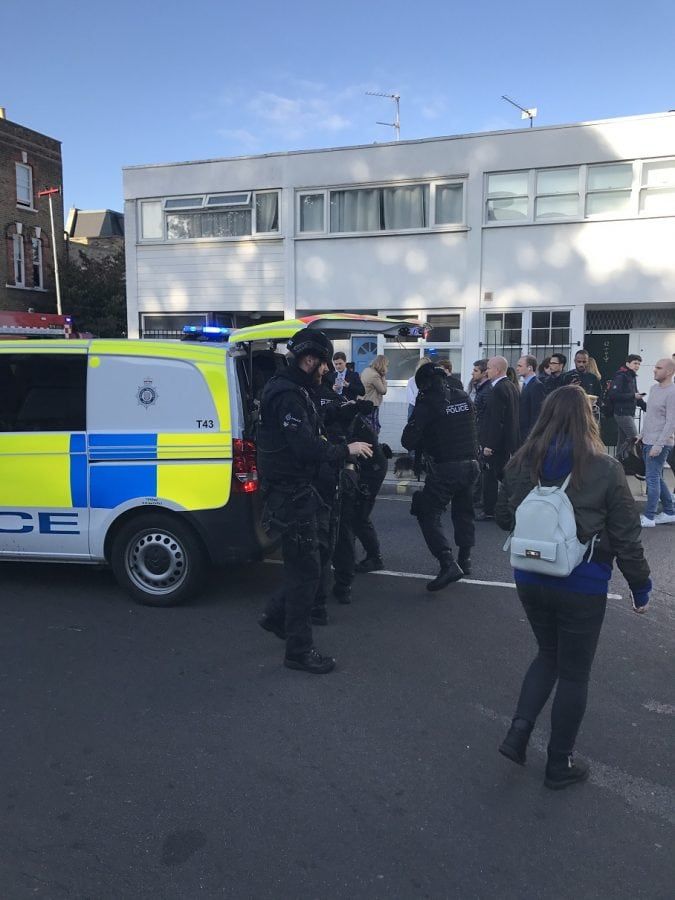 Ambulance crews are also at the scene treating people involved in the incident.
Natasha Wills, Assistant Director of Operations at London Ambulance Service, said: "We were called at 08:20am to reports of an incident at Parsons Green underground station.
"We have sent multiple resources to the scene including single responders in cars, ambulance crews, incident response officers and our hazardous area response team, with the first of our medics arriving in under five minutes.
"Our initial priority is to assess the level and nature of injuries. More information will follow when we have it."
Images of the suspected IED linked to the Parsons Green explosion pic.twitter.com/ZMwNtrbDJa

— Eliot Higgins (@EliotHiggins) September 15, 2017
Witnesses describe 'fireball' and 'stampede' in #ParsonsGreen explosion (pic cupid5tunt) https://t.co/WkBUXS84wZ pic.twitter.com/VsfcPX8q3h

— Jeremmy Jorbyn (@JJorbyn) September 15, 2017
"She says she saw people injured" – Sophie Raworth at Parsons Green tube station after reports of explosion on train https://t.co/bCKuWdNiZj pic.twitter.com/ub0LKtsuNz

— BBC Breaking News (@BBCBreaking) September 15, 2017
The Metropolitan Police has put out a statement confirming the incident is being investigated as terror. It says they are aware of "a number of people who have suffered injuries".
Here's their statement in full:
"Officers from the Met's Counter Terrorism Command are investigating after an incident on a London tube train this morning.
"Police were called at approximately 08:20hrs on Friday, 15 September to Parsons Green Underground Station following reports of a fire on the train.
"Deputy Assistant Commissioner Neil Basu, the senior national coordinator for CT policing, has declared it a terrorist incident.
"Officers from the Metropolitan Police Service and British Transport Police attended the scene, along with colleagues from the London Fire Brigade and London Ambulance Service.
"At present we are aware of a number of people who have suffered injuries.
"It is too early to confirm the cause of the fire, which will be subject to the investigation that is now underway by the Met's Counter Terrorism Command.
"The station remains cordoned off and we are advising people to avoid the area.
"Anyone who has information that would assist detectives is urged to contact the hotline 0800 789 321; if it's an emergency always call 999.
"Anyone with images from the scene is asked to upload them to www.ukpoliceimageappeal.co.uk
"We urge the public to remain calm but alert and if you have any concerns, see or hear anything suspicious then contact police."