A council's plan to spend £57,000 on covering tree roots with tarmac has been labelled 'bonkers' by their Labour opponents.
Westminster City Council are splashing the cash tarmacking around the base of trees on just two streets in pretty Little Venice – £500 each.
But former councillor Murad Qureshi, who is running again in May, said the quote is five times as high as other estimates and there are 'better ways' to cover the pits.
The former London Assembly member, who grew up in the area, said: "These pits are on two of the prettiest avenues in Little Venice – Warrington Crescent and Sutherland Avenue – and the council seem to think they need a makeover.
"They're spending £57,000 on tree pits which is bonkers, and for all intents and purposes it isn't something residents have been asking for.
"It's just being done in the run up to the local elections on May 3 in a bid for councillors to hold onto what they see as a key area.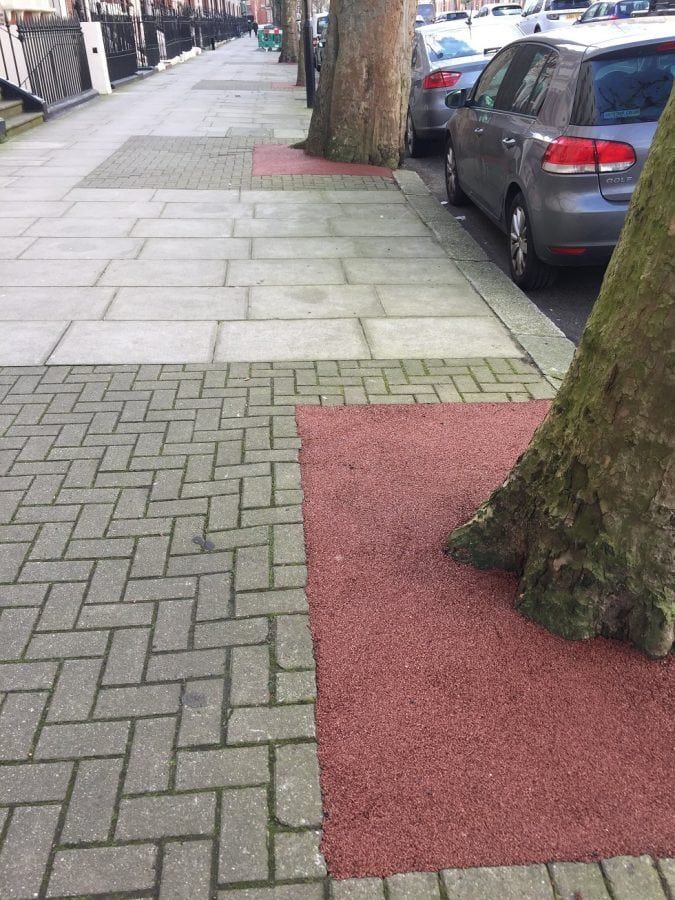 "Residents were only given a choice between the colour of the surface – white, black, or red – not whether they wanted them or not, and there are other priorities in the area.
"Some people in the neighbourhood have created guerrilla gardens, planting trees into the bases and making them look far prettier than the tarmac.
"If we gave permission for people to do that, it'd be a much better way of dealing with the trees, and is far better received.
"I understand that the council want to maintain the trees, but I'm not convinced that was the major factor in doing this work.
"I've checked the figures and found they're paying £500 per pit, when they could do it for £100 using local suppliers like Clifton Nurseries.
"It could have been done quicker and more sensitively and I've seen them using tarmac, even though the point is the that trees should breathe."
Murad, who has lived in Westminster for over 50 years, has also complained about the council approving planning permission to huge new developments around the Paddington Basin.
He said residents of Little Venice were not consulted as they live outside the ward boundary, but will still suffer a huge impact from the massive towers.
Murad added: "Things like this are indicative of why we need some change in the council.
"The tree pits are small scale stuff, but if you look at planning and housing, it says a lot about how things are being done.
"There are mega developments coming up in Paddington Basin which are spoiling the skyline of Little Venice.
"I've been around since the late 1960s and I've never seen any developments like this where they're suddenly building tall.
"I was very privileged to grow up there, and I'm keen to maintain the area as best as possible.
"Locals would far rather have had better lighting or CCTV in St Mary's Terrace after someone was killed there last year."
John O'Connell, Chief Executive of the TaxPayers' Alliance, also blasted the move, agreeing that there were 'more pressing matters' for the council to splash out on.
He said: "At a time when most councils say they are stretched to pay for essential services, the cost of this work will certainly raise eyebrows.
"Surely there are more pressing matters for the council to be dealing with."
Cllr David Harvey, Cabinet Member for Environment, Sports and Community, said: "Our ward budgets allow individual councillors to invest in their local community.
"All spending is double checked by experts to ensure projects are completed to a high standard and represent good value for money for our residents.
"In this case we selected the best new materials to protect 114 trees on Warrington Crescent and Sutherland Avenue for the long term.
"The newly developed material to be used in our tree pits is rubberised, permeable and flexible, allowing trees to grow freely but without causing cracking in the surrounding pavement or damaging the trees, reducing the future maintenance costs.
"Broken down, the project works out as costing about £500 per tree and the improvements should last many years longer than traditional materials, representing a good return on our investment to allow some of our much loved trees to flourish.
"Westminster Council lives a green agenda, we see it as an important balance for our residents living at the centre of the UK's economy.
"To make a healthy environment for everyone, over the last few years we have planted over 2000 new trees, with partners including the Westminster tree trust and likewise focus on the health of the rest.
"Our residents hate to see good trees suffer and fail, tree pits help them thrive, these new materials will be even more effective.
"Trees absorb masses of the air pollution that resident surveys tell us is one of the top issues across Westminster."
RELATED 
https://www.thelondoneconomic.com/news/uks-longest-serving-female-transport-police-officer-reveals-sexism-she-faced-in-job/08/03/