A gin heir dialled 999 complaining his 95-year-old mother had gone "crazy mad" after she told neighbours he assaulted her following an argument, a court heard.
Sir Walter Gavin Gilbey, 68, allegedly 'hurled' his mother, Lady Elizabeth Gilbey, from a chair causing significant bruising on August 26 last year.
Lady Gilbey previously told Horsham Magistrates' Court she fled to her neighbours' home after the attack, before police were called by her housekeeper five days later.
The court today heard a 999 call from Sir Walter on the evening of the alleged assault in which he said she was acting out of character and making "wild assertions."
He said his mother told neighbours he attacked her and was worried the allegations would "bounce back."
But when the call handler said it was a medical matter and he should call an ambulance, Sir Walter took no further action, the court heard.
He told the handler: "I'm calling about my serious concerns I have for my mother who's 95.
"I'm power of attorney and I had to call the police yesterday at around 7pm because she had just wandered off and disappeared for two hours and I thought maybe something was wrong."
He told the officer she had a "similar incident" in the moments before accusing him of the alleged attack, adding: "In the last few days her behaviour has been so out of character.
"I was sitting watching the cricket on telly, I just made her supper and I was having my supper in a different room and she starts going crazy mad, walks out of the house and has gone to the neighbour."
The policeman asked: "Can you describe crazy mad?"
He said: "Screaming, shouting, making accusations, wild assertions and then she left the house.
"She's gone to my neighbour who lives yards away and is telling them some wild stories that I have hurt her.
"I have not even touched her to tell you the truth. I have no idea what she's talking about."
But he was told by the 999 operator it sounded like a "mental episode," which required medical attention.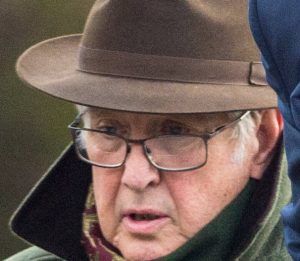 The handler told Sir Walter: "It seems to me she needs some medical assistance."
Sir Walter replied: "The only reason I'm calling police is I'm very concerned, goodness, if they came to bounce back on me."
Prosecutor Amanda Burrows said "an innocent person" would have then called an ambulance but Sir Walter did not.
She said: "You don't call an ambulance even though her behaviour is out of character.
"An innocent person would do that.
"What I'm saying to you is somebody who is completely innocent, as you're suggesting, would ask your mother or the neighbours, what exactly is she saying has happened?"
He said: "She had said, according to the neighbours, I had been accused of assaulting her and I heard from her own voice at the neighbour's house she had not hurt her head.
"I felt compelled to believe what the police dispatcher had intimated – it was not a police issue but more of a medical one."
Sir Walter added: "My mother said she had not hurt herself and more specifically she said she didn't hit her head.
"At that point I felt an ambulance would have been an overreaction."
He denies one count of assault by beating.
The trial continues.
https://www.thelondoneconomic.com/must-reads/aristocrat-jailed-menacing-gina-miller-messages-drops-appeal/25/08/