Far-right yobs have clashed with police and anti-racism protesters after a Black Lives Matter rally, yesterday.
The demonstrators, believed to have been mobilised by football firms and far-right groups, charged at a group of Black Lives Matter protestors as they dispersed following a peaceful gathering.
The rally was organised by Black Voices Matter and saw more than 2,000 protestors gather in Leeds city centre to call for an end to racism.
People were urged to wear gloves and face masks and to observe social distancing measures as speeches and poems were read to the crowd.
Protestors, many holding placards, held a minute's silence in memory of George Flloyd, who was killed when a cop placed a knee on his neck for more than eight minutes.
Beer cans
At the same time, around 400 counter-protestors, many clutching beers cans, surrounded a war memorial – around half a mile from where demonstrators gathered – to "protect it".
The group spent the afternoon drinking beer and singing football songs as police kept the two sides apart.
But after the 90 minute demonstration passed off without incident, a group of thugs charged at peaceful protestors as they left the rally.
One man was seen being lead away in handcuffs as mounted police officers were deployed to the scene to prevent further violence.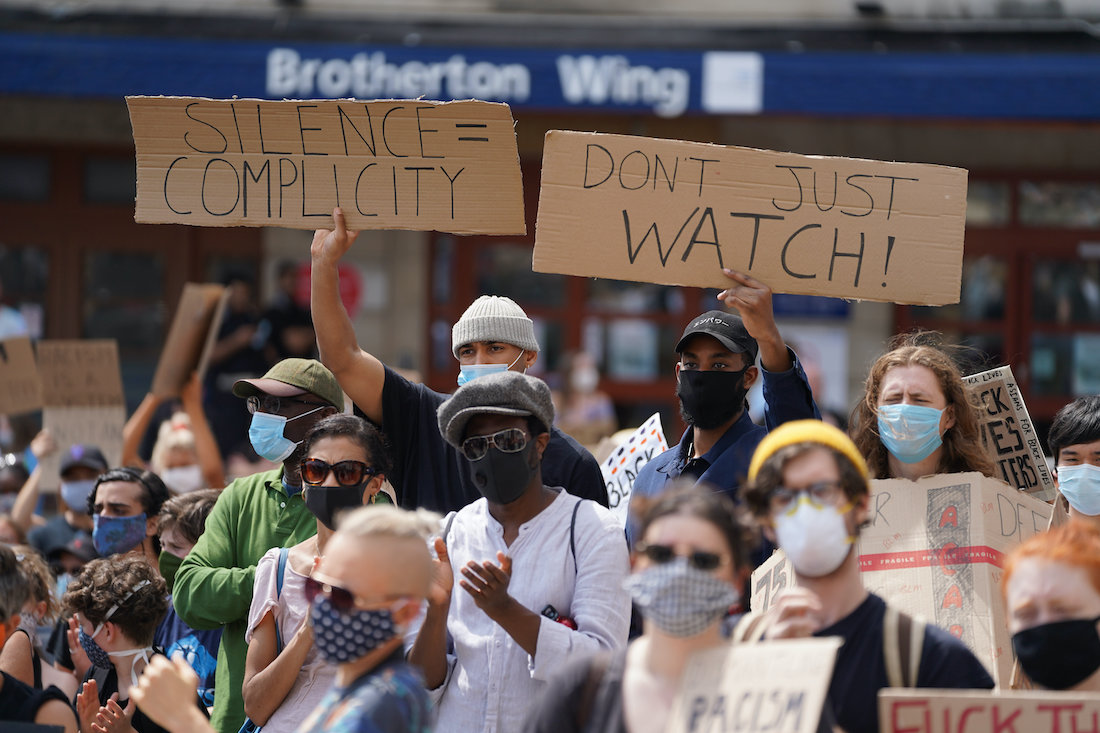 Officers kept the grounds apart, but skirmishes took place between counter-protestors and police as missiles were thrown between the groups.
Organiser Dionne Edwards had earlier addressed the crowd stating: "Black Voices Matter is an ad-hoc group of people from the Leeds black community who have come together to organise a peaceful rally."
Discrimination
She said the rally was aimed at raising awareness of the "continuing discrimination" against black people.
She added: "We do not condone damage to public or private property. We simply want to raise a call for our voices to be heard – and to be heard loudly.
"We will no longer be silenced from fear.
"Our aim is to amplify the voices of those who are in pain due to the injustice they have experienced for hundreds of years."
It followed a weekend of disorder across the country as far-right groups descended on the Cenotaph in London and clashed with police.
Related –PMQs – Black lives matter but not as much as fat cats getting fatter